TATA MOTORS: INDIA DESIGN STUDIO: Various Positions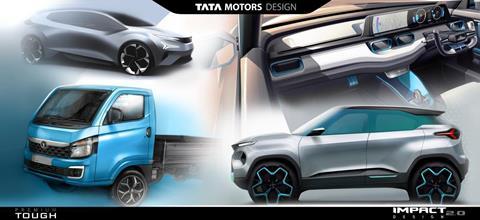 ABOUT US:
Tata Motors is a major Indian automotive OEM with a wide-ranging and comprehensive portfolio of passenger and commercial vehicles.
We continue to enhance our strong commitment to design, with our Studios in India, Italy and the UK. Our production and concept vehicles over the last several years have been noted for their persuasive and exciting design attributes, and have decisively positioned Tata Motors as a design leader.
Our India Design Studio would like to invite applications for the following senior design positions, all to be based in Pune, India:
1. Studio Chief Designer:
You will set overall creative directions for interior and exterior design of passenger, commercial and electric vehicle programs centered in India, in line with Tata Motors Global Design principles and DNA guidelines
You will lead the Interior and Exterior Chief Designers with appropriate mentorship of their Creative Design Team
You will work with Design Program Leads, and the CAS and Clay Functions, to ensure progressive and timely evolution of design themes
You will report to the Head, India Design Studio
You have a postgraduate qualification in Automotive Design from a reputed institution
You have 15-20 years of creative design experience in global automotive OEM design studios with strong deliveries (at least 5 programs to market), of which 8-10 years have been in a creative design leadership role
You have significant cross-cultural communication and mentorship skills, and strong design presentation abilities
2. Lead - Colour, Materials and Finishes:
You will set creative directions for the CMF design of passenger, commercial and electric vehicle programs centered in India, in line with Tata Motors Global CMF directions
You will lead and mentor the CMF Design Team at the India Design Studio
You will work with Design Program Leads, Chief Designers, Global Design Quality and key suppliers to ensure the progressive evolution and realisation of CMF design intent
You will report to the Head, India Design Studio
You have a postgraduate qualification in Automotive or Industrial Design from a reputed institution, preferably with specialisation in CMF design
You have 10-15 years of CMF design experience in global automotive OEM design studios with strong deliveries (at least 3 programs to market), of which gou have 3-5 years in a CMF design leadership role
You have significant cross-cultural and mentorship skills and strong design presentation abilities
3. Chief Designer - Interiors:
You will set creative directions for the interior design of passenger, commercial and electric vehicle programs centered in India
You will provide guidance and mentorship for the pooled creative design resource at the India Design Studio for interior design programs
You will interface with Design Program Leads, and the CAS and Clay Functions, to progressively evolve interior design intent.
You will report to the Lead, Creative Design
You have a postgraduate qualification in Automotive or Design from a reputed institution
You have 10-15 years of overall design experiencein global automotive OEM design studios with strong deliveries (at least 3 programs to market), of which you have 3-5 years in an interior design leadership role, and a high level of demonstrated interior design capability
You have significant cross-cultural communication and mentorship skills
If you believe you are one of the above, please send your CV and Portfolio to archana.saraf@tatamotors.com
For more information about Tata Motors and our current product portfolio, please visit https://www.tatamotors.com