Buick showcases its 'PURE' design philosophy with the new Electra concept, with a minimal and sculptured exterior married to a clean and intelligent cabin
Few marques active today can claim to have been there when it all began. Buick, though, is the real deal. It was among the first ever US car companies established, and has been operating for 117 years. This enormous legacy undoubtedly influences each and every aspect of Buick, including its design ethos.
"Buick has been able to thrive due to a culture of great design and innovation, and our team are able to capitalise by looking at our history and past Buick vehicles like the 1938 Y-job – the world's first concept car," Randy Rodriguez, director of advanced design GM PATAC, tells Interior Motives.
"The current Buick Badge is very important in representing trust and quality to our customer. This tri-shield design with which we are familiar originated in 1959, and each of the three shields represented a certain car at that time. One of those is the Buick Electra, which really stood out because of its seductive name ‑ sounding both electric and having an electrifying personality with its design and innovation."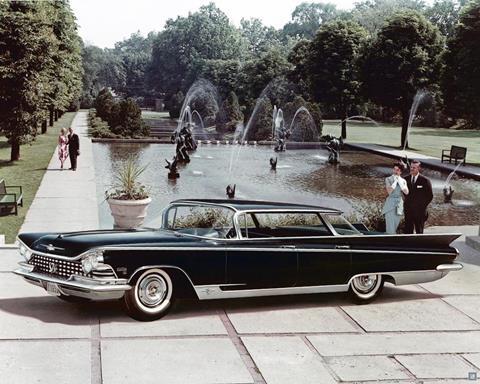 The Buick Electra was originally produced between 1959 and 1990. Its long, wide and boxy body with dramatic rear fins is an iconic design. It was subject to numerous reworks over the years, the early shape gradually making way for smaller, more conservative variants. After 30 years of no Electra, the design and engineering teams at GM's Pan Asia Technical Automotive Center (PATAC) in Shanghai began work on a new concept. But instead of looking back and recreating a retro classic, the teams decided to use the opportunity to showcase Buick's design language for its forthcoming electric vehicles.
"In the 1950's there was all this enthusiam for jets, rockets, aviation and aerospace and it influenced automotive design. Again, that same excitement for aerospace is here today, enabled by all the advancements in technology and 60 years later is inspiring this latest rendition of the Buick Electra. Buick's current design language is this sculptural beauty that is very expressive with its use of line and sculptured forms," Rodriguez says. "As we move into BEV's and other technologies, it is natural for us to evolve this next generation aesthetic to reflect these advancements. Buick's philosophy of sculptural beauty still remains but has evolved further to more of what we call 'PURE' – design that is logical, essential, intelligent and authentic. We start with dynamic proportions and have a cleaner, more minimalist look that is a result of being functionally aerodynamic. We also create an experience to stimulate more senses."
Buick's minimalist approach is clear to see on the Electra concept, having been adopted inside and out with a focus on clean, uninterrupted lines and surfaces. The front and rear ends are similar, with an LED graphic low and centred reading 'ELECTRA'. Owing to the layering effect, it has an impression of stretching on to infinity. The graphic is animated and pulsates with life. The lamps have the Buick check signature cue front and rear, but for the former the lamps sit further forward and are joined by a narrow opening that is actually a front spoiler to channel airflow around the upper. The illuminated Buick badge is placed in the centre.
Body work is angular, championing a distinct focus on aerodynamics. The overall shape is inspired by space capsules, with the stretched glass dome reaching past the front and rear wheels. "Buick's philosophy of 'PURE' design is even more apparent in the interior," Rodriguez says. "We see this intelligent capsule as your own personal atmosphere to either connect with the outside world or have a private relaxing safe space. There is a strong minimalist element of subtraction to add much more to the premium feeling of the design, highlighting the essential elements."
Smart surface controls are embedded into the door panels and seats to minimise the need for buttons and switches, while the careful choice of materials makes for a harmonised environment. There is also facial recognition, voice and gesture control.
Instead of a built-up, busy dashboard, the space in front of the driver is open and airy and emphasises the BEV architecture. A large curved screen appears as if floating. The drive by wire pedals lay flat flush to the floor when not in use and the pilot-like yoke steering wheel has handles that contract. The whole unit moves away in autonomous mode. There is also an on-board Buick AI system available via the touchscreen on the steering wheel. The AI can provide some friendly company, navigation, entertainment, access to social media and more.
Buick's current vehicle line-up is studded with strong models, all of which are practical and slightly conservative in their design. The team have produced something completely different with the Electra, showcasing exciting potential that could filter into production cars to come. As Rodriguez says, "Electra is a glimpse into our vision of the PURE design philosophy and a clean, electrified near future of Buick."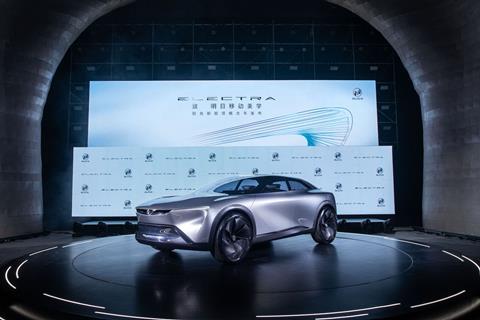 This article first appeared in Interior Motives Autumn 2020 magazine.