For an aspiring car designer, having a strong portfolio is 50 percent of getting hired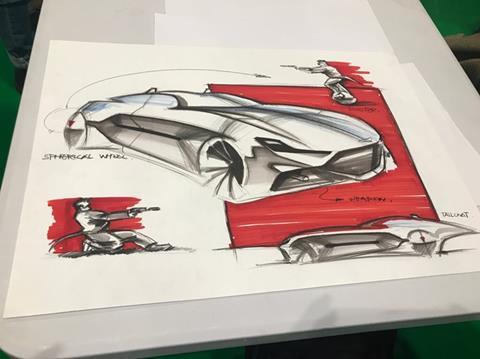 At the end of your time at design school, with a degree in your pocket, the body of work you have produced will form your final portfolio. It's this that you will present to prospective employers. The objective: get that damn job!
The Content
The work that forms the content of your portfolio will depend on the projects you've done, and also your level of skills.
For example, if you have few projects and the majority of these are sports cars, you might have a problem unless you plan to work for Ferrari or Lamborghini. It will also be a problem if most of your projects look more like restylings of existing cars, rather than new, original creative proposals.
As a designer you have to be interested in creating lots of different things, so a good portfolio is expected to include different types of car projects: perhaps new mobility systems, electric cars, family commuter vehicles, and yes, sports cars – as well as a few other products, maybe bikes, trucks or boats, or even paintings, if they demonstrate the breadth of your skills.
The Rhythm
Listen to your favourite music and pay particular attention to the rhythm. Is it the same from start to end, or does it vary, making you feel like you cannot stop listening and you want to go to the end? A good portfolio must also have a good rhythm, otherwise you risk losing the viewer's attention.
You must evaluate the excitement level of each project you want to include in your collection. Consider the quality of sketches and renderings, the subject of the project, and their creative level.
You have to eliminate your weakest projects (unless you re-do them). Do not include projects simply to fill pages, because they will kill your portfolio's rhythm and will give the impression that you are more concerned with quantity than quality.
The Graphics
Once you've chosen which projects to include, you have to bring them all together in a coherent way. You need a graphic structure to give a professional touch. For example, maybe each project presented has the same background colour, the layout of technical pages has the same scheme, and the font you use is consistent throughout.
You should present each project the same way: ideation sketches first, followed by key sketches, and then colour renderings. The final design should be presented with technical package info, final renderings, and model photos and videos if you have them. Four boards for each project is a good number, with around ten projects in total – not too short, not too long.
Your portfolio needs to show how you think and create – what is your creative process? Include some original sketches, because portfolios made only with Photoshop have tendency to be cold. Some good old-fashioned handmade work brings a human touch.
And now what?
Once you've created your portfolio, what do you do with it in order to get job or internship interviews?
Even during your time at school you should be working to build a network. Today's technologies give you a great number of way to communicate; Linkedin, Facebook as well as Twitter and Instagram, for example, are great ways to get known and make contact with people in the industry. Several times a week I receive portfolios via email, Linkedin and Facebook. Be polite and humble on your approach. Do not be insistent, or you will be ignored.
Another way, closer to old times, is to mail it. You can print your book (the horizontal format is very trendy), and you can find quite easily on the internet the name and addresses of those who need to see it. Write a nice, simple, strong presentation letter, add your designer signature, send it and wait for a response.
Instead of printing, a digital format to be sent by email, or on a USB key or SD card, could be appropriate.
The objective is to be called for an interview, and in our next article we will talk about the other 50 percent of getting a job – you!
Luciano Bove
Born in Nocera Inferiore, Italy in 1963, Bove start his car design adventure at Art Center College of Design, Pasadena, aged 19, graduating in 1989.

His career started at Fiat in Turin, Italy, where he stayed for 12 years. Here he designed and managed the Fiat Seicento programme from 1995–98.

In January 2000 he moved to Renault as senior design manager. He still works there today as R&D design manager responsible for new technology design projects. These include the Kangoo II and Renault Twizy EV for which he won the Red Dot Design Award in 2012.

During his designer career he has taught many students at Art Center Europe in Vevey, Switzerland, as well as IAAD and IED Turin.

In 2006 he founded Car Design Education Tips – a blog dedicated to car design for passionate design students.
How to be a car designer Part 1: Turning passion into a profession
1

2

3

4

Currently reading

How to be a car designer Pt4: Your portfolio

5

6

7