The theme of this year's challenge was 'Inspiring Mobility', which looked for ideas about how to put emotion and human interaction into focus in the mega cities of 2035
Michelin challenged the participants to design a mobility solution that would evoke a personal connection around joy, trust, security or freedom for users in Berlin, Mumbai, New York, São Paulo or Shanghai in 2035.
First place went to Jintae Tak, Minseok Choi, Doohee Lee and Joonyong Lee of Seoul, South Korea, for design entry Depot. Inspired by traditional Korean architecture, their design had a ball-joint structure and contra-rotating wheels to create a structure that allows users to create a 'space' wherever they want in the Berlin of the future. They explain: "Roads and parking spaces that used to be occupied by conventional cars will gradually become a 'surplus' as self- driving algorithm replaces the city's traffic. Scattered 'dead space' is formed and becomes an optimal environment to fulfil people's needs for individual space."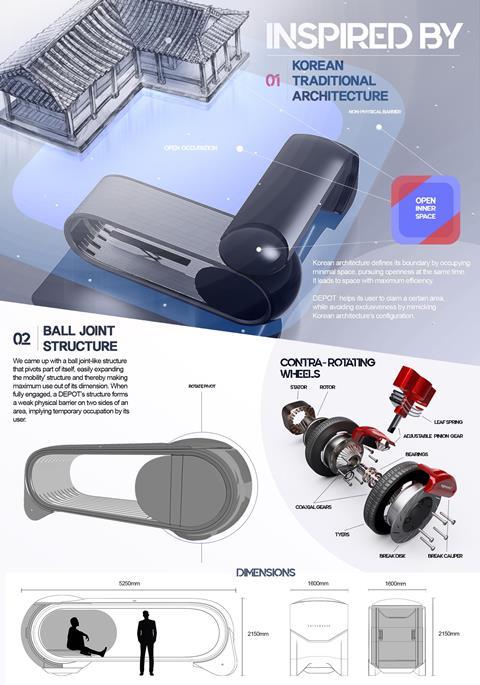 Second place went to Robert Crick of the UK, for Renault Fold. Robert tackled the space issue by asking the question: how do you make a big object fit in a small space? His solution? To fold it up. He played with foldable forms until he found a shape that allowed for dynamic volume from a flat sheet of paper, and that paper sculpture became his primary inspiration for the project.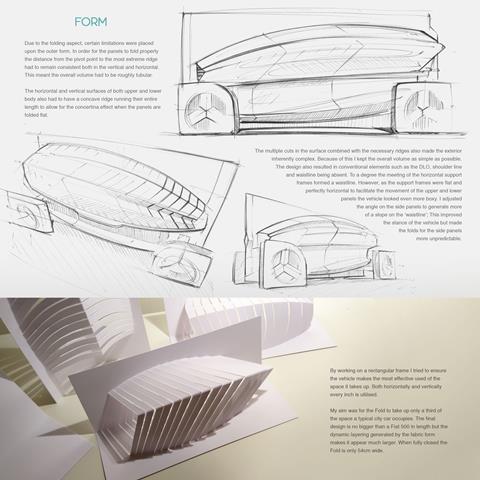 Junghyun Kim and Hanum Jeong of Seoul, South Korea, were awarded third place this year, for design entry Volvo Intersection. They created an autonomous vehicle concept for building relationships between people in the future New York. The user and their companion (matched in a tinder-like process with the AI gradually learning preferences) will have a meeting in an autonomous car with a modified interior that suits that interaction. "Volvo Intersection will be able to give you the joy that comes from these meeting and activities," they suggest. Interior arrangements include a date mode, a movie-viewing mode, a gaming mode and more.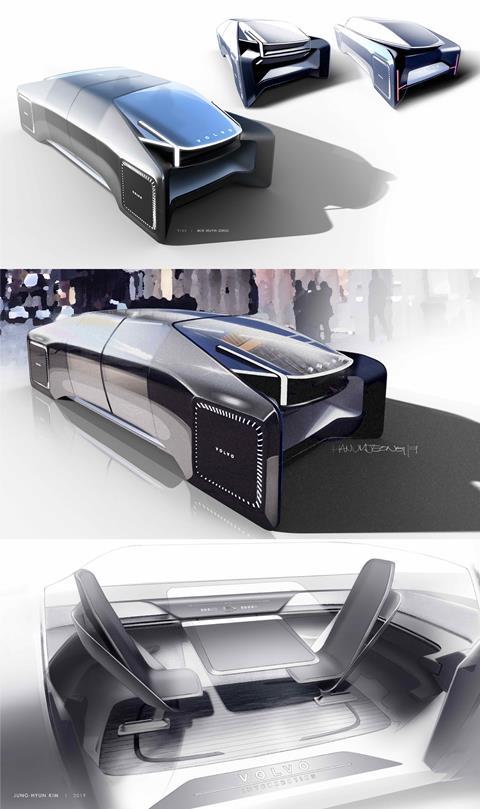 The three winning designs and 12 finalists were chosen by the jury from more than 1,500 entrants representing 71 countries. Representatives from the first-, second- and third-place winners were invited as guests at the Movin'On Summit in Montreal (which ends today) for the awards ceremony and formal dinner. Winners also have a private portfolio review with members of the jury. This year's jury contained:
Stewart Reed, chair, Transportation Design Department, Art Center College of Design, consultant and jury chairman, Michelin Challenge Design
Chris Chapman, chief designer, Hyundai Design North America
Dave Marek, Acura global creative director, Honda R&D Americas, Inc.
Craig Metros, design director, North American Truck, SUV & Commercial, Ford Motor Company
Damien Michelin, honorary juror, Michelin North America
Louise Pelletier, director, Centre de Design, UQAM
Richard Plavetich, general manager, design business, Nissan Design America
Thomas Sycha, design manager, BMW Group Design, Europe
Freeman Thomas, former global advanced design director, Ford Motor Company
Here's a video Michelin produced about this competition:
"The discussion that we are hearing in the mobility sector is primarily around technology. We wanted to use Michelin Challenge Design as a catalyst — a way to get to the root emotion and core question that we want that technology to answer… What we are seeing here, in these entries, is a different vision that forces you to humanise the experience," said Ben Ebel, lead user experience designer, Michelin North America, and chairman of Michelin Challenge Design.
To see more of the winning work, visit www.michelinchallengedesign.com.