Sasha Selipanov's first Koenigsegg project combines e-motors with a camless three-cylinder engine and four seats
Koenigsegg is set to have a three-car lineup for the first time in its history. The Gemera will soon sit alongside the hybrid Regera and all-engine Jesko 'megacars'. Its name is derived from the Swedish for 'to give more' – as suggested by company founder Christian von Koenigsegg's mother.
While it retains Koenigsegg's signature dihedral synchro-helix doors, they are now larger than ever before to reveal an interior long enough for four adults to access without moving any seats around or clambering past a B-pillar. There is also room for three carry-on bags in the back, and a fourth in the front.
Koenigsegg refers to the Gemera as a 'Mega-GT' as, like the Regera and Jesko, it produces well over a megawatt's worth of horsepower from its (hybrid) powertrain – more on which in a moment.

Sasha Selipanov, the Swedish manufacturer's new design director, said of this project "The design team and I used the simplicity of the surfaces, the musculature to emphasize and support the iconic Koenigsegg megacar silhouette. The Gemera's cabin volume is pushed forwards like all predecessor Koenigsegg models, creating an agile and forward-leaping stance. The overhangs are short. The wheels are dominant."
With a low nose, vast nostrils and that forward-reaching windscreen, the Gemera essentially retains the proportions of a mid-engine super/hyper/megacar – it's just that the roof is longer, reaching all the way to a tall integrated spoiler at the tail. The 'visor' DLO and deep angular air intake on each side help visually identify it as a Koenigsegg. The headlights and taillights, meanwhile, double as air intakes and heat vents respectively. Also noteworthy is how the rear window is narrowed by a pair of top-exit titanium exhausts, which in turn free-up the underbody for some mega-aggressive aero treatment…
Selipanov also commented: "It was vital to capture the essence of the megacar such as its stance, drama and athleticism, and to leave out the fact that it's a four-seater. That aspect should be experienced as a complete surprise."
Inside, all four carbon bucket seats are the same shape, with integrated memory foam to keep them comfortable. A simple, clean dash has had a large tablet screen stuck over the front of it, while the A-pillars are similarly festooned with rear-view screens taking a feed from the cameras outside. As per their other cars, a strip of glass loosely resembling a NACA duct lets more light in from above.
Selipanov said: "We didn't want this car to look anything like a conventional four-seater luxury car. The Gemera's interior gives you an uncompromised megacar feel and not a decadent old-world luxury sensation."
The rear seats – which even have latching points for baby seats – are designed for regular use, each being accompanied by a reading light, two cupholders (one hot and one cold, according to Koenigsegg) and various storage compartments. Rear occupants also get their own entertainment screen, climate control and stereo adjusters for the 11-speaker audio system. Everyone also gets free Wi-Fi and inductive phone charging.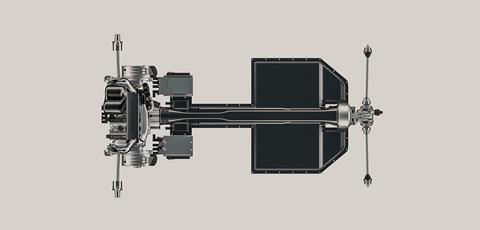 Speaking of charging, the hybrid Gemera has an 800V, 15kWh battery mounted in a carbonfibre casing under the front seats (to counterbalance the weight of the engine behind the cabin), which feeds three electric motors – one for each rear wheel, plus a single one at the front connected to a differential. Together these three e-motors produce 1400 horsepower and 2500NM of torque, with torque vectoring at both axles.
This is then boosted by a combustion engine. Whereas all other and previous Koenigseggs have used a V8, the Gemera has a two-litre, three-cylinder engine. But don't scoff: they call it the 'Tiny Friendly Giant'. As well as twin turbos, this engine uses 'FreeValve' – a technology developed in-house and now supplied to other OEMs through an eponymous sister company – to replace cams and camshafts with a system of computer-controlled pneumatic valve actuators that allegedly give infinite adjustment of ignition timing and power delivery characteristics. It also significantly improves efficiency. As a result, this transverse-mounted triple produces 600 horsepower, which is sent through the company's 'HydraCoup' single-speed direct-drive system to the front(!) wheels only. Oh, and it can also run on biofuel or even alcohol. Well, why not?
Unlike the Regera, whose combustion and electric motors peak at different times, in this car they've been tuned to reach their maximum power at the same speed, meaning a total peak system output of 1700 horsepower. So, basically, it's not slow.
Despite the incredible performance, Koenigsegg is claiming a 1000km range, thanks to the engine's ability to recharge the small battery (which can discharge at 900kW and recharge at 200kW). What's more, with its carbon-aramid chassis and carbon body, it has a target weight of 1880kg – making it a full 370kg lighter than a Tesla Model S P100D if they achieve it for the final production version. 300 will be built, starting in 2022.
"I believe the Gemera, with its unprecedented packaging and technical innovation, is a milestone for the automotive industry," Selipanov summarised. "As a consequence, designing a shape for it was both tremendously difficult and at the same time hugely fulfilling. Finding a form for something so genuinely new is every designer's dream."
Watch Christian von Koenigsegg's presentation of this, plus a modified Jesko, here: