Cool, electric estate anyone? VW puts a long, sleek premium ID concept on the stand in LA
The 2019 version of VW can't be accused of shirking its environmental responsibilities. Hot on the heels of the production version of the ID.3 at September's Frankfurt motor show, just two months later it revealed the latest in its all-electric ID family in the shape of the Space Vizzion concept at the 2019 LA Auto Show.
Aesthetically its exterior is a logical extension of the clean and simple lines of the half-dozen or so ID concepts already shown. Its estate/crossover silhouette sports relatively long and sleek dimensions, 4958mm long, 1897mm wide, 1529mm high with a long wheelbase of 2965mm and riding on 22" wheels. The two-part bonnet is quite a complex affair for an estate car though, directing air through the upper grille area, over the bonnet and roof – all for the benefit of aerodynamics – as VW chief designer Klaus Bischoff told Car Design News: "The concept has a lot of aero detailing, a sealed underfloor and a front facia that channels air over the roof to a huge flying spoiler at the rear. One thing we really worked on is a super drag co-efficient figure (0.24 Cd) because that means range for the customer."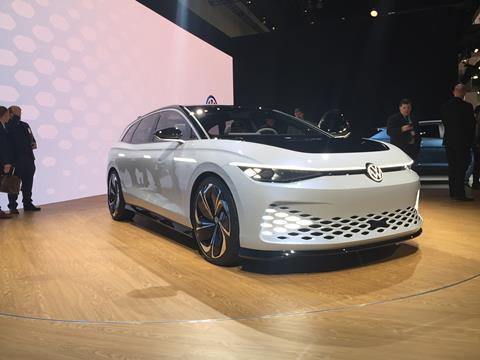 Indeed, VW is quoting 590km (WLTP) or 300 miles (EPA) of range already. For a concept car, the Space Vizzion has a lot of stats in its press pack nailed down, from 0-60mph (5.0 seconds), battery capacity (82kWh) and even luggage space (586 litres) which gives credence to Bischoff's assertion that the production version is under two years away, in mid-to-late 2021. "Every ID concept we've shown so far is a real project and on its way into production. It's a big plan, but tangible. ID.3 is in production and the ID Crozz will follow."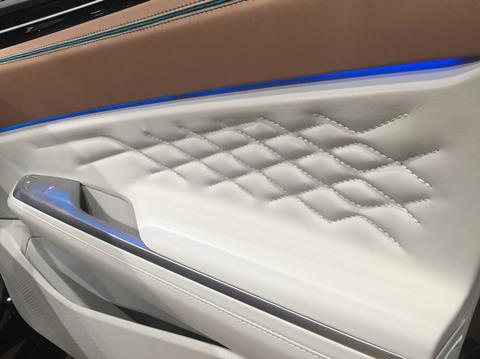 But despite some nice exterior details including multiple hexagonal front air intakes (a production yes) and back-lit, touch-sensitive, opaque plastic flush door handles (a production no), arguably the most interesting design changes relate to the more upmarket and warm-feeling interior. A large 15.6-inch centre touchscreen dominates the space, while gloss black sections, fulsomely quilted door panels in cream/white, light copper/brown central IP filet with contrast blue stitching and mood lighting all round add to the ambience.
'AppleSkin' faux leather recycled from fruit waste is again used to good effect (like on previous ID concepts) and Bischoff says his team are working very hard to get it into production soon. The boot even offers a lifestyle touch with twin blue-wheeled electric skateboards clipped onto the underside of the rear luggage load floor for last-mile manoeuvres where a car might not fit or be allowed (plus safety helmets to go with).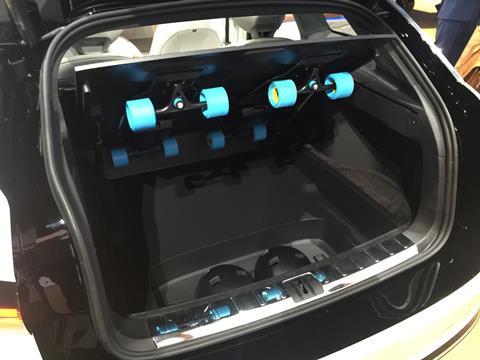 All round, it's a slightly plusher interior fit-out, less austere than the ID.3 and certainly less product design-inspired. A VW flagship vehicle we gently suggest? "It's premium," Bischoff agreed, "but premium for the masses".