Zimo Yang, a new hire for GAC who has recently moved to be Chief Designer on production interiors told Car Design News that the interior of the new GA6 was designed with the keywords Intelligence and Elegance.
This is the second generation of this medium-sized family sedan. The grille has evolved to be both deeper and more horizontal, and the graphic line along the shoulder extends neatly down to the grille fold. The shoulder line is strong, and the surfacing is more restrained and sophisticated than the previous generation. Yang explained that the 3.0 iteration of GAC's design language, 'flying dynamics' focuses on light and shadow. The designers are embracing using different light resources, and defining the surfaces with shadow and highlight. "We are now capable of controlling the light, the definition of the surfaces… so our designers are looking at reflections, shadow, form and a muscular feeling."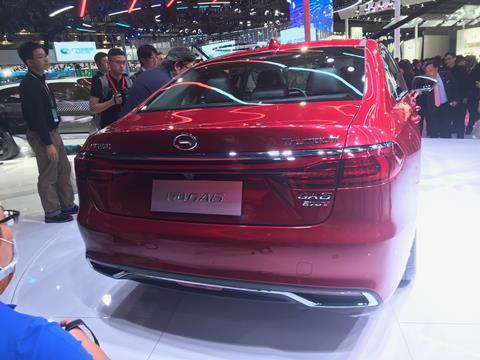 The graphic light treatment also throws attention on to the width of the vehicle. In China, GAC is noted for its lighting design and the bold new full-width lighting strip at the rear of the car (184 3D LED lights) sets a bold, modern graphic identity.
On the interior, this production sedan has a very horizontal feeling to the IP. "The width of the IP is very key, that feeling of space inside is so important," said Yang. The double screens (each 12.3 inches) are connected, with the left screen showing driver information and the right screen prioritising entertainment. The width of the dual screens emphasise the horizontal layout of the IP, which is accentuated by the large trim piece flowing across the IP. This whole UX system was designed in collaboration with Tencent. The GA6 also features an L2 automatic driving function.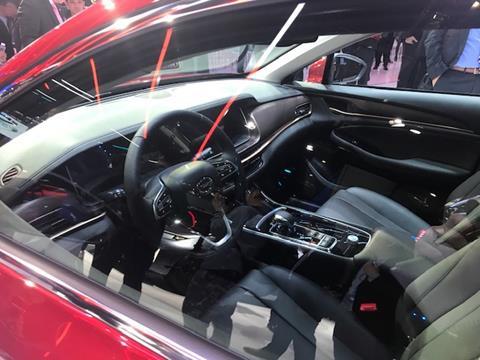 'Collagen touch' seats are so named because of the soft-touch feeling. The seats are "the benchmark for comfort in the GAC brand" said Yang. "The lumbar and side support are the example for the whole GAC lineup."