We covered the launch of the Mercedes CLA sedan at the 2019 CES. We found it hard to say anything about it. It wasn't distasteful in any way, but it just seemed rather generic – or to paraphrase Gertrude Stein, there was no 'there', there.
But the new generation of the CLA estate wagon – or Shooting Brake, as they insist – is actually striking in its own way. The extreme curvature of the roof looks like a fastback from some angles, but overall the car brings some real interest to the CLA line. It is not to everyone's taste of course, and the argument about 'true' shooting brakes (five doors or three) rages onward, as this little Mercedes does not settle the question.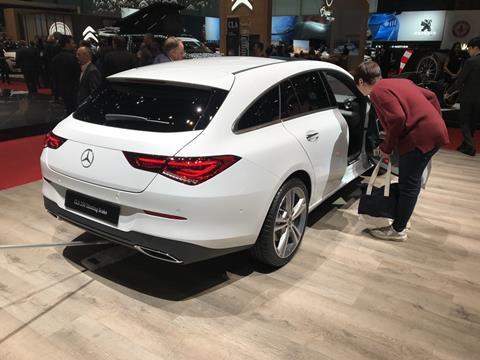 The new generation brings more room as well with more head and elbow room and more storage capacity. Even with the seats in place the storage compartment hold 505 litres of your stuff. The new generation of the CLA is 48mm longer and 53mm wider, but just a tiny bit lower for a sporty stance.
But people buy shooting brakes for the odd/cool looks and if they're lucky, some nice performance. Mercedes delivers with a variety of engine options including a turbocharged four-cylinder 2.0L engine rated at 225PS and 258lb/ft of torque, channeled towards the wheels through a seven-speed dual-clutch automatic gearbox.
That should get you down the autobahn in respectable speed-and style. And because there really is no competition in this segment – no BMW or Audi small 'shooting brake' – Mercedes enjoys a lane all to itself.
A happy place indeed.