Kia surprised us at Geneva 2019 with a highly creative and appealing concept, both inside and out
A Kia concept at Geneva is usually good news. Over the years Gregory Guillaume's Frankfurt-based teams have explored new segments, integrated tech and produced cohesive, thought-provoking concepts like the Provo.
2019's offering – called Imagine – is no different. Higher-riding than a car, but not a fully-fledged crossover, it sits in a new typology space. A little like Polestar 2 and a handful of others at this show, it blends elements of several vehicle categories. In the Kia's case, it's that of sedan, crossover and coupe. With its strong shoulder line, delicate glass house, strong C-pillar and fast, chopped-off rear end it manages to be new and distinct without the awkward-ness of some electric platform vehicles in Geneva.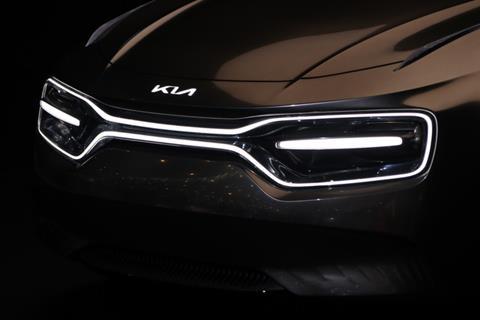 Kia plays with technology – particularly lighting – in a way that's fun and new, yet without diminishing the premium feel this concept has. The fully illuminated 'tiger grille' mask outline is the least successful aspect of the concept. It has a quality of over-done make up, yet Kia still deserves credit for doing away with a large grille opening and managing to back off on the aggression that so many brands continue to pursue.
The LED line that demarks the cant rail is a neat touch, too – it's delicate and slim in a way that other body lamp bars around this show are not. And it bleeds beyond the DLO, neatly echoing a graphic that Kia has long used on vehicles like the Optima, and now arguably owns.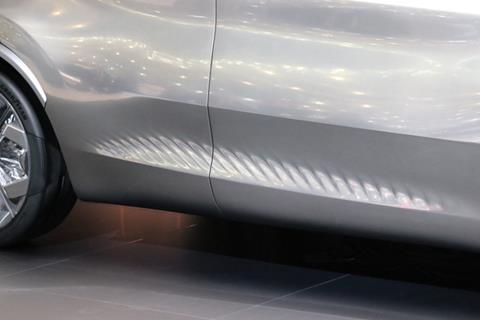 Texture – a big trend throughout Geneva in 2019 – is applied in interesting ways here. Note the exterior surface treatment above the rocker – which Guillaume says was inspired by the idea of throwing a pebble into a calm lake, causing ripples to flow out. It's a theme picked up in the knock-out interior.
The door cards condense the ripple – with an effect that's reminiscent of gold leaf paper, in distressed state – a treatment that continues on the firewall and which provides a soft contrast to the sharp, domino-topple of 21 OLED screens that form the IP display. Working in unison, these flow in a wave, from upright to flat – providing a vivid, high-tech sharpness set amongst the soft golds, creams and warm, pinky-browns that adorn the rest of the interior.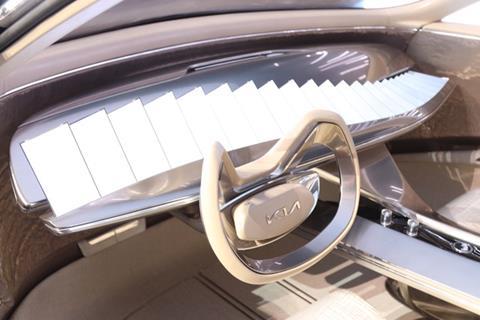 With little in the way of colour pops, this interior could easily have been like stepping into your grandma's beige sitting room. Yet while the colour way is definitely an acquired taste, the masterful handling of surfaces and volumes – which are slimmed down, elegant and crisp – lend a sense of modernity. There's an emphasis on space and Imagine highlights the possibilities an EV package allows. The fact that it doesn't all feel like a sea of sameyness, despite the muted colour palette, is achieved by using contrasting materials and textures – the light-coloured textile lower doors, the sea-shell like fans of the seat backs, and the delicate, linear silk of the seat bases.
Imagine is interesting because it has character. It's distinct and Korean – this car could not have come from a European, or Japanese OEM – and we mean that in a good way.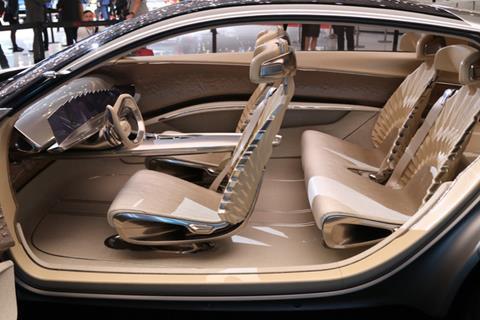 Kia remains creative and interested in exploring new ideas as it continues to build its brand. And it shows the power of creating strong sensory experience through a combination of technology, materials and space use. That experience design factor will be key in creating emotional connection with car customers in the future. In a world where electric cars may feel much less differentiated to drive, Imagine suggests Kia is in a stronger place than many OEM brands to take advantage of the change that is occurring quickly in the automotive industry, by continuing to lead through design.