We review the latest work of the Transportation Design students at Detroit's famous College for Creative Studies
BFA Students
The buzz leading into this year's CCS Student Exhibition has been building for several weeks. It began with an Infiniti studio presentation that pushed the boundaries of luxury aesthetics. Then, a very well-received presentation to FCA which saw Transportation Design students collaborating with both Accessory Design and Interior Design students. The Student Exhibition itself features design work from these studios and others – not to mention world-class illustration, fine art and graphic design. Several May graduates have already secured OEM positions, and you can bet that several more will in the weeks ahead. With that in mind, let's have a look at the highlights from this year's expansive show.
Rayan Zaher – Dodge Hyper Bee
Dodge is a brand in desperate need of a fresh direction, and Rayan Zaher provides a compelling answer: an electric-age revival of Dodge's performance roots called the Hyper Bee. But don't let retro-inspired name fool you. What makes this design interesting is how little it depends on muscle car clichés. In fact, Zaher is intent on cultivating a future luxury identity for Dodge that is defined by user-product connectivity. "Technology brings this aspect of connectivity to a higher level where the technology surrounding us can develop patterns to adapt to our needs," Zaher says. "Surely, connectivity and autonomy will give transportation a whole new image of the automobile, but Dodge luxury vehicles will need to be differentiated from future autonomous everyday commuters." That's where Dodge's performance roots come in; the privilege of the drive setting this offering apart from the self-driving pack.

The bee as aesthetic inspiration may seem a little obvious, but Zaher finds ways to abstractly apply the insect's proportions. The result is a sculptural theme that looks both quick and agile. The metallic blue finish evokes feelings of both performance and electrification, and Zaher's storyboards depict a exhilarating experience that could revitalize the Dodge brand.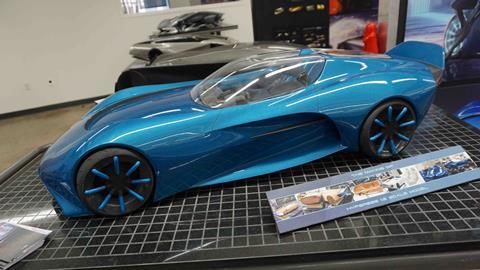 Hongwei Jiang – Chrysler Imperial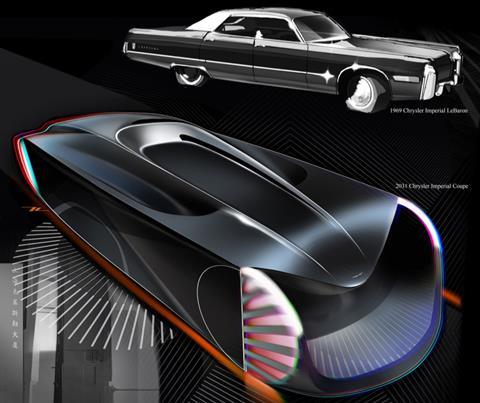 Chrysler's Imperial name has been like a submarine over the years; occasionally surfacing, but more often than not, left submerged. Hongwei Jiang saw the FCA-sponsored studio as a chance to reintroduce Imperial as a high-end offering for Shanghai in 2031. "In order to facilitate rapid travel, the future Shanghai will have many high-speed railroads, and people will be able to move quickly from point to point," Jiang says. He sees his Imperial as a competitor for this new market, aimed specifically at middle-to-high income customers who are attracted to speed and fresh technology.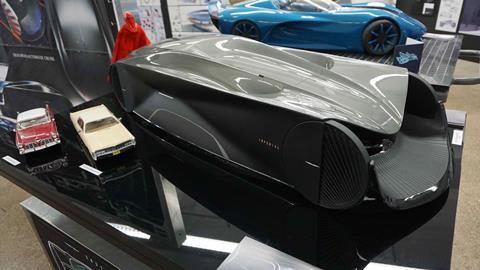 Aesthetically, Jiang's theme conjures up feelings of a 1970s Imperial; the long, monolithic bodyside creating an imposing profile. But the overall feel of the car is far more rooted in science fiction. Indeed, Jiang even references the Star Wars Imperial Guard on his board – and has an action figure by the model! While this may be a bit too literal for some, one can't deny the reference helped lend a dark, almost sinister edge to the design.
At the final presentation to FCA, Ralph Gilles was impressed by the intimidating nature of the car. With all the great brands at FCA's disposal, its easy to forget that Imperial has been out of circulation for quite a while. Jiang's concept provides a tantalizing vision of how the name could surface, once again.
Katelyn Kleinhenz – Lacks Interior Project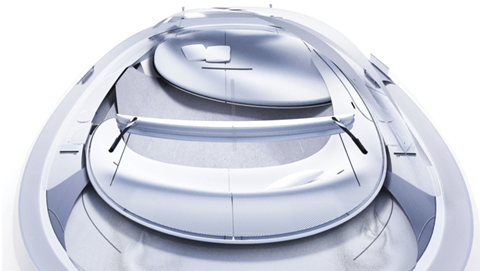 Interior-focused projects are becoming more commonplace each year, and with good reason. The advent of autonomy is making passenger experience the paramount concern of studios the world over. For her Lacks-sponsored project, Katelyn Kleinhenz created an interior inspired by the shape of sound. She envisions a particle mesh suspended between interior surfaces that would react to sound waves, with light cast beneath these surfaces at night.

But the experience goes beyond the aesthetic depiction of sound. "The daily rental model would allow for a unique incorporation of natural experiences into the interior," Kleinhenz says. "Passengers can smell freshly picked flowers, drink freshly brewed teas, and clean their hands with freshly placed warm hand towels."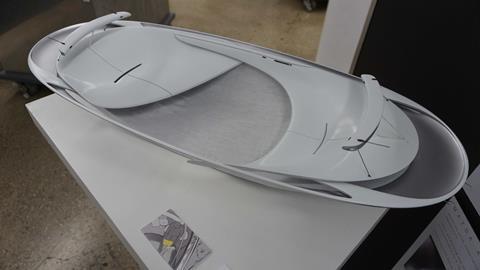 Song Yixuan – Infiniti Studio
(BFA Senior)

One of the challenges of taking a luxury brand in a fresh direction is that people have been conditioned over a long period of time to see specific traits as luxurious. To that point, Song Yixuan's Infiniti concept is an interesting mix of old luxury proportions and a new, daring form language. A short front overhang with a long rear overhang is a classic proportional cue for high-end luxury, and its use here helps provide a credible foundation for Yixuan's aesthetic experimentation. Yixuan's board features form studies made from folded metallic film. In its rough state, the resulting aesthetic language is a bit on the busy side. But once refined, the forms yield a thick-to-thin profile with the suggestion of an exclusive, precision instrument.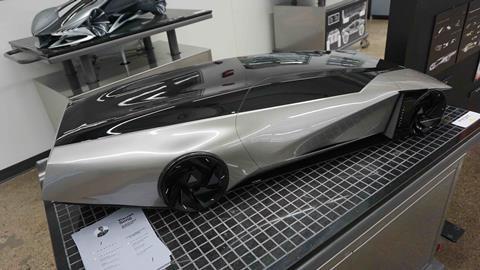 Conner Stormer – OLLIE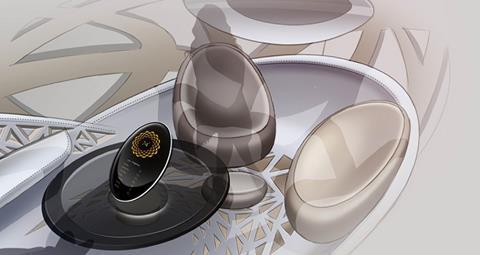 One of the challenges of integrating artificial intelligence into our lives is overcoming the fear of said intelligence going rogue on us, à la Hollywood science fiction. Conner Stormer's OLLIE concept meets this challenge head on by casting AI as a helpful, personal assistant.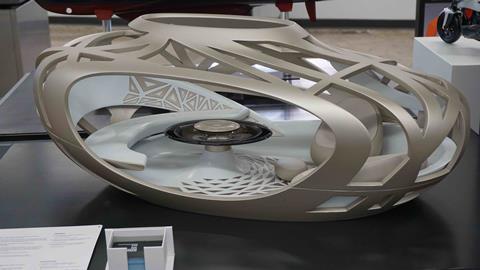 The elliptical OLLIE interface is the centerpiece of a relaxing interior space. "OLLIE can flip into vertical or horizontal mode depending on the format of content," Stormer says. "Users can interface and navigate with OLLIE using simple gestures and natural voice commands."
MFA Infiniti Project
The masters students took on a live project with the brief set by Infiniti, who announced a four-month partnership with both CCS Detroit and ArtCenter in LA during NAIAS that aimed to collaborate with students and let students learn from their designers while they created a future SUV. The MFA brief is called "The Electric Era – 30 Year Anniversary."
Infiniti's 30-Year Anniversary provided the unique occasion (and project brief) to review and learn from the brand's most iconic designs as a means to look forward to where the brand could go next. It was a dream project in that it allowed for the convergence of technology, enthused driving/riding experience, and expressions of restrained elegance tempered with humanity that could only be Infiniti. This charge was as challenging as it was inspiring and the students responded with (again) a wide range of thoughtful responses. Communicated not only through the design of the vehicle concepts, but in the storytelling of the brand essences as well.
Below are the MFA projects, described in the students' own words:
Jacob Amrhein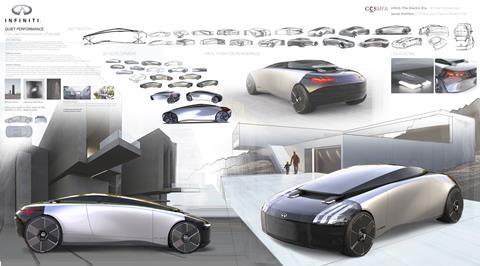 Quiet Performance
Amrhein: "Constant improvement in IoT technology and wireless connectivity enables geologically remote connected living. A 150-200-mile high-speed commute in an electric supercar isn't ubiquitous yet, but 'progressive challengers' make this trip each day.
How will the expression of luxury and technology evolve? Infiniti is in a unique position to lead the way; naturally wrought and nuanced form language can humanise technology.
Within brutal and primitive surfaces and features, unexpected moments of energy are revealed throughout. Framed by glass blocks at each end, the seemingly hand-hewn, twisted bodyside sculpture makes light reflections dance despite its shallow depth and draw. Fractured and raw texture on the front and rear demonstrate a play of light under otherwise dark glass. The dark, floating DLO and graphic breakup concentrate focus between the front and rear wheels and thin, primitive graphics emphasize the visual height and weight of sheer surfaces throughout."
Evan Fein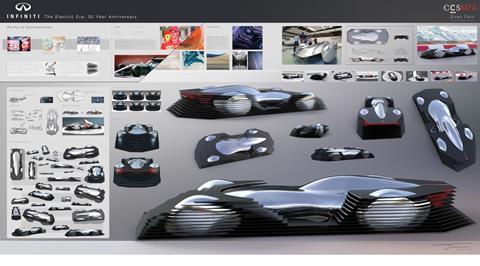 Purity of Contradiction
Fein: "In 2050, materials will be able to exceed current manufacturing limitations. By incorporating batteries and power sources together into the vehicle's main structure, it eliminates the need to design separate surfacing to house the vehicle's propulsion system. Twelve panels of hyper-rigid graphene provide a lighter and stronger alternative to carbonfibre, with the added benefit of organic conductivity for efficiently storing and distributing electricity to the wheel pods and motors.
Nature creates organic lines when two elements mix. The blend between the two often creates beautiful patterns, while still keeping distinct contrast between them."
Woonghee Chung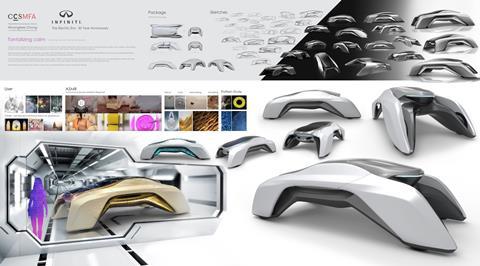 Tantalizing Calm
Chung: "There are many people who are suffering because of their busy life. People spend their money trying to reduce stress by buying candles, bath supplies or decorating interiors or going travelling. Future luxury will be about how to become a calm person, which requires time and finances. People, especially 'progressive challengers', are eager to do something new. They go travelling to learn and feel totally different from what they've experienced before, and find peace.
In the present, people are watching videos known as 'ASMR' to reduce their stress and feel relaxed. In these videos, you can see repeated patterns and hear low-pitched sounds which make you feel calm and relaxed. In the future, people will keep searching for ways to find peace.
This vehicle can stimulate users' senses so they can feel calm by seeing and hearing."
KangXin Huang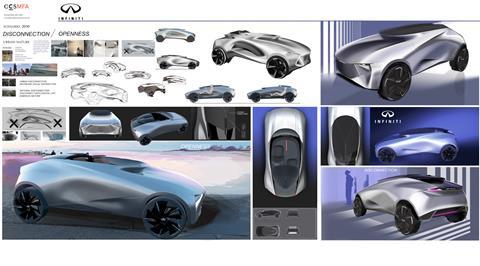 Disconnection / Openness
Huang: "In this highly saturated, connected world, with people experiencing digital culture and social media, a new generation is looking for more ways to disconnect for a period of time. Urban disconnection decreases visual distraction. Disconnect with digital life and embrace nature."
Jan Moeller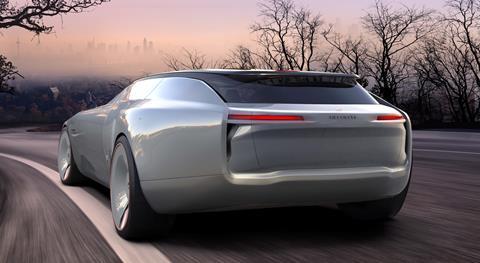 Tempered Seriousness
(see video)
Cesar Olivera-Latorre
Serene Transcending
Olivera-Latorre: "Infiniti celebrates its 30th anniversary with the Shuhari Coupé Concept, a show car that exhibits Infiniti's ability to create products that are more than just products. Purposeful art that stimulates the senses and fulfils the desires of the user. The Shuhari boasts a slick coupé proportion, evolving Infiniti's halo vehicle to a new level of purity and simplicity, strongly inspired by Japan's unique culture.
The Shuhari is all about 'open space'. The concept features an open, see-through cabin and the 'katana cut' exposes the high-tech components under the skin. The wheel design is inspired by Japanese 'wagasa' paper umbrellas.
The design language of the Shuhari is inspired by the idea of a Katana sword gently cutting through a calm body of pure water. The 'cut' 'starts on the front fascia and creates a series of serene surfaces that resemble water ripples as the sword cuts through."
Won Choi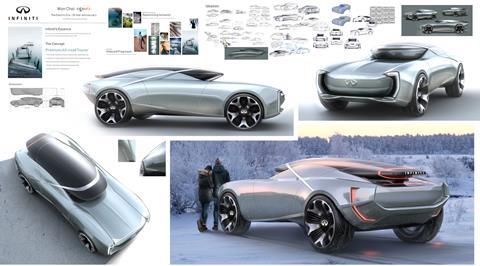 Premium All-Road Tourer
Choi: "Infiniti's Essence; a premium automotive experience which empowers us to drive forward and enhance our life – a premium all-road tourer that accompanies your weekend journey, a companion in replenishing your sensation to get you going next week, and a revitalising sensory experience to bring back home. Delight in interacting with moments along the journey. The car features a sleek proportion for visual pleasure."
Sung Kim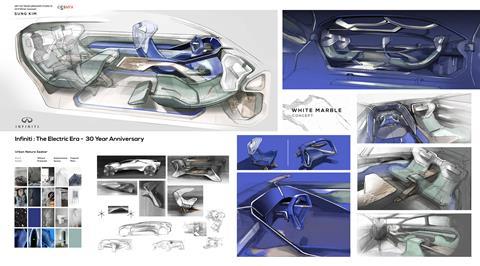 "White Marble interior concept"
Deven Khatri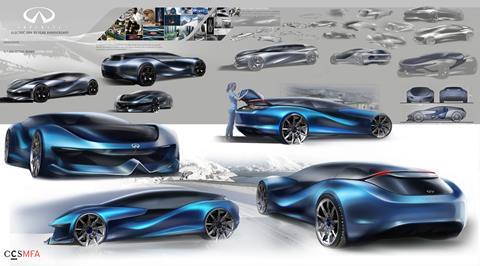 Aspen 2030
Khatri: "The project conveys Infiniti's four 'EN words' (Enrich, Engage, Enable, Enchant) evoke a sense of balance and minimalism through structural dissipation. The imagined user is a 'progressive naturalist, an individual accustomed to a high-change environment with an outward love for the serenity of nature, and one who works remotely with an acute eye for detail, practicality, simplicity and minimalism."
Dong Wang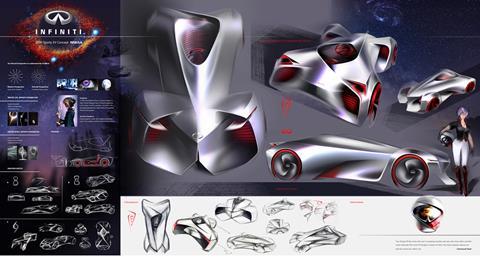 Nebula
Wang: "The western perspective to understand the universe is linear, direct, radiative. The oriental perspective is curvilinear, indirect, spiralling. In 2050, virtual reality will be as universal as today's internet. Humans will rely on immersive experiences in that 'unreal' world for inspiration. As a result, a new job, fantasy designers who create worlds in VR, is getting more and more popular. Fantasy designers create their imaginary worlds, then drive within them. Driving is not only driving."
Jiachen Wang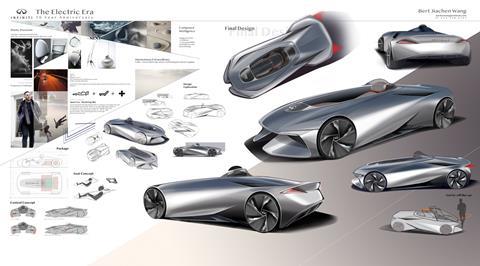 Progressive Challenger
Wang: "The imagined user feels bored taking trains to commute. On weekends, he will rent an Infiniti autonomous sports car to enjoy high-speed driving on a racetrack or freeway. He can use posture changes of his body to control the basic directions of the car, including accelerating and braking – much like skydiving, but the AI will make corrections for more precise driving."
-
Jason White is an Assistant Professor at CCS in Detroit, Michigan and a Contributor to Car Design News.