A deep dive with Mahindra's chief designer, as seen in our yearbook
Right from the beginning, the germination of an idea, I like to influence the process: I like to be involved from the platform definition stage so that I can influence proportions and stance, during production so that I can watch over quality, until the product hits the market. I would like to think that my experience in engineering has helped expand my influence beyond design.

For us, the pace of change is just so fast and diverse: at another point in time, you could see consumerism growing or you could see people becoming more affluent, but now there is no one particular trend. The challenge for designers – and it's a good challenge – is this diversity and non-linearity. I think that brings forth new ideas and solutions, and it forces the designer to think more about the future.

Yet, however this may affect ownership or buying patterns, in India short-term there are people who want what we call 'objects of desire'. These customers are passionate about the outdoors, family outings, hanging out with friends, and for them we need a deep understanding and bonding; today, customers post pictures of themselves online, with their family, on their adventures, and the car becomes part of that narrative.
We say that our designs should be intriguing and have layers – they should create stories along with their owners. Of course, Mahindra stands for robustness, for ruggedness, so all of this is layered on top of reliability and durability, the foundation stones for our design.
We try to design these elements that grow on you with time: you may not notice them at first, but after a few days you do, and after that you see something else. For example, the XUV500 has a vertically-placed door handle: we turned the experience of opening the door into something engaging.
In the Marazzo utility vehicle, on the instrument panel we have a decorative pattern fading onto a glossy black panel: it's similar to the grain but it's a print, it merges into the vent. Customers tell me that at first they think it's simply decorative, and then they realise it's in harmony with the grain or fabric, creating discovery.
Similarly, the handbrake is shaped like an aeroplane throttle; people talk about it in online forums and there is an argument – but it's a narrative, and in all our vehicles we want to have these stories. Our design language is not set in concrete, it's a set of reference values which reflect our design philosophy of freedom and adventure. The design brief for each product is very powerful, and the research sets the direction in terms of the design subtlety, complexity or overtness.
We have three types of product: one global, the second where we are very clear it is India-only, and the third India-led. Our big export markets are in South Asia, and we also export to South Africa, Chile, Italy and Tunisia. We need to build our brand internationally, but in India we have a very strong identity. The key features are full volumes, muscular surfaces, sculpted sections and bold elements; we have explicit graphics, and our vertical grille is very distinctive.
This is our language definition, and we keep it a little loose so our vehicles don't look like clones – the Indian customer is very sensitive to novelty – but at the same time it is clearly and immediately identifiable as Mahindra.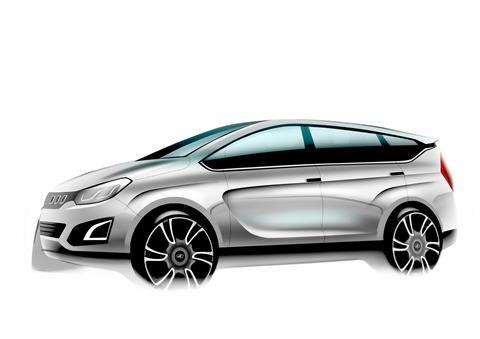 Mahindra started making off-road vehicles in 1946, and we have three pillars of design: robust, progressive, go– anywhere. Those qualities and heritage values are common to all our vehicles, and our studio also handles trucks, buses, and farm or construction equipment.
We are just over 50 people with 21 or 22 designers. Some groups, for example the CMF team, are common resources and the modelling team supports all projects – so at various points you could see them working on bus facias, or tractor volume models, or SUVs! Having a bunch of guys working on tractors or buses keeps everybody curious and engaged: the auto designers are always looking at the non-auto projects and saying 'wow, what are you doing?' It's very interesting to see.
We are very digitised but still depend on hand-sculpted clay to get the right feel and a level of emotive quality. We mill the clay out full-scale, do multiple models to get surface quality and the expression just right, and it is that interaction in the studio between the modellers and designers that develops the form.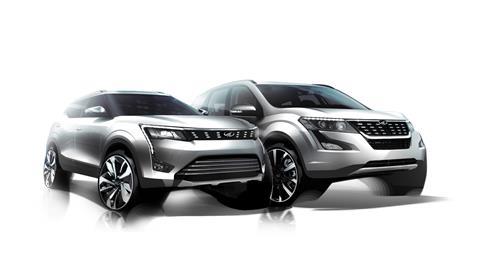 In Mumbai, we are a production studio as of last year, focusing more and more on advanced design and communicating our design strategy. We have collaborations with MANA, our tech centre in Detroit; with SsangYong in South Korea [owned by Mahindra since 2011]; multiple projects at multiple stages with Pininfarina [acquired in 2015]; and a product development team in Chennai. We have a project going on at all times with MANA: our studio engineering team there acts as a bridge, making sure the inputs are always in sync.
We have all the studios competing at the early stage of a design. Pininfarina is the go-to studio with at least one entry for all our projects, and we further try to maximise the benefit of their expertise whether making show cars or for CAS (Class A surfacing), having as many people as possible interacting with them to imbibe their sense of design, like emotional osmosis. The XUV300 shares a platform with the SsangYong Tivoli, and we will work more and more with SsangYong to maximise synergies in our portfolios.
Of immense interest immediately is the amazing design quality that the Korean manufacturers get: we've worked with their ecosystem, it helped with XUV300 and Marazzo, and we've managed to get their quality of materials, fit and finish, harmony and touch, definitely moving our standards up.
Another area of focus in the past few years has been what we call 'objects of mobility'; we feel that for these, users will perhaps be more concerned about comfort, technology, economy and ease of use – it's less about personality and appearance, and more about being smart and intelligent. So, our design language will morph for these, and over the next one and a half years there will be a progression, we will be making this transition. We are pioneering electrification in India, too.
It's a brave new world, and we want to be there and participate in that journey.
The sixth edition of our annual Car Design Yearbook is now out. The meticulously designed and produced annual hardback book – highly collectible and jealously fought over by senior designers – features the Concept and Production Cars of the Year Awards shortlists and winners, interviews with the top designers who judged them and a lifetime achievement award and fascinating career overview for one of the industry's greats. The book also presents current and future design trends, with expert analysis, informed comment and predictions from the international car design community. A warning – it sells out quickly!
If you'd like your own copy of Car Design Review 6 it is on sale now directly from Car Design News.
Kripa's votes for the Concept and Production Cars of the Year 2018
Concept
1 Peugeot e-Legend
2 Nissan Xmotion
3 Renault EZ-GO
Production
1 Peugeot 508
2 Jaguar I-Pace
3 Audi e-tron