Inside Mercedes' trés chic design studio (and why Como had to go)
Mercedes-Benz Advanced Design Centre Europe
Established: September 2019
Location: Nice, France
Space: 3000 sq m
Staff: 34 (so far)
Director: Alexandre Malval
Mercedes-Benz's newest advanced dDesign studio in Nice on France's picturesque Cote d'Azur is a bigger, better-equipped facility with a more diverse remit than the beautiful-but-small Lake Como studio it replaces. Car Design News took a tour and chatted to the key designers about the real reasons for the move, plus their hopes for the new studio.
The (now vacated) Lake Como studio
Anyone who ever had the chance to stroll the corridors of Mercedes' former Lake Como advanced design studio – an 18th century Italian mansion with murals on its painted ceilings, previously used by fashion designer Versace – will know it was undoubtedly a delightful place to be (and maybe work). Set up in 1998 by former design boss Bruno Sacco and dedicated to interior design, it offered close access to Turin's coachbuilders and Milan's furniture and fashion trends, but was nonetheless a bit pokey for major car design. Even if it did house two full-size plates and two smaller ones for scale models, and interior bucks could just about fit within its ground-floor space, there wasn't much room to stand back and properly admire.
By comparison, the new studio officially unveiled to the world's press in September is a totally different experience. Resembling a giant metal, glass and concrete Smarties tube (50 metres long, 20 metres wide and covering 3000 sq metres in total), up to 49 designers will be able to work there, across all car design disciplines from exterior, interior, colour and trim, UX and digital. About 34 such designers were in place when we visited, already utilising facilities that include a 42-metre long plate, power walls and more. The studio is run by ex-Citroën design director Alexandre Malval and will be a resource for Mercedes designers worldwide to visit and work at, plus host brand-related events as well.
The new facility in Nice
Despite its modern appearance, the building is not purpose-built, but actually heavily refurbished and reconfigured. According to advanced design director Stefan Kohl it was chosen after three-to-four months of looking – and not just in Nice and France, but also in Barcelona, Paris, London and Prague. Why did Nice win out, when so few car studios are based there (Toyota's ED2 is the best known other one) and when there are also no obvious modern-day automotive connections? The official line from the Mercedes PR department is that the area is culturally important to the brand and the world.
Historically, that is true. French Daimler distributor Emil Jellinek used to race under the pseudonym "Monsieur Mercédès" (after his daughter's name) in Nice in 1899 and the name caught on, being written on the cars themselves in 1900 and Daimler officially trademarking the Mercedes name in 1902. Picasso's Villa Californie is also situated up the road and many fine artists settled in the region for the stunning blue skies and awesome natural light conditions. In more recent times, bio-tech brands and suppliers have set-up shop here in significant numbers too, including blue-chip companies like SAP, Huawei, Hewlett Packard, Bayer and Thales, giving the Sophia Antipolis Science and Technology Park area where Mercedes's studio is situated, the unofficial title of 'France's Silicon Valley'.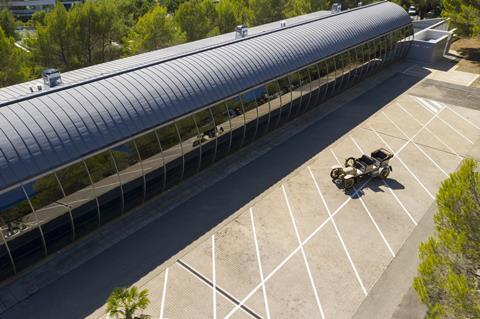 Kohl says that, apart from the wow factor of the building itself and its stunning location tucked away into the hillside, he persuaded chief design officer Gorden Wagener of the venue's merits by describing it to him as "the California of Europe" – which apparently went down well given Wagener's love of the West Coast state from his time as head of Mercedes' US studio, then based in Irvine.
But the brand's now former studio in Italy's Lake Como was situated in one of the most beautiful parts of the world too. What can Mercedes design do in Nice that it couldn't do there? At this point head of exterior design Robert Lesnik chipped in: "Fifty percent of the work here will be for production vehicles; it's not just for conceptual work. We can cover exterior, interior and UX design with room for up to 49 staff. The Como studio building couldn't be expanded as there were too many regulations." The Como studio only had circa 15-20 staff when Car Design News last visited, but Kohl says 60% of them have moved over to the new Nice location, including key people like senior colour and trim designer Valeria Vigevani, who was also in attendance on our media visit.
Inside the Nice facility
The Nice studio fits into the Mercedes-Benz passenger car design universe as the Advanced Design Centre for Europe, working alongside the other two Advanced Design Centres in the US (Carlsbad) and China (Beijing). There are also a few global commercial vehicle design centres and all report to Wagener at the Daimler design mothership in Sindelfingen just outside Stuttgart, Germany.
Wagener was positively beaming when he hosted the sun-kissed afternoon event – suggesting that Kohl's aforementioned locational hunch was spot-on – and drove into the Studio's car park in the historic 1902 Mercedes Simplex vehicle, before unveiling a 21st Century conceptual hommage to it in the shape of the 2019 Vision Simplex later that evening [see our separate story].
"With the new design centre in France, we are systematically expanding the creative spaces for our worldwide design network," Wagener confirmed. "Having design centres around the globe means that we are at home everywhere in the world. The Côte d'Azur also breathes creativity. All the impressionists painted there, and it is a very sensuous region. The most diverse sources of inspiration come together here in a melting pot. This starts with the light and applies across technology, art, culture, architecture, to the aromas that waft around us there. We are in the future here, and at the same time at the roots of the brand."