Covestro's latest interior concept is centred on a multifunctional living space
New mobility concepts will lead to different design of cars," said Markus Steilemann, Covestro CEO, at the recent K 2019 fair in Düsseldorf, Germany. "Individual mobility will not disappear, nor mobility supported by passenger vehicles, but we have to think again in different contexts."
At K, a leading trade event for the plastics industry, Covestro unveiled a concept interior showcasing how its materials and technologies can support the creation of a multifunctional living space, whether for working or relaxing. "Mobility must become more efficient," said project leader Jochen Hardt, who explained that when people spend hours in traffic, they want to utilise this time in a valuable way; and that a car should therefore be able to adapt and adjust to user needs and customer expectations in driven, shared or autonomous modes. "It should fit into modern digital life," he stressed.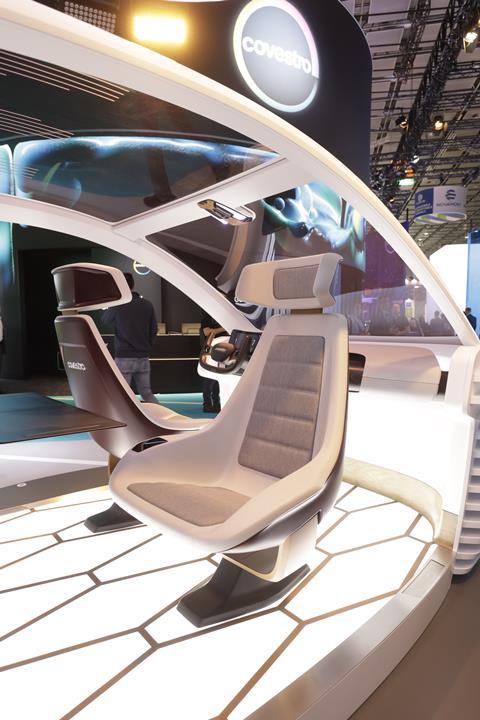 Curved 3D displays and thin control panels
Polycarbonate enables the creation of large, curved displays to seamlessly integrate control functions. The concept's display features Covestro's translucent Makrolon® Ai with Makrofol® film to give high optical purity and super-precise resolution of imagery, and its surface treatments promise high scratch and chemical resistance.
Similar materials are used in the overhead control panel, where LEDs and Makrolon® resin are embedded between two films. "Two functional films are thermoformed, inserted into a tool and Makrolon® is injected in between for the component stiffness and light guiding properties. It's extremely thin," explained project manager Jan Helmig, showing Car Design News around the concept.
Such polycarbonate films can further contain printed electronics, and Covestro claims such super-thin smart control surfaces can reduce both electronics weight and assembly depth. They can be applied in decorative parts like door trim and cover panels, and in areas such as seat armrests.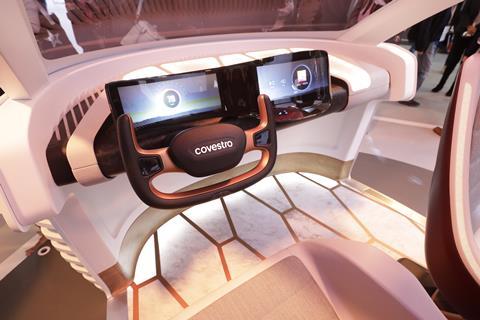 Working with light
"We work a lot with ambient light by using our materials in an innovative way," said Hardt, pointing out the smart-window displays with active screens, as well as overhead and in-seat embedded lighting: Makrolon® allows for both back- and edge-lighting. Illumination can be dynamic and communicative, or atmospheric, relaxing and homely, and Covestro expects growing demand for ever-more personalised lighting experiences and functionalities. The polycarbonate window glazing can switch between an opaque state and complete translucency for privacy or maximum visibility, automatically defaulting to translucency in the event of electrical power loss.
Super-slim seats and structures
The concept's seats showcase a thermoplastic polycarbonate-based composite called MaezioTM. "We thought about how to make a lightweight and stable structure out of our materials: coatings from our raw materials, and then the whole shell out of our carbon composite, in a sandwich structure," said Helmig. "It also gives a very good surface quality and you can paint it very easily." MaezioTM features again behind the dash and on the foldable table, which has visual appeal from the unidirectional strands of fibres, very different from traditional woven fabrics. Such a super-slim table can be tailored to working on the go, and to other new scenarios in autonomous vehicles.
Over the centre seat structure and foam, a water-based, non-solvent artificial leather textile called Insqin® – lighter than PVC and supporting a wide variety of colour treatments – is applied. "This is translucent; you can highlight the seat, create textures and also branding," Helmig added.
Innovations for design flexibility
The flooring is of strong but lightweight polycarbonate composites and polyurethanes which support a layer of marble. "You can have a real stone, just a very thin layer: you have the surface properties and the quality, but you don't need big tiles," said Helmig. "You can also illuminate it."
Covestro's polycarbonates and films continue on components including the glove box cover, illuminated air vents and touchpads; and polyurethane foam acts as a sound-canceller in the 'privacy hood' which can be lowered over the rear seats.
Jan Helmig concluded his tour of the concept by saying: "It's all about multifunctionalities and ambience lighting, the HMI connectivity, personalised atmosphere, or privacy and efficency in energy, weight and space – all that is enabled by our materials. It's giving design flexibility, but is sturdy and lightweight at the same time."
About Covestro
With 2015 sales of EUR 14.6 billion, Covestro is among the world's largest polymer companies. Business activities are focused on the manufacture of high-tech polymer materials and the development of innovative solutions for products used in many areas of daily life. Covestro has 30 production sites worldwide and employs approximately 16,800 people.