The first BMW concept to lack a steering wheel hints at what comes i-Next…
BMW hung on for a long time, but has finally removed the steering wheel in its latest autonomous concept, unveiled at CES in Las Vegas this week, which showed off the hidden interior 'shy tech' that will form an important part of the company's imminent iNext electric SUV.
The BMW i Interaction Ease is a concept envisioning a future two-seat interior designed in a collaboration between the company's California-based DesignWorks and its Munich studio. At the unveiling, BMW's head of development Klaus Froelich described the concept as a "supreme luxury experience" that brought together technology such as voice recognition, gaze analysis and gesture control. "The merger of advanced technology and design creates an almost human bond with the car," Froelich said.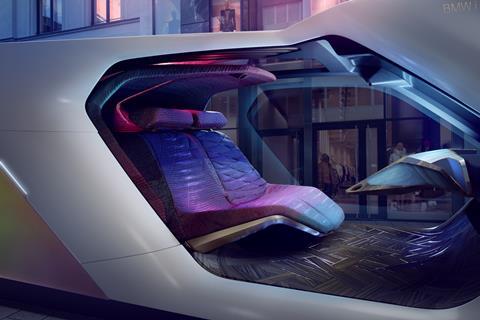 That fact that all these technologies can be hidden gave the designers the freedom to create an atmosphere that was more home than car.
This is what BMW means by 'shy tech', DesignWorks president Holger Hampf told Car Design News. "We have masked the technology with materials that you are more used to from your home," he said.
Hidden behind materials such as the 3D knitted fabric of the seats are a range of sensors and cameras that can interpret what you as a passenger might want or need; so for example, gaze recognition can see you're staring at a particular shop or café, and bring up information and reviews onto to the windscreen, augmented with screen-wide head-up display. Or the windows can be darkened with use of the gesture control.
"It supports natural interaction because you don't think, 'oh this is the microphone, I have to speak into it'," Hampf said. Commands given by voice, gaze, gesture or touch replicate the way humans interact. "It's up to you," Hampf went on. "It's basically the same we interact. Sometimes I give my direction by looking at you, sometimes I'm using my hands to describe and sometimes I'm touching a surface to give a command. I do this not by thinking about it, but very naturally, as in a flow of conversation."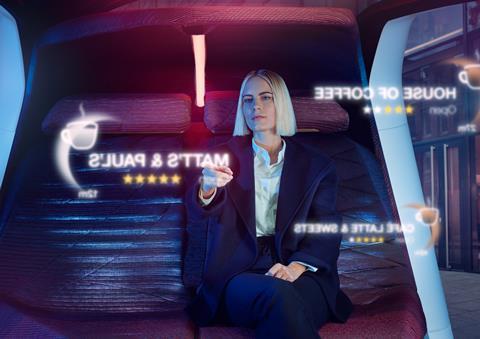 The technology is partly enabled by new 5G connectivity to the cloud. The iNext will become the first car to be offered with 5G in 2021, BMW claims, thanks to a hook-up with its supplier partner Harman and Harman's parent, tech giant Samsung. It would be too costly to jam all this computing power into a new car, so it's easier and cheaper to interpret commands, gestures or gaze via info in the cloud, which then can also learn your preferences.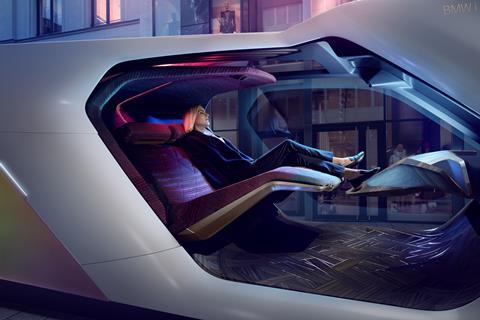 The concept was also shown with three experience modes – Explore, Entertain and Ease – based on how you're feeling. Ease tips up the chair to 'zero-gravity' position, makes the windows opaque, bathes the interior in a soothing light (which also glows through the seat fabric) and plays 'a harmonious composition of pleasant sounds' according to BMW (perhaps the induction noise from an old M3 CSL?).
Explore displays information on anything you might see while looking outside onto the screen, while Entertain can show movies on the screen while dimming down the lights, cinema-style.
Obviously, not all of these elements will appear on the 2021 iNext, but the car will have an Ease and a Boost mode, depending whether you're kicking back in hands-free, Level 3 autonomous mode or driving yourself in a more spirited manner. Some of the 'shy-tech' features will appear too, for example camera recognition that, combined with voice command, can recognise who's talking and therefore send entertainment or info to where they are sitting.
– Also on their CES stand was the X7 Xero-G Lounger concept
BMW also showed at CES an electric i3 'Urban Suite' concept in which the front passenger seat was extended into the back and the interior given a 'boutique hotel' makeover, complete with bedside-style lamp. Another innovation shown by the company was the 'ZeroG Lounger' front seat fitted to a fleet of X7 large SUVs that can tip back 60 degrees without affecting safety. The company said the seat would be "ready for series production vehicles in just a few years."