Kitted-out i3 becomes an urban luxury mini-limo with a teal throne
BMW has characterised its presence at CES this year by the hashtag #ChangeYourPerspective. As a demonstration of that theme, BMW is bringing a small fleet of i3 electrics fitted with a bespoke 'Urban Suite' interior.
The interiors have their front passenger and rear seat removed and replaced by a mid-century inspired lounge chair and footrest, with a table and lamp beside the chair in the rear. Flipping down from the headliner is a TV screen. A focused sound system allows for acoustic privacy.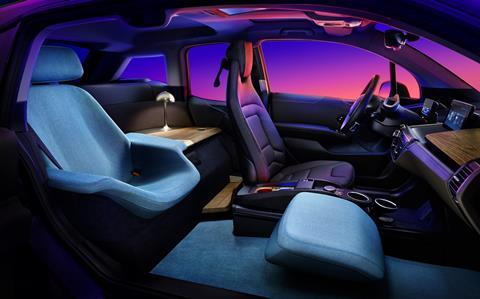 The revamped cabin is bisected into two CMF themes, with the rear-set passenger side all in teal fabric (loosely reminiscent of the Vision i-Next concept's suede second row) and the driver's side and dashboard mostly characterised by stretches of wood.
Interior finishes were chosen for sustainability both in material and in production process. The fabrics are made from recycled materials. The wood used is certified, and is combined with olive tanned leather. Floor mats are made from materials that can be reclaimed and recycled back into a sustainable production cycle.
The driver's seat and dashboard are unchanged, allowing for a driver to shuttle the fortunate passenger around.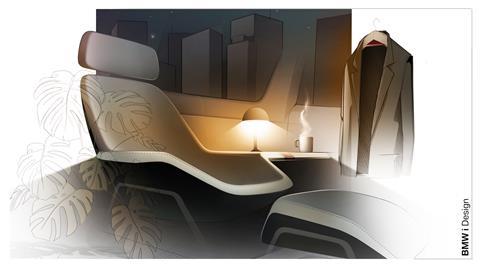 If you look at the 'Urban Suite' concepts beyond just a custom car exercise, you could interpret the project in two ways.
The cynic would decry BMW's abandonment of the whole i3 project (forthcoming in a year or two) and would be further incensed at the watering-down of the 'Megacity Car' concept into an executive car for the virtue-signalling limousine liberal.
A more nuanced view, and one which we prefer to subscribe to, is that the 'Urban Suite' represents a variation on the Megacity Car concept, one that makes a certain statement about luxury in our current era – and the one to come.
Firstly, the basic car remains unchanged. Only part of the interior has been transformed, the better to make it appealing as an executive car or a luxury fleet car for an organisation like Uber Black or similar black car service.
The 'Urban Suite' manages to fit executive saloon comfort in an i3 package, a feat in itself. The creature comforts are not overly dramatic – more hip, upscale lounge comfort than high-tech cockpit – but to find these features in a car the size of the i3 is some accomplishment.
The fact that there remains a driver's seat says several things about BMW and its approach to luxury in the coming years.
Firstly, it recognises that autonomous cars will not be with us anytime soon, so a human driver will be a must. Secondly, it makes a comment on the future of the car. At some point, probably fifteen years away, autonomy will be common, a commodity. The ultimate luxury will not be a robot-car, it will be a human. A personal driver trained for driving and security will be a luxury standard for the advanced premium vehicle.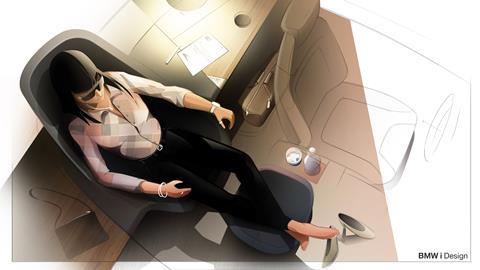 BMW will have a number of these 'Urban Suite' i3 cars cruising around Las Vegas, which can be hailed (naturally) with a special app. Hopefully a few of these cars will also make it to the Geneva show where they will be more at home in the compact streets of Europe. Until then, you can see them corked up in CES/Las Vegas traffic, along with the rest of us.
CES 2020: the best design stories from the show
1

2

3

4

5

6

7

8

9

10

11

Currently reading

CES 2020: BMW brings an 'Urban Suite' to Vegas