BMW's electric 4-series takes the virtual stand at Geneva
Introduced by (among others) Adrian van Hooydonk, the Concept i4 shows a lot of the same proportions and taut surfacing that we saw last year in the Concept 4, but a closer inspection revels a lot more convergance of design elements in other concepts BMW has been showing of late.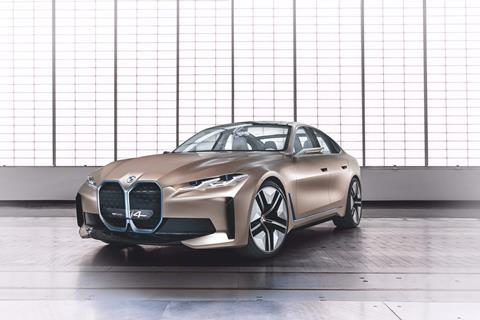 The vertical grille, which will inevitably garner the biggest response, is more finished than the version we saw on the Concept 4 and seems more integrated into the rest of the front end. Combined with the slim headlights it projects a strong DRG.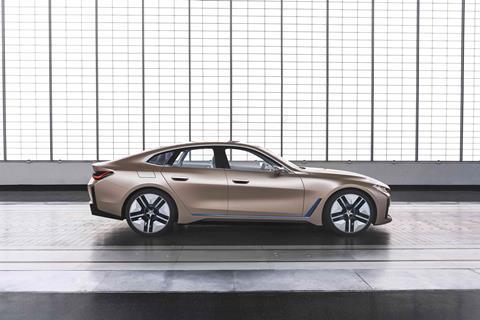 The integration of a blue defining line on the lower bodyside, echoed by a slim line highlighting the outer edge of the grille and the new rear diffusers, suggest that BMW's electric language is being signalled with simple graphic elements (something we saw BMW playing with on the Vision M-Next concept too).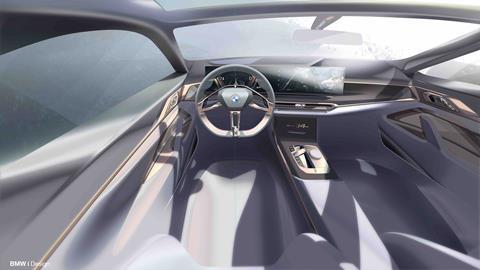 Inside, the concept has taken the driver-focused cockpit (BMW) design signature and reworked it to integrate a curved OLED touchscreen. Said touchscreen is mounted on gold struts, an architectural feature hidden to the driver but not to others. Similar shapes appear in the door, too. Gold metallic elements are nicely balanced with differently textured materials in warm grey colours. Inside the screen, the user experience appears to signal different driving modes with different colour schemes, similar to the Ease and Boost modes we saw in the Vision M-Next concept.
Clearly we want to have a look at the car ourselves more closely, but in the meantime, here's a gallery of images released by BMW.
BMW Concept i4 gallery