Toyota has unveiled the new Yaris Cross compact SUV, using experience gained with its RAV4 and C-HR models
Toyota's design teams in Europe and Japan have worked together to produce the new Yaris Cross – a compact SUV that aims to embody the company's expertise in both small urban cars and functional all-wheel drive vehicles. The model was originally planned for debut at the 2020 Geneva motor show.
Drawing on experience gained with its RAV4 and C-HR SUVs, Toyota hoped to give the compact model an edge when it comes to all-wheel drive capability. The rear drive system is electric, which means it is lighter and more compact when compared to traditional mechanical systems. It is automatically engaged when low-grip conditions are detected, and directs torque to the rear axle when accelerating.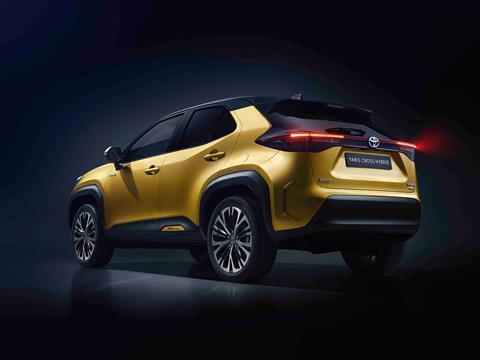 Its appearance is based on the shape of a diamond. "From the top, or plan view, we 'cut' or 'shaved' the body to give us a diamond shape, which in turn gave us the space to emphasis the wings," explains Lance Scott, general manager of design at the Toyota ED2 studio in the South of France. "The diamond body shape combined with the four bold wings gave us an energetic shape that was also strong and sophisticated."
"The face was another very important aspect for us," he continues. "We wanted to keep the strong DNA of Toyota's SUV line-up, but at the same time give Yaris Cross its own identity. At the rear, we again focused on a good stance, with wide wings showing how the car looks planted on its wheels. Combining the horizontal tail lights and rear screen clearly shows the shared family identity with the Yaris hatchback, yet the wider and more squared tailgate hints at the greater flexibility of the luggage space for day-to-day use."
The model shares the GA-B compact car platform with the GR Yaris and Yaris hatchback. The wheelbase is 2,560mm long, which is the same as the hatchback variant. However, 60mm has been added to the front and 180mm to the rear, making the Cross 240mm longer. Ground clearance has also been increased by 30mm, and the vehicle is 20mm wider and 90mm taller, all of which provides more room in the interior for occupants and luggage.
Practicality was clearly a key focus area when developing the Yaris Cross. As well as increased dimensions, various design details contribute to functionality. For example, there is a height-adjustable luggage deck that allows for either a secure underfloor apartment or more space in the boot. The luggage compartment also has a new belt system that helps to keep items secure.
"For the exterior colour, we started thinking about something that would express an active and high-quality image that our target customers would really appreciate," Scott continues. "Looking at future colour trends, we can see a growing tendency for gold and other precious metals, but we wanted to offer something a bit more natural and urban. Adding a subtle hint of green to the gold direction, and de-saturating the colour to emphasise the metal-like appearance, gave us this fresh, urban yet active appeal, highlighting the surface form of the exterior. The result is a colour we call Brass Gold."