By watching you consent to receive further information from Car Design News about this webinar and other related news, insights, intelligence, and events. You also agree for your details to be shared with the webinar partner who may contact you about their related products and services. For more information about how we use your data and your opt-out rights, please see http://ultimamedia.com/ultimamediapp.pdf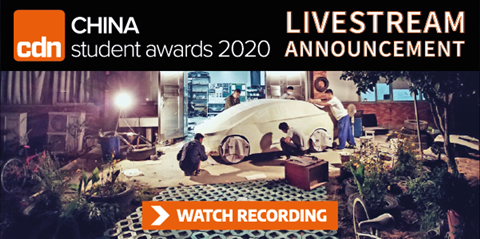 The 15 Judges spread across seven countries, gathered in a virtual meeting to complete the final round of live judging of the student work for the CDN Student Awards China competition. The Judges and the CDN team looked at the best work submitted by some 330 students in China, from 133 different universities/colleges.
There have been three stages of judging, culminating in the Judges selecting their category winners (for 10 categories) and the overall winner. The standard of work submitted in this competition continues to impress the Judges and many noted how the standard of work keeps getting better each year.
The overall winner receives A 15-week semester on The Advanced Design Study Abroad Program at the College for Creative Studies in the USA, including free travel, a one-year school subscription to Car Design News and Interior Motives magazine, $500 for the winning team and the opportunity to intern with one of the Award Sponsors.
Category winners win $500 per team, a one-year cardesignnews.com subscription, and incredible intern opportunities.
This unique competition allows Chinese design students to work on designing vehicles according to an imaginative set of briefs created by eight automotive companies.