Kia unveils its new Sorento – a large seven-seater SUV that has fresh exterior and interior designs
Another important production unveil due for the Geneva Motor Show was the fourth-generation Kia Sorento. Designed and developed out of Kia's US and Korean studios – reflecting the global model's two key biggest-selling markets – the seven-seat SUV's exterior is now a little more angular in aesthetic, with wider-set, slimmer and more wraparound headlamps.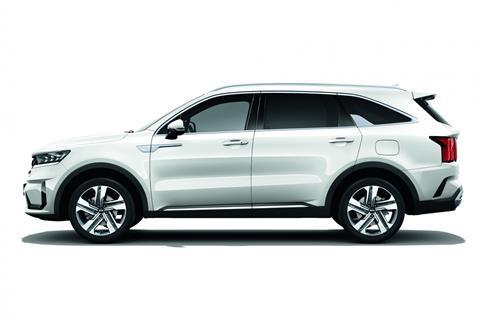 But overall, proportions have changed little. Compared to the 2015 mk3 model the 2020 mk4 is only 10mm longer (4810mm), with a 35mm longer wheelbase (2815mm).
The mk4 Sorento will get regular hybrid engines to start with – the car goes on sale in Korea in the summer, followed by Europe and the US later in 2020 – and plug-in versions by early 2021. But arguably the most dramatic change that customers will perceive is the mk4's cabin.
To refresh our memory, Car Design News dug out images of both the 2015 Sorento interior – which pushed the car beyond the £40,000 price point in the UK for the first time – and also the 2009 version. Compare those cabins side by side with the 2020 version and it's clear that Kia's interior designers have been working really hard.
Kia Sorento 2009, 2015 and 2020 interiors
Of course in five years, screen technology has improved in resolution and size considerably (while reducing in cost to the carmaker) but beyond that central element, the quality jump in all other areas from the instrument panel's surfacing to the design details within it, is remarkable.
The diamond patterning that runs through the centre section of the IP shelf and into the door cards is one (literally) shining example, as the three-dimensional detail catches the reflected ambient lighting well, as is the high-end looking knurled rotary controller for automatic gear selection. It's a big jump from the old-school push-button auto shifter in the 2015 model and alongside double-stitch diamond quilting on the perforated leather seats, sets an undoubtedly premium, rather than mainstream feel.
Yes, these pictures show perfectly-lit, top-end trim versions, but this Kia Sorento mk4 still looks more the £40k-plus part than its 2015 iteration and a world way from the 2002 mk1 edition, that was a humble and rugged body-on-frame 4x4 rather than an upmarket 'monocoque SUV'. While the Sorento mk4's exterior may be evolutionary, the interior is anything but, and is worth some serious examination at the next motor show you visit – or wherever you next get to see one close up.
Kia Sorento 2002, 2009, 2015 and 2020 exteriors
Watch Kia's live presentation here.