A flagship full of firsts, and a modern design classic – truly an iconic BMW
I will readily admit to being more than a little biased with the final choice in my top five BMWs, mainly because I have now owned one for over five years and it is, to my mind, the most gorgeous feast upon the eyes of the lot; it is the E31 8-Series.
Conceived back in the early 1980s when the western economy was booming, BMW decided it needed to release a new upmarket model, not a replacement of the E24 6-Series which it is often incorrectly assumed it was, but a model that would attract a new breed of the über rich customer.
Designed by Klaus Kapitza, the 8-Series is a striking modernist design even today, thirty years after it was first launched at the 1989 German Motor Show as the 850i. At almost five metres long and just over 1.3 metres tall, this large four-seater coupé has a wonderful low-slung presence on the road.
Side on, the lack of any B-pillars focuses the eye on the gently boxed and muscular rear wheel arches, and rising shoulder line from the almost wedge-like front end. The use of clever light design reinforces the wedge shape, the front rectangular pop-up headlights almost razor-like in their shallow rise from the long bonnet. The rectangular taillights are so wide that they take up over two thirds of the available rear-end real estate, but in doing so accentuate the wide, low and planted stance this car has.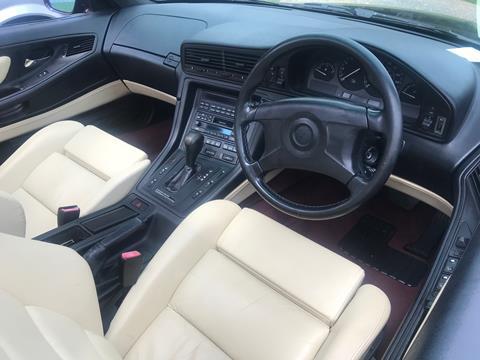 But it was not only the 8's exterior design that was impressive; it was a technical tour de force in its own right and had many firsts to its name. It was the first production car designed using CAD (Computer Aided Design), the first to have a computer network installed, the first to have a manual six-speed gearbox attached to a V12 engine, the first to have rear steer (AHK) as an option and the first to have a Sport button – as fitted to the range-topping 850CSi designed and built by BMW Motorsport division.
Of course, all that advanced engineering came with a hefty ownership proposition. Twenty years since the very last 840Ci Sport Individual was produced, those high running costs have been responsible for a significant decline in survivors. So, when you do spot one of these rare sights on the road, let your eyes feast upon its gorgeous low slung pillarless design. You won't regret it.
BMW Design spotlight
1

2

Currently reading

Iconic BMW Designs: 8-Series (E31)

3

4

5

6

7