BMW fan and M-car obsessive Steve Carter recalls the 507 homage by Fisker and Lempert, immortalised in The World is Not Enough
I really can't put my finger on exactly what first drew me to the James Bond featured, V8 powered, two-seated, open topped, red leather-upholstered and stunningly designed sports car that is the Z8… But joking aside, the Z8 is a styling tour de force which, although created at the height of Chris Bangle's reign as head of BMW design, has none of the wild 'flame surfacing' treatment and sharp creases associated with that era in BMW's history.
– 1997 BMW Z07 concept
The Z8 was first shown as the Z07 concept car at the 1997 Tokyo Motor Show and received acclaim for both its beautiful curves and proportions, and the clear homage to BMW's 507 two-seater of the 1950s with many design cues carried over; long bonnet, short rear overhang, elongated wide front grills and chrome wing vents behind the front wheels (only this time integrated with side indicators).
The Z8 was eventually launched three years later in 2000 and carried virtually all of the Z07's design cues across to production – with the exception, unfortunately, of the very cool Zagato-esque double bubble roof. Within Bangle's team, it was Henrik Fisker that is credited with the beautifully flowing and curvaceous external design. The stunning interior, meanwhile, is accredited to Scott Lempert, and whilst the exterior is truly wonderful, it is Lempert's interior which is a masterclass in the execution of retro cool.
– The production Z8
What strikes you first about the Z8's interior is the sheer simplicity of its design, the obvious hand-crafted quality, and that car wide body-coloured dashboard containing the most prominent interior feature, the centrally mounted instrument cluster (apparently located as such to assist the driver to have an unimpeded view over that long bonnet). The amount of painted plastic might be a little kitsch for today's tastes, but some of the simplified technology contained within it was quite inspired at the time – the re-introduction of an engine start/stop button being a great example. How commonplace is that nowadays?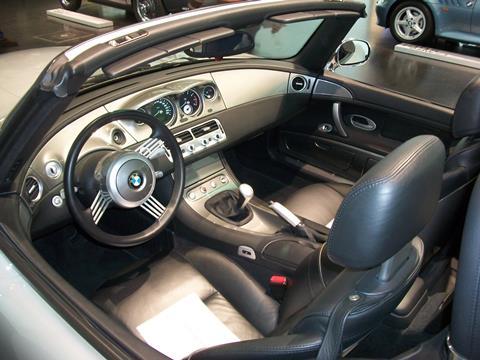 But the one element of the interior – which if the rumour is correct, had a single designer assigned to it – is the steering wheel. Three-armed, with four wires per arm securing the delicate rim to the steering boss, it is a thing of absolute beauty, and without it, the Z8 would just be that little bit less special.
And the entry price to owning something this special? Well that will be £150k (or US$200k) of your hard-earned pennies.
BMW Design spotlight
1

2

3

Currently reading

Iconic BMW Designs: Z8

4

5

6

7