The second model of the new-old German-Italian marque is on its way…
The drip-feed of information about the new Automobili Pininfarina brand turned into a small stream in the week of the 2019 LA Auto Show, when its team revealed a quarter-scale model of the Pura Vision luxury car concept plus advanced CAD renderings of its major exterior and interior details.
At a swish new hotel penthouse overlooking West Hollywood, Car Design News was part of a small media group that witnessed the next chapter of the Automobili Pininfarina product range story… but as no photography or video was allowed – the 1:1 finished concept doesn't get its global reveal until the 2020 edition of Pebble Beach – CDN had to rely on its visual memory.
Perhaps the first thing to note is that proportionally, the concept doesn't resemble the rest of the current crop of luxury SUVs at all. Automobili Pininfarina's chief design officer Luca Borgogno described how he wanted a cross-between a shooting brake and an SUV and that the five-metre long, two-metre wide and sub-1600mm high car would differentiate itself from rivals by being considerably lower. Benchmark cars like the Lamborghini Urus (1638mm high), Tesla Model X (1626mm) and Bentley Bentayga (1742mm) do indeed have considerably higher rooflines.
Despite its all-electric powertrain, the Pura Vision concept has a significant bonnet, as the draped image that we are allowed to show indicates. The front fenders are very pronounced and have an almost horizontal flat section between the car's outer edge and the base of its most distinguishing feature, the 'bubble-like' cabin. All its structural pillars are hidden behind either glass or polycarbonate and an integrated rear spoiler wraps around each side of the glasshouse with clever metallic detailing. Borgogno cites the influence of various Pininfarina bodies from the 1950s for the Pura Vision concept, including the 1953 Alfa Romeo 6C 3000 CM Superflow with its similarly simple lines and see-through top half.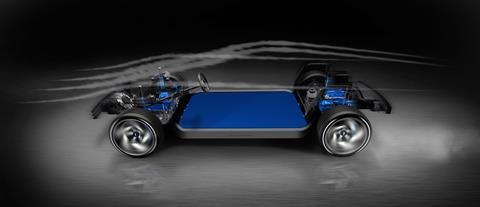 The Pura Vision has a closed front mouth at its top, dramatically flared rear fenders and two super-slim, horizontally arranged rear lights that follow the rear lip of the car. The brand is calling the car an S-LUV – or sustainable luxury utility vehicle – due to its zero-emission powertrain (at point of use), but also because the wider business is looking to reduce and neutralise its wider carbon emissions in manufacture and the supply chain very quickly too.
The inside of the car was not clearly visible on the scale model but Borgogno showed a variety of CAD renders that reveal a simple design with two main screens and just a few controls protruding from the main instrument panel. He also showed several colour and trim options, from an IP almost entirely clad in modern matte wood veneer to one that had carbonfibre as its surface material.

The car should be a more common sight on global roads than the 150-unit limited edition Battista hypercar. Borgogno mentioned potential for 1500 S-LUVs per year starting at about €230,000, suitably in the ballpark of a variety of rivals from Lamborghini and Bentley and now Aston Martin too. The key difference is that the Automobili Pininfarina Pura Vision will launch in 2022 as an electric-only vehicle and should stand out from its crowd like few others. As to how close the concept is to production, Borgogno suggests 80% accurate.
As another mysterious photograph of the (mainly covered up) wider Automobili Pininfarina range shows, there are another three cars to come from the new EV-only marque. Built on the same new platform, in development with Bosch and Benteler, they are likely to include a smaller S-LUV and then perhaps a GT and a more readily available sports car too. Promising stuff.