For this limited run (just 50 are being produced) GT-R 50, customers can devise their own name, colour scheme and interior options. Nissan's Alfonso Albaisa and ItalDesign's Jorg Astalosch began the conversation at the Geneva show in 2017, and we saw the prototype going up the hill at the Goodwood Festival of Speed in 2018.
Gallery of the launch Nissan ItalDesign GT-R 50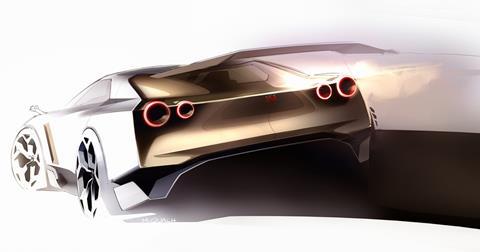 We got a look at the prototype back in 2018 and broadly speaking, the appearance is strikingly reminiscent of the NDE-penned 2020 Vision Gran Turismo concept from 2014, but with the proportions of the production GT-R that hides beneath.
The nose is multi-layered, with a contrast-finish 'frame' containing the usual black plastic structure and grilles/intakes that also sit there in the Gundam-inspired nose of the standard car. Above that sit much skinnier, more intricate LED headlights, calling to mind the ones found on the original 2001 GT-R Concept that started the R35's origin story.
Beneath all of this, the more aggressive front splitter runs 'through' the snowflake-esque five-spoke 21-inch front wheel and into a side skirt with a GT-R50 emblem on it, before slimming down under the doors.
Along the side, the area behind the front wheel has been smoothed down, with the bone line running from the front wheel up to sit at the base of the rear pillar (instead of all the way to the tail). The rear haunch is emphasised more, with a separate bone line fading in behind the door handle to pull the body smoothly outwards, and then back in again to terminate at the angular tail.
The roof is 54mm lower than standard, while the subtly reshaped DLO appears to have narrowed with it.
The rear of the car looks on first glance less dramatic than in the prototype, which had a contrasting gold paint finish, but the gloss black that replaces the gold will prove easier to live with. The partially suspended hollow tail light arrangement, with the iconic four red rings, carries over from the 2020 Vision GT – albeit smaller here – with a pop-up rear wing above that can sit down onto them to be flush with the gunmetal bodywork on either side.
The Nissan GT-R 50 prototype at Goodwodd in 2018