Geely unveils EV sub-brand and smart saloon concept at Shanghai 2019
Geely is rapidly becoming a big deal – both in China and worldwide – through acquisitions of big brands like Volvo and, more recently, Lotus. As a group, its sales make it the third biggest in China and 13th in the world, shifting 2.2 million units in 2018. Within that setup, its own brand is rapidly maturing too, under the guidance of Peter Horbury (overall executive VP of Design for the Geely Group) and at the 2019 Shanghai show it revealed a smart new full-electric sub-brand called Geometry, plus a polished new C/D segment-sized saloon concept called Preface.
Let's open with the Preface concept. A classically good-looking hunkered-down saloon shape, it features a grille that can partially close for aero efficiency reasons and is wider than usual to emphasise the car's width – as does the chrome bar at the back of the car that joins up the two rear lights.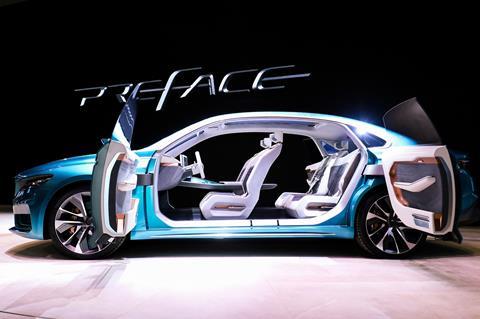 On the side, Guy Burgoyne, Geely's VP for Design, China, also made special mention of the Preface's interesting chrome window surround – which he dubbed the 'slingshot'. It starts from under the wing mirror, before wrapping back right around the DLO and then continuing along the front fender under the wing mirror, before extending beyond the base of the A-pillar, without completing its loop as many normal surrounds do. It's distinctive, unusual and is bound to make production on future Geelys.
The interior theme involves many complimentary and interlocking surfaces of blue and copper metallic alongside grey marl and cream. Restrained and modern, it looks like a calm place to dwell, but looks a little harder to get through to production at a Geely price, given the high quality materials, compared to the exterior.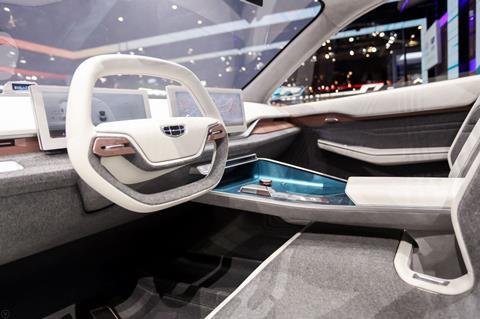 Geometry A
Meanwhile, the Geometry A five-seat saloon EV is the first production model from Geely's new EV sub-brand, which went on sale a week before the show started in China costing from 150,000 RMB, or about £17,000 (after a 60k RMB government subsidy), and offering two battery electric ranges of 410km and 500km.
Its key look is a closed-mouth front instead of an open grille and various concave creases and feature lines on the sides. Slightly spoiling the otherwise clean face is a small front camera that is dark in contrast to the show car's white bodywork placed just under the badge and which resembles a small tow hook or some sort of an unfilled weld hole. On darker body colours, this shouldn't be such an issue.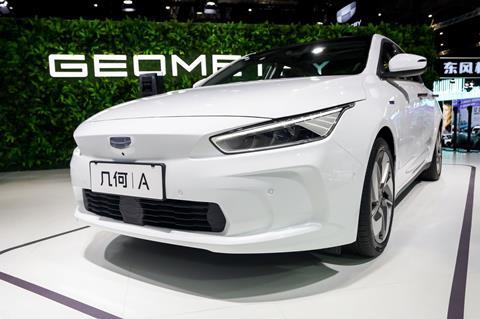 The interior is much stronger, more original and even upmarket in places, with three-dimensional hexagonal motifs on the outer edges of the upper dashboard – some of which are functional de-misters – and a genuinely avant-garde, touch-sensitive, back-lit button section embedded under the shapely surface of the centre console, which can also be pressed into life. In some bright light conditions these are slightly difficult to see, but mainly display secondary-importance information and will surely come into their own in evening or night-time driving.
The 'grey marl-esque' fabric on the central part of the seats also looks and feels modern. Its reasonable price and distinctive look is already reflected in a strong order book: Geely is quoting China domestic orders of more than 9000 already, while overseas orders exceed 17,000 units. No niche EV, this…
Although for now, neither the production Geometry A nor the concept Preface are destined for Europe or the US, both are smart designs which show just how far the Geely brand has come – and how quickly – and give further credence to the company's stated aim of moving from 'locally acceptable' to 'globally desirable'. Major progress.