Ever since Honda released the photos of the e prototype, the near-production version of their future electric city car, comparisons and criticism has been flying around the various social media channels. The comparison, of course, is to the Honda Urban EV concept introduced at Frankfurt in 2017.
We are not going to comment on a comparison of the two, or the merits of either one, except to drop this little tidbit from our interview with the designers today: The two cars were designed concurrently, meaning they are basically two expressions of the same conceptual ideas. The Urban EV was not designed first and then modified to production form.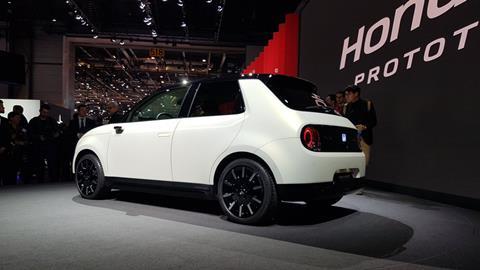 That won't change anyone's mind about their favourite of the two, but it does lend an interesting perspective on the design process.
Now that the e prototype has been introduced, allow us to say it looks better in the metal, and should be judged as itself, not in comparison to the Urban EV. All that said, it is an interesting and thorough piece of work, well considered at every stage of the design process, and with thorough research of its intended environment, the city.
This is not just a shrunken small car with some electric power bolted on. It is a from-the-ground-up solution and may yet be a design primer for future electric cars.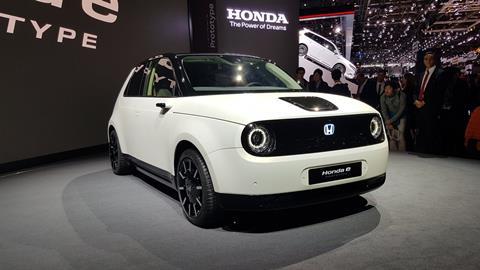 A few facts:
The Honda 'e' prototype is an electric powered B-segment city car. It actually is a bit longer than Honda's Jazz (Fit in the U.S.). It is 3895mm long, 1750mm wide, 1495mm high. The size of the car determined by the batteries. It has a long wheelbase for a B segment car It has rear electric motors and rear wheel drive, which allows for among other things, a tighter turning radius, better for city driving.
The E Prototype will be made in Japan but is primarily intended for European markets (as a part of their push to have a fully electrified European range by 2025), though some will go to Japan. There will be right and left hand drive variants.
The interior concept is a living room or lounge, with the dashboard a flat tabletop and the instrument panels a flat screen TV (and a panoramic one at that). The seats are like sofas-well, micro-sofas, as the original bench in the concept has been replaced by two buckets- and complete the lounge theme.
For more on the design of the e prototype, stay tuned for an interview with the designers of both the interior and exterior of the car, coming soon.