Started by a team of ex-SAIC-Volkswagen and GM China veterans, Enovate is one of many new entrants into the EV space that we're getting to know in Shanghai. Their first entry into the market, the ME7 Crossover, was unveiled a few months ago and will be available for sale in September. A handsome, but largely unremarkable car, the ME7 nonetheless wears its EV platform well, and features clean surfaces, solid volumes and a proportion that deserves credit in a market where small SUVs still often result to shouting rather than understatement to get noticed.
Their new concept car hasn't gone unnoticed, however, and that's also very much by design. A long, lean EV sedan, the car certainly evokes the major names in the premium EV space, especially Tesla and Taycan, but with unique proportions, modern surfaces and technical detailing that quickly set it apart. The company's VP of Design, Hakan Saracoglu, says that the car's exterior design represents "Sports Premium" for the Chinese market—and he would know. He came to Enovate 14 months ago after nearly seven years at Chery, where he led a team that created some of the first Chinese cars to catch Western attention for their design, and before that he made his name at Porsche, where he designed the 918 Spyder supercar, among others.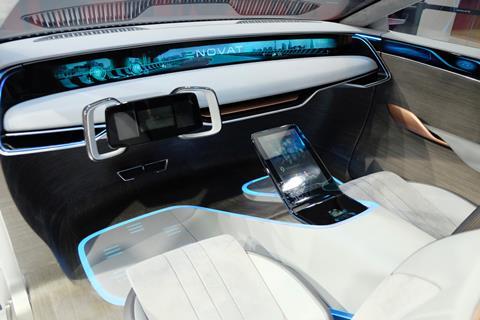 On the interior, the car is meant to evoke Shanghai itself, with textures, materials and patterns that reflect the city's diversity and extremes, and even the feeling of driving through the cities tree-lined streets on a sunny day. That interior was designed by former VW and Audi designer Toshi Yoshizawa, and it represents what the duo call "Digital Premium". Combined, they believe that the exterior and interior styling is more in tune with what Chinese consumers are looking for in a luxury EV than what others are offering, and that the small, agile company is better placed to make the sort of quick decisions it takes to stay relevant in a fast-changing marketplace.
That remains to be seen, but what is clear is that this startup is one to watch. A convincing upper-mainstream crossover is a must-have in the current Chinese market, and Enovate ME7 has all the hallmarks of a solid entry. But standing out from the crowd will require a bigger step, and while the concept on the show floor goes a long way towards that, the ability to put the ME-S into production without being watered down will ultimately decide the fate of the fledgling brand.