Mitsubishi's head of design tells CDN how this chunky touring PHEV plays around with packaging
Following up the earlier GT-PHEV concept, the Engelberg Tourer (launched at Geneva 2019) is the next statement of intent from Tsunehiro Kunimoto, bringing a nearer-production iteration of the 'robust and ingenious' design language. "These are our core values," he says, "easy to maintain, not easy to break, the fundamental Mitsubishi product character. We also show in our design the new technology coming."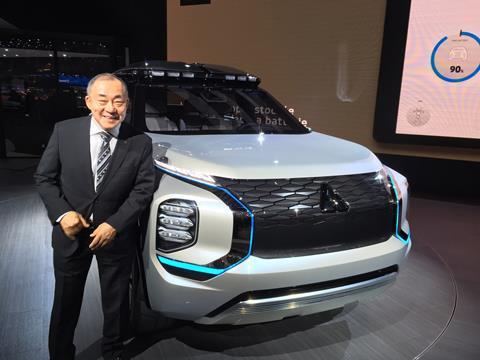 The 'dynamic shield' front face with deep black grille is not just an instantly-recognisable graphic, but creates a space to accommodate future equipment for autonomous driving such as cameras and scanners, he says: "Before, the black area showed performance, but the [electric-drive] doesn't need a big air intake; sensors and radar can be located in that area, there will be an increasing number of devices there."
The Engelberg is named for a Swiss ski resort popular with serious wintersports types, and thus has a large roofbox, easy-clean rubber floor mats and an interior trimmed to withstand messiness, kit-carrying and family use. "We are working long-term on packaging three rows of seats," Kunimoto adds, "and getting the appropriate eye height, good visibility and space. This is the groundwork experience in understanding packaging, including with technology like the PHEV powertrain."
The IP and cockpit with high console is oriented around a strongly horizontal axis, to give a good view out when off-roading and to again emphasise that robust outdoorsiness, and kept clean and simple. Blue illumination highlights the forms, and lighting is used again to effect on the exterior, where it indicates when the vehicle is charging – "like breathing", says Kunimoto, "it's easy to recognise that it's an EV", and suggesting again that this is preparing for an autonomous future in terms of communication.
Yet there are soft-touch materials, including embossed and perforated leather, in contrast: and likewise the exterior mixes tough and tender, an approach representative of Japanese design principles. "I like this kind of expressive character with very sharp lines, deep sections and soft shapes, these strong contrasts; a very soft touch and hard accuracy," says Kunimoto, pointing out the deeply sculpted sides.
He notes that expressing Japanese craftsmanship was also important, and that he wants the Engelberg Tourer – and all upcoming Mitsubishis – to feel welcoming. "I want to show Japanese hospitality in all the cars!" he laughs.