Liu Dong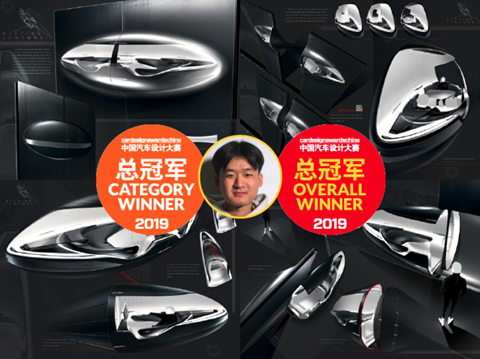 Award category: Overall winner 2019 and Best Luxury Concept
Main tutor:
My tutor is Xie Yong. His design concepts and methods inspired me a lot. Design in addition to solving the current problem or pain point should also have a deeper thinking. How to express the designer's values through the design is also a very important part. In my design for this contest, I attempted to take my design to a deeper level, not just the level of function and form.
Why enter the automotive design industry?
Because from an early age I've liked to draw cars very much, and always liked cars up to now. In university, the school bought in a variety of car magazines. During my undergraduate studies I did not learn design, but I paid special attention to see good-looking designs and innovative car experiences. Although I chose other majors, in my heart I have always kept this dream, until near graduation, I decided to pursue this dream and was very lucky to be able to enter the design industry in graduate school. Car design attracted me not only because this profession was able to create very avantgarde and unexpected forms, but more importantly because it was able to explore the way people travel in the future and design the mobile experience of the people of the future.
Understanding of automotive design:
For me, the most basic requirement of automotive design is to have a strong modelling ability, to be able to shape unexpected proportions, shape surface and stunning form language. Through design, the design concept of visual, with colour fabrics, people into the aesthetic atmosphere created by the designer. Second, the car design process needs to think about providing users with what kind of travel. car design is not only to solve the pain of people in the process of travel, but also from people's daily life behaviour habits, to find the needs of target users and thus provide a user-satisfying and innovative mobile experience, What kind of design can bring the greatest economic benefits is also a part of the designer needs to consider. In addition, in thinking about innovative ways of travel should also take into account the social background and cultural background.
Role model:
Learning the car design process, trying to understand many very powerful designers, many are my idols, like my teacher Cai Yang. The first time I saw Cai Yang's graduation design on the Internet, I felt very excited – from the concept of the project to design and the details of the sculpture, it subverted my understanding of the design. Later, to know teacher Cai after a better understanding of his concept and design method, once again let me feel amazed. Teacher Cai, in general, influenced my design thinking style and motivated my study.
First Job:
I was very lucky to be selected by Peugeot summer camp to be an intern for one month in this summer holiday. This should be the first time for me to do a project in an OEM. Peugeot's studio has always been my favourite and most preferred studio – Peugeot has the most avant-garde and bold design, the most unexpected creativity, and many excellent designers have internships in Peugeot. I'll take advantage of this once-in-a-lifetime opportunity.
Ultimate career goal:
Actually, I do not have big goals. I hope that through my efforts, to be able to have my own style to design products, whether cars or concept products, my own design can access the life of people to help people's lives. If some people will be able to agree with my design concept, then I think my effort is worth it.
Caption
Glitzy design renderings are one thing, but more important is creativity and design. Start from the concept, first to conceive the design of the scene – the relationship between people in the scene, the interaction between people and things in the scene – and then from these scenes, use them to explore new points interesting points, from these points to conceive and improve your design.
Achievements from participating in the CDN awards:
First of all, I have a deeper understanding of my own design. I got more opportunities. The platform of the CAR DESIGN AWARDS is like a springboard. It is an important turning point for my whole design career and also a starting point for me to start a new journey. At the same time, I gained more confidence in the competition, but am also more determined to do a good job in car design.
The most direct is to receive many internship invitations, to expand my influence. Indirectly, I can get in touch with designers at a higher level and students who are more excellent. My vision has been expanded, my goals have become higher and I am more motivated to do better design.
Deng Weiqi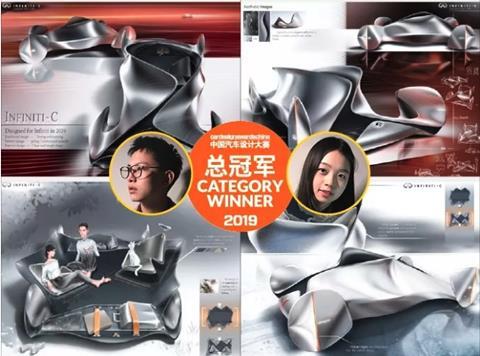 Award category: Best Exterior Design
Main tutor:
Mr. Li ran graduated from Hunan University and now teaches in southwest Jiaotong university. In the design process of works, as a student, I always have a lot of novel ideas, exaggerated modelling, advanced concepts and some functions that are difficult to achieve. The teacher will not directly deny my ideas, but guide me through his professional knowledge, starting from users and the original core functions, to improve the works. Teacher Li helped me avoid and adjust many obvious technical problems, which was also of great help to the detailed design of modelling.
Understanding of automotive design:
Automobile design is a design discipline that pays more attention to modelling. For mass production vehicles, designers need to have a high aesthetic level and project experience, and to combine existing technologies to make beautiful and practical designs within a certain range. With the advent of the era of electric vehicles, with the change of car layouts, car design itself will have a great change.
As for the concept car, college students need to have more avant-garde ideas and consider more aspects to design the future use scenarios and ways of the car. Automobile design is not a pure automobile modelling design, we should use the perspective of product design – from the market, users, brand and other factors – combined with functions, modelling, concept design and market users to fit the design.
Role model:
My industry idol is Professor Rafael from CCS, who has taught me a lot related to automobile design and made a qualitative leap in my understanding of automobile design. I am very lucky to participate in Professor Rafael's CCS workshop in the study of automobile design, and I especially like Raphael's teaching method.
First Job:
SAIC Motor in Shanghai. The reason why I chose SAIC was that the independent brands offered more opportunities for young designers to learn and practice. Among the independent brands, I liked both the development prospect and the design atmosphere of SAIC. I also hope to invest my modest efforts in the development of my own brand.
Ultimate career goal:
I hope my cars I designed can be produced and loved by people.
Caption
I hope the students who take part in the competition in 2020 can give full play to it. CDN is a very good platform to express students' ideas and advantages and make a work that touches both themselves and others.
Achievements from participating in the CDN awards:
I learned a lot from competing with students from universities across the country. After the CDN Awards, I won the honour and let many people know about me. In terms of career, both my partner and I have passed some internship opportunities in enterprises, which also gives me more choices to start a design career.
Tao Lu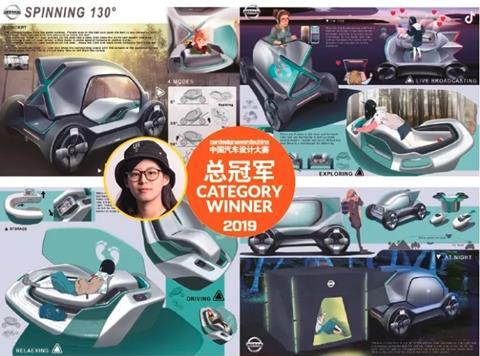 Award category: Best Innovation
Main tutor:
Mr. Zhang Lihao, who is the teacher in charge of our automobile studio. He gave us some professional guidance on automotive engineering. In the competition, he helped us analyse the competition questions together, guided us to carry on the concept divergence, and finally determined the final shape.
Understanding of automotive design:
At the beginning, I thought the car design was cool and interesting, and I could imagine a lot about the way people would travel in the future. Later, for a period, I felt that this was a job requiring skills and experience, and it was a traditional industry. So far, I think this is an industry with a future, which means that the scope of automotive design is expanding; the definition of automobile and the functions contained in automobile are also expanding. I believe that people's definition of 'automotive designer' in the future must be very different from that of today.
Role model:
One of the designers I admire very much is Anthony Lo, the current vice President of exterior design of Renault group. He has made many bold attempts in the concept car designs of the Renault brand, gradually expanding the definition of the car, paying more attention to user experience design and personalised design, and defining a new way of life for the future.
Ultimate career goal:
I am not sure which part of the design I will participate in later, but as I just mentioned, I think the future car design is more like architectural design, with diversity, inclusiveness and cultural attributes more than product attributes. I hope I can make my own contribution to the change of the industry in the future. What's more, as a female student, I hope that in my future career, I can make the car "warmer" and more human, so that the car and our life will be more closely connected and beautiful.
Caption
Personally, I think relevance is very important. Another one is the expression of concepts. Before the beginning of the design, it is necessary to think carefully about their own design concept, and the realisation of the function, so that the direction of divergence will be clearer. In many cases, designers will use pictures to speak, so in the layout of the whole four pages, the audience should be given a clear logical order of appreciation – which part is the core, which part is the schematic diagram of the design function, and which part is the scene. In fact, in the process of design divergence, I think I can start to think about some content about typography.
Achievements from participating in the CDN awards:
I think CDN awards is a good platform for many domestic students to communicate about automobile design. Through this platform, students can get some rare opportunities, such as internship or study tour, to share ideas of their own works, which is great for designers!
Sun Bolin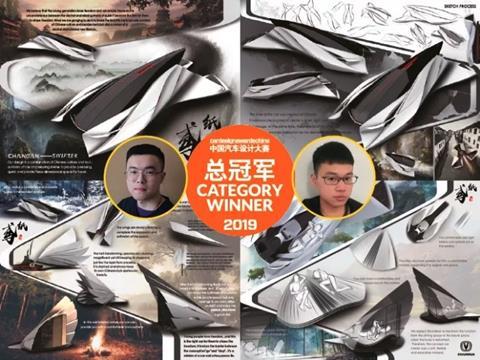 Award category: Best Design in Harmony with Chinese Society
Main tutor:
Sun Biao, Liu Jianjun and Song Mingliang from Dalian university of technology; The teachers provided very important guidance for the work. At the beginning, the car model design lacked details. Under the guidance of the teachers, I tried to add details and modify curved turns on the basis of the original design, which indeed made the car model become more delicate and fuller, rather than a little thin as before.
Understanding of automotive design:
I think what is more important than the gorgeous turning of the curved surface is that the design of the car should reflect a spirit, a feeling that can resonate with others. It must be logical and traceable.
Role model:
Ken Okuyama, I think he brought East Asian habits of mind and aesthetics into the car. His works can feel simple, elegant and tolerant from the east. He showed me how cool it was to incorporate culture into car design in some way.
Achievements from participating in the CDN awards:
I realised the gap between us and other winners and finalists. Compared with other works, we were still stiff and immature in performance, rendering and so on. Especially the performance of the layout, the use of colour and change aspect is not professional enough.
After seeing other works, I also have a general idea and sample. I think the most important influence was that it gave me the courage to work in the automotive design industry.
Li Boqian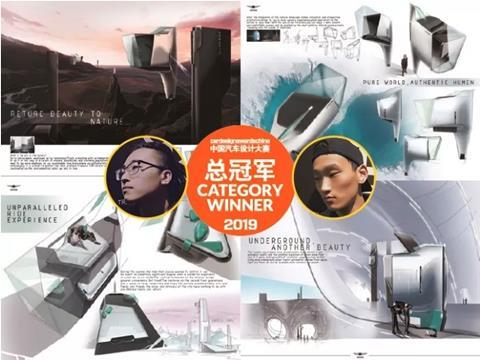 Award category: Best Ideation
Main tutor:
Teacher Yan Hemin gave me many directions in the competition plan and guided me to go in the right direction, including the final layout and the presentation of the drawing effect, which made the final work perfect and understandable.
Understanding of automotive design:
I have loved cars since I was a child. To me, a car is a warm thing, not a cold machine. Sharp styling design, moving surfaces, shocking performance and sound all the time attracted me, and I think it is a very cool and meaningful thing to conceive the future of the car and make forward-looking plans. Personally, I would like to turn my hobby into my career so that life can become meaningful. Therefore, I dreamed that one day I could drive my own car to road trip and go with it to the places I wanted to go.
I think car design is the most indispensable core of the whole car development process. Closely related to other engineering development areas. When you do not know a car, styling is the part that best reflects the character and value of a car, which is also one of the most attractive. It bears the painstaking efforts of countless designers and engineers, the control of proportion and attitude, the full degree of each curve and surface, the coordination and connection of colour materials – all reflect the automobile as a crystallisation of modern industrial technology.
Role model:
Giuseppe Giarro and Lucio Botten were my first experiences growing up.
When I saw the Alfa Romeo Guila in automobile magazines in high school, I got to know these two legendary automotive design masters. The Fiat Panda and first Golf are also world-leading designs, which make me deeply feel the charm of automobile design and make me more determined in my career.
First Job:
I have worked as an intern in DJI and now I am working as an intern in Volvo.
Ultimate career goal:
I hope I can have enough fun to do design in my career, gradually, and improve my ability through continuous polishing and experience. If I have enough ability and conditions, I will drive a car that I am proud of and write, "Made in China."
Caption
Car Design Awards China is an opportunity for you to show your ideas completely. The ranking of the competition is not important, but what is important is that you pay your own efforts. No matter what your ability is, you should try your best to finish it.
Achievements from participating in the CDN awards:
The competition gave me a clear understanding of my personal ability and a firm determination to work hard on this road. Communication with designers at the award ceremony also gave me a lot of help and advice. At the same time, I also saw my many shortcomings.
Gao Qifeng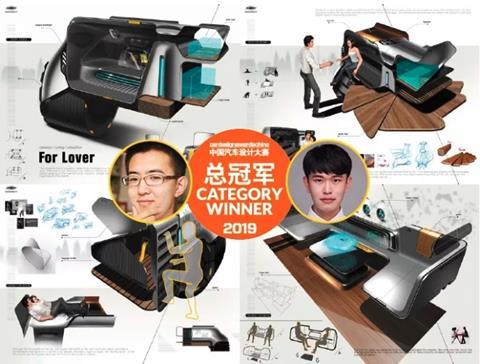 Award category Best Interior Design
Main tutor:
Lv Jiefeng, helped me sort out the logic and rationality of the design from the analysis of the topic, the setting of the general brand, the sublimation of the core concept of 'romance', the interaction between lovers and cars, and so on. This paper puts forward a new deductive way to get rid of the shackles of traditional means of transportation in the future. To shape the package layout of the car in the way of human-car interaction.
Understanding of automotive design:
I may have entered the industry simply because I liked it and wanted to express my understanding of the future of driving. Being weird in high school helped me understand the industry in a different way. Cars should not only meet people's basic driving needs, but also play an alternative role in the future travel modes to solve social problems and meet the needs of life.
Role model:
I love Arthur Martins for his technical expression of car design. Simple and clean light and shadow, tall and confident attitude, new shape language, is my car design in the light. I imitate Arthur's techniques, but sometimes I weaken the emotional communication between the car and users because of the limitation of techniques.
Ultimate career goal:
I am currently studying in the school of art and design, Wuhan University of technology, majoring in design. I hope I can turn my car design from concept to mass production.
Caption
I hope you can get rid of the traditional car modelling package and transfer more from the attributes of users to the driving experience to express the uniqueness of a certain type of users or a certain group in the driving way.
Achievements from participating in the CDN awards:
My skills are improved rapidly. I have gained a deeper understanding of the package layout, interaction between people and cars, plane layout and other aspects. In addition, through the contest, I got to know many predecessors and peers in the automobile design circle. In the mutual communication, I had a deeper understanding of automobile design.
Feng Yifan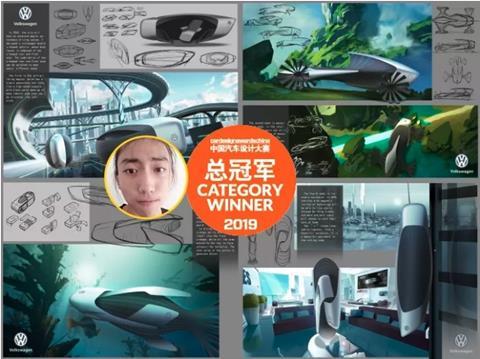 Award category: Innovative use of Materials
Main tutor:
Teacher Ding Jian guided the direction of my design concept, to help me improve my publishing content.
Understanding of automotive design:
Car design is an advanced process of creation. Designing a car is like creating a completely new life.
Role model:
Designers with excellent works are all my idols, most of whom like the design concepts of Lexus, Mazda, PSA and Renault. They inspire me to think about the design closer to life in the future.
Ultimate career goal:
My ideal is to become a forward-looking car designer or vehicle entertainment designer.
Caption
Open your imagination and think about more futuristic and sci-fi designs that can really improve people's quality of life.
Achievements from participating in the CDN awards:
I have a deeper understanding of design choices. There is no perfect design, but we have to do our best.
Wei Jiaheng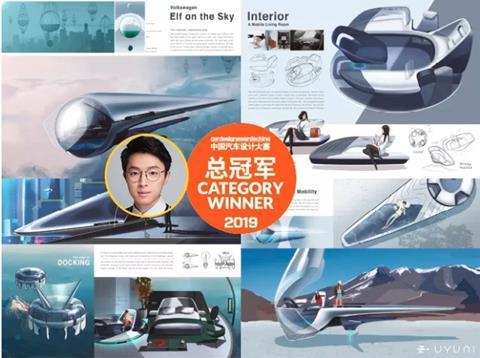 Award category: Best Mobility Solution
Main tutor:
My tutor is Zhao Danhua from Hunan University, who gave me a lot of inspiration and suggestions in the early inspiration collection and scheme divergence of the competition project.
Understanding of automotive design:
Not only to change the way of human travel in the future, but also to pursue a knowledge of artistic value.
Role model:
Stephane Janin, who has been in charge of several Renault concept cars, has a very advanced concept. He likes to bring many elements of architectural design into automotive design, which also influences me to learn more about different design fields in the process.
Ultimate career goal:
To drive my own car that I designed myself, with my family.
Caption
The competition is a platform for you to imagine without any rules and regulations, so I hope you can come up with some crazy and interesting ideas and present them. Originality is the most important thing.
Achievements from participating in the CDN awards:
You will get in touch with many of the big names in the automotive design industry, and it will help you quickly understand and enter the industry.