Hundreds of students from across China submitted fantastic work for the Magna Global Bold Perspective 2020 competition, but only one can win
The China award goes to Angfu Li, a student at Zhejiang Sci-Tech University, for their Bugatti Type-Cross Alps concept. They will receive $5,000 and an additional $1,000 in place of a trip to the 2020 LA Auto Show (a change enacted due to the Covid-19 pandemic).
Li's entry opens with a stationary sketch of his Bugatti Type-Cross Alps concept sitting astride an iceberg and overlooking the sea. Its shape is distinctive, taking influence from older classic sports cars with long front ends.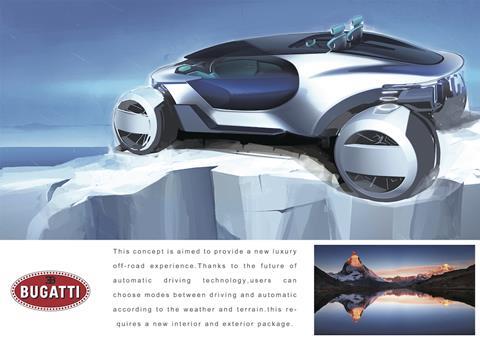 The idea behind the concept is to explore a niche in the market that has not yet been popularised – luxury vehicles that boast off-roading capability. It also has the capability of being driven manually as well as entering autonomous mode when necessary, dependent on weather conditions and terrain.
This is enabled or disabled depending on the seating position at the rear. When lowered, the passenger can relax in maximum comfort, and can take control when in the higher position. There are three other seats, with the front of the vehicle acting as a "social" area.
"Advanced materials for body panels and glazing could make this futuristic concept an off-road sensation," comments Larry Erickson, global director of exteriors design group at Magna Exteriors and one of the award judges. "A low centre of gravity, lightweight body construction, minimal overhangs and maximum departure angles should make for the ultimate rock crawler."
The work submitted by Chinese students was extremely strong, and therefore a total of five runners up were chosen: Wenqiang Zhu, Qihang Pu, Wolfee Wang, Jinchun Li, and Sixi Zhu.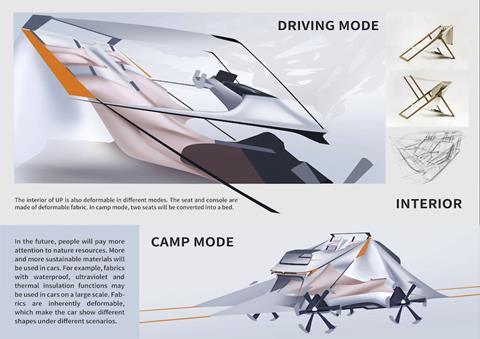 Qihang Pu's Volkswagen Up concept was particularly interesting, taking inspiration from the famous adventure animation film Up. It includes two canvases that act as solar panels to charge the vehicle when in 'camp mode'. The wheels are also specifically designed to transform into wind-power generators.
Another highlight came from Wolfee Wang, whose futuristic Geely Turismo concept wowed the judges: "The dramatic use of separated forms, advanced materials and creative use of exterior lighting elements along with an animation showcasing the vehicle in action was very effective."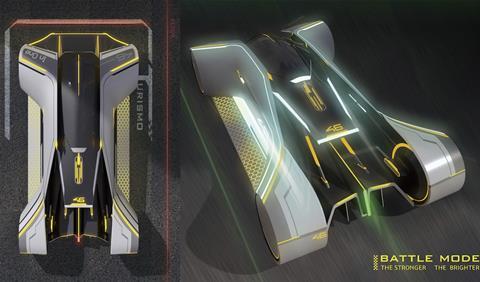 To be in with a chance of winning the award this year, students were asked to design a four-to-six seated passenger vehicle that uses innovative exterior body panels, openings and materials to enable new mobility customers to succeed without assistance in doing everyday tasks.
Regional winners from Europe and North America have already been announced. The judging panel will now select an overall winner, who will receive another $5,000 in prize money.