Former Lincoln design director will head up San Diego studio under Alfonso Albaisa
David Woodhouse, former Director of Global Strategic Design for Ford Motor Company and Lincoln Design director, was today named Vice President of Nissan Design America (NDA). Woodhouse will be based out of the company's studio in San Diego, CA and report to Alfonso Albaisa, senior vice president of Global Design for Nissan Motor Co., Ltd. According to a Nissan spokesperson, he will also collaborate with designers in the company's other studios in Otsugi, Tokyo, London, Shanghai, and Sao Paulo, Brazil, along with smaller offices in India, Thailand, and Silicon Valley.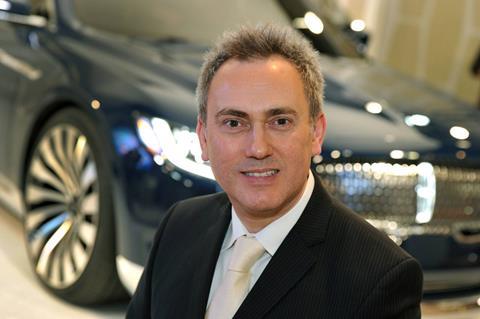 In an exclusive interview with CDN, Woodhouse told us, "I am extremely excited to have the opportunity to lead the awesome NDA team at one of the most successful automotive studio powerhouses in the world. I look forward to getting back to Southern California, where car culture, design, sustainability and innovation are so pervasive in everyday living."
Woodhouse, a near-20-year-veteran of the Ford Motor Company, announced his resignation from Lincoln last Friday, where he wrote in a personal Facebook post that it was "… a very difficult decision as I am so personally vested in the Lincoln brand transformation and all the advanced projects underway." In a subsequent post, Woodhouse ticked off a list of his team's accomplishments over the past six years under his direction, including four concept teasers, four production programs, four mid-cycle facelifts, and "a number of internal exterior and interior vision models." Those include concept and production versions of the Continental flagship sedan, the introduction of the Aviator SUV, and a complete redesign of the Navigator SUV. Under his tutelage, Lincoln instituted the "quiet flight" design language, which was achieved through "anti-wedge body gestures, S-curves wherever possible, and an emphasis on horizontal lines at every opportunity to create leaner, longer, wider emphasis on the exteriors, and create equilibrium, balance, and calmness on the interiors," Woodhouse wrote.
Personally, Woodhouse is known for his cool and gracious temperament, even in the face of criticism from other designers. By unofficial accounts, he was much admired and respected by his team – the very embodiment of the calm and equilibrium he instituted in his designs. Although a Lincoln spokesperson refused a request to interview Woodhouse's design colleagues for this piece, the company did provide CDN with the following statement: "David Woodhouse, Lincoln and Ford Strategic Design Director, has elected to leave the company. We thank him for his contributions, including delivering critically acclaimed Lincoln products such as the Continental, Navigator and Aviator, and we wish David well in his future endeavor."
In his new role, Woodhouse will lead both Nissan and Infiniti design activities. On the Nissan side, he will have the opportunity to breathe new life into a brand that consists of volume sellers like the Sentra sedan and Rogue crossover, but we wonder if he will also make his mark on Nissan's iconic Z and GT-R sports cars. With Infiniti going all-electric by 2021 and the Nissan Leaf currently being the world's best-selling plug-in electric car, it's certain that Woodhouse and his team will also have a focus on electrification and future mobility. In a statement, Alfonso Albaisa said, "As we celebrate the 40th Anniversary of Nissan Design America, I am pleased that David Woodhouse will be leading and inspiring our talented team in San Diego. David's talent, leadership and vision will ensure that NDA shapes an exciting future for the Infiniti and Nissan brands as well as groundbreaking user experience concepts for our customers for years to come."