Lamborghini's design director (and Car Design Review Judge) reflects on the year that launched the Urus and SC18 Alston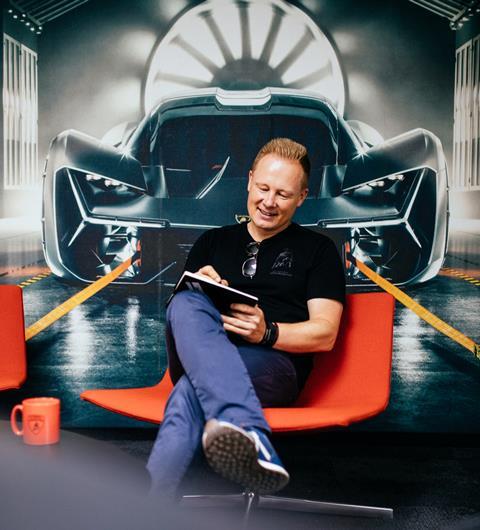 From the first day I started here I felt a very strong, positive relationship between all our team; we have something very extraordinary. I think everybody here is aware of their responsibility to continue the dream of company founder Ferruccio Lamborghini. My personal motivation is one sentence from him; he said: 'I have built this car just for me, it was always a dream, and must remain a dream'. Within this sentence, I feel I can create all the energy that I need.
What we see today is the strongest Lamborghini ever, we have the best product line-up. Even with the increased production numbers we are still this little super-sports car manufacturer, but all the new buildings are state-of-the-art, and production of the Urus is really 'factory 4.0'.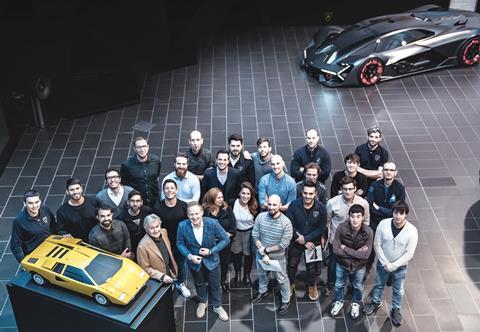 What makes me really optimistic is that we have a very young customer base, we have a very young approach. I always enjoy going to design schools because I will come back with new ideas, and my guys are teaching in Milan at SPD [Scuola Politecnica di Design]; for me, this is something vital. There is always a strong connection between Lamborghini being a young brand and the energy of students, of a new generation, and we are using this in a very effective way. The students always give an outlook on things that are relevant today, and it is important to keep your mind open to new themes or trends. Of course, we have to do the best job possible in terms of visionary design and technology – and I'm sure that when we fulfill all these expectations, Lamborghini will have a long life ahead.
In 2018 we had the presentation of Terzo Millennio at the Festival Automobile in Paris; then the Huracán Performante Spyder in Geneva; then the Aventador SVJ and limited-edition SVJ 63 in Pebble Beach. The highlight at the end of the year for us, especially for R&D, for the Squadra Corse motorsport division and for the Centro Stile design centre, was the presentation of the one-off SC18 Alston we created for a dedicated customer.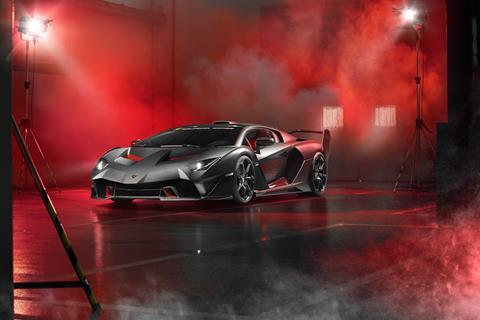 To create such a one-off car is a dream come true for a designer: you have almost no limitations. The only thing is to get a good chemistry between the client and the designers, to understand what the dream of that client is, and then to sketch and start to be creative.
This project took only 11 months; the first meeting was before Christmas 2017, and it was very enjoyable because this particular client was already a lover of Lamborghini, he owns a racing team and a lot of Lamborghinis already.
We had quite a clear vision of what he had in mind, so we started immediately creating Photoshop ideas and sketches. We are a small team, but we are always saying we are 'fast and furious' – we are able to create something from a dream and a sketch to a reality within a couple of weeks, because we can then sketch in Alias, three-dimensional, and show this to the client. We presented it, me standing in front of a powerwall and the client sitting in his house in China. After the contract was signed, we started on a third-scale model, which we digitally presented; we accepted a few of the recommendations, and then we started building the car itself.
Our dedicated design process – sketching, discussion of the topic, first outcome in terms of 3D Alias models, judging them on the powerwall, judging them in virtual reality, then immediately milling them in third-scale high-precision hard models, then full-size – is, especially for interior projects, a very fast, efficient way to create cars. I came to this job from Porsche, where I worked a lot in clay, but now, after almost three years at Lamborghini, I've changed my approach. Every designer has their own style, how they want to express design, but here at Lamborghini working from digital to hard model, the way we do it is the perfect fit.
Also, my team is so experienced, there is no loss of the special feeling between the sketch and the finished design: when I see that a proposal is already in a good way, I can immediately decide to mill and have a loop of one, or two, or three third-scale millings and one, or, two, or three full-size – the result is stunning, and I'm able to present a high-class design model to the Lamborghini board.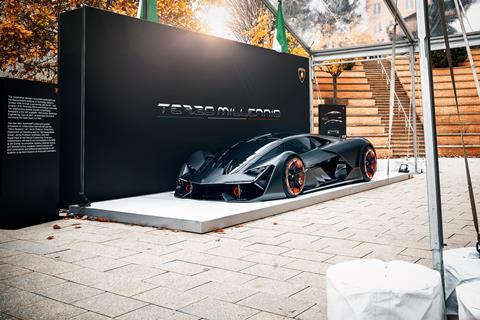 The digital process also gives you a huge advantage to create really complex shapes and to reach a new level of architecture: for example, the Terzo Millennio concept car is super, super-complicated with a lot of air channels, a lot of three-dimensional shapes. Imagine modelling this in clay? It would be almost impossible.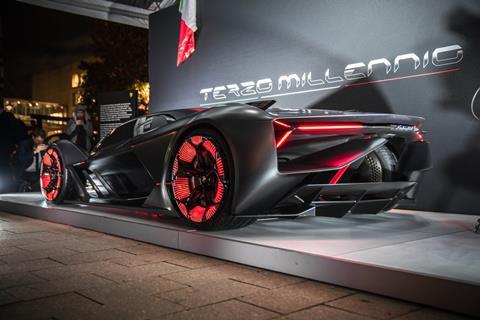 It was absolutely necessary to re-discuss architecture for the Terzo Millennio. We used the package of a cabin where two passengers are sitting close together, like in a Le Mans car, then we have a lot of space for air channels between the wheels and the cabin, for very efficient aerodynamic downforce effects. We have some cool, clever and quite visionary wings on the side that you can open and close, to also help the aerodynamic functions. The wheels are really far away from the main cabin – and are inspired by electric motors, because those are sitting within the wheels.
For me, it doesn't matter what kind of an engine is inside a Lamborghini – the first thing is that the car looks like a Lamborghini. After we have ensured that it looks like a Lamborghini, then an electric powertrain gives you a couple of architectural advantages: for example, you don't have a big muffler, you don't have big tubes from the engine to the exhaust pipes; at the end of the day, you have a little bit more freedom. We all found out that electric cars need even more cooling, you have even more openings to achieve – so you can play a lot with the architecture.
Terzo Millennio is a new generation of Lamborghini, something you have never seen in terms of architecture before. But it is super-low, with the typical proportions of a Lamborghini, and even from 100 metres away you see immediately that it is a Lamborghini.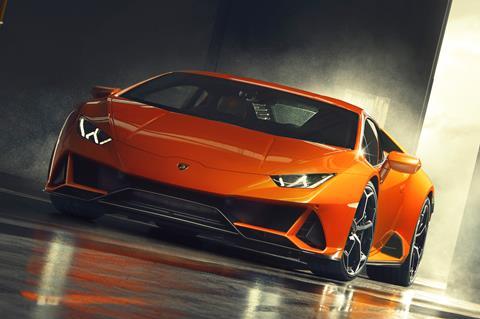 The SC18 Alston was designed at Centro Stile and built 200 metres away, in a workshop where all the carbon parts were built and assembled. So to design and assemble the car was door-to-door, more or less. We are a small family here, around 300 people as an R&D team with a very strong, positive relationship; every moment we live and breathe Lamborghini. What fascinates me is the small distance between all the departments: if you have something to discuss, something to propose, or an issue to solve, you have 50 metres, 100 metres, to go to your colleague and speak about it. I arrive every morning and see the museum, reminding me of all the iconic Lamborghinis, then just around the corner is the design centre and the workshops where we build the cars. I'm always thankful for how we work and for the team spirit we have – it is something extraordinary. We have some cool challenges in front of us here, at Centro Stile Lamborghini, some challenges I cannot wait to solve.
Mitja's votes for Concept and Production cars of the Year 2018:
Concept
1 Genesis Essentia
2 Volvo 360c
3 Infiniti Prototype 10
Production
1 Jaguar I-Pace
2 Suzuki Jimny
3 Mazda 3