In the first of a series of articles, students from Coventry University's Automotive and Transportation Design course present their final projects
The future of transportation may look very different in years to come, and the next generation of designers must find innovative solutions to existing and emerging challenges. In the UK, students on Coventry University's Automotive and Transportation Design course are doing just that.
The brief for the 2022 final year project was broad, with the onus on students to identify and solve a problem facing the transportation industry. Crucially, this must consider social and environmental trends and the application of emerging technologies.
Part of the challenge with any concept is to balance innovation with what could feasibly make it into production. Many designers recognised the shift toward autonomous mobility and electrified powertrains, with various examples of modular robotaxis and driverless shuttles. Others went slightly more left field, from a self-launching boat-cum-beach buggy to a long-range Mars rover.
In the first of a series of articles, the concepts below offer a snapshot of just some of the designs being put forward. Car Design News was on site to get a first-hand impression (the work is downloadable and attached to the bottom of the page).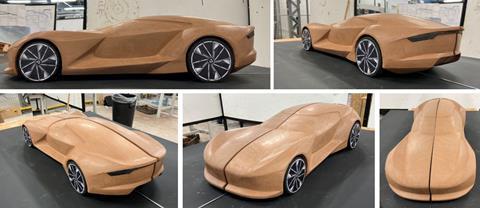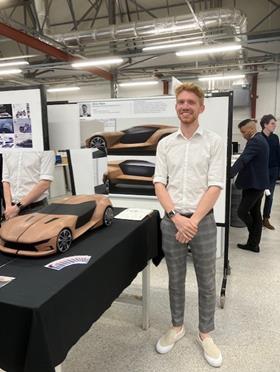 Oliver Webb's interpretation merges two concepts in one: a spacious and rugged family SUV during the week, and a sleek, luxurious grand tourer at the weekend.
The idea is that one platform can support different needs, with Webb drawing inspiration from trends around urbanisation. Available space is shrinking, he explains, and consumer demands for mobility are evolving. One car that can suit different needs is a smarter solution in a world where roads are already heavily congested. The concept's configuration is possible thanks to a modular body shell and smart adaptive suspension, and is designed with 2030 as a possible start of production.
Webb says that, in part, the design was borne out of a love for pick-up trucks, which bled into the overall 'ruggedness' of the design. "I also looked at what companies like Arrival and Canoo were doing, which influenced the concept of a modular grand tourer," he explained. Initially, the design was a little more conservative, but a nudge from the course leaders steered Webb in a different direction. "They pushed me to work more outside of the box," he told CDN.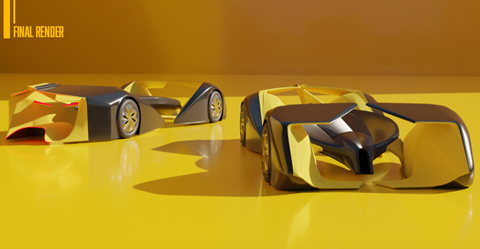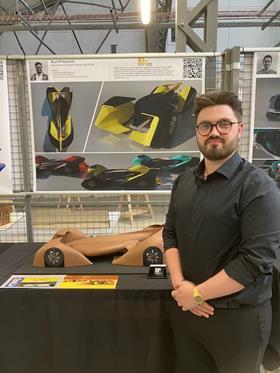 Kurt Pritchard's futuristic robo-racer was heavily influenced by the burgeoning autonomous motorsport space. Aggressive batmobile-esque styling creates a jagged silhouette, with a gaping front end directing air through the vehicle towards the rear. The front splitter is also separated in two, creating a 'pincer' effect as the two modules converge toward the centre of the car. From some angles, the car almost resembles a scarab beetle.
Rather than being fully driverless, the driver would be safely controlling the vehicle through teleoperation. This removes the need for a conventional cabin, which instead takes the shape of a coffee bean for improved aerodynamics. Presenting the concept as a clay model, Pritchard told CDN that he aimed to create a "sculptural design" from the outset, drawing inspiration from planes, boats and architecture.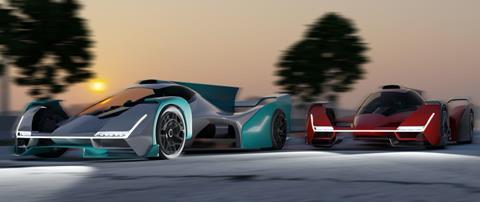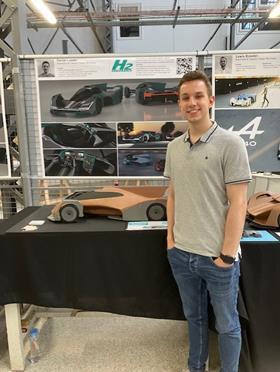 Another motorsport-inspired concept, Daniel Loader's hydrogen-powered endurance racer offers a vision of how the Le Mans 24-hour competition could evolve. The design keeps things relatively simple, with the exterior not too dissimilar to today's endurance cars.
Loader decided to use superwide exterior lightbars to emphasise the face and rear end, with LEDs extending seamlessly from corner to corner and flicking upwards – almost like eyeliner. At the rear, the brake lights feature a hexagonal mesh pattern, adding another subtle touch of flair. "I wanted to keep the overall concept clean, but still with an element of design in key places," Loader told CDN.
The concept is by no means farfetched, with a number of hydrogen-powered prototypes already being developed. "The focus was on sustainability, with recycled carbon fibre and plenty of cut out areas to reduce weight," Loader added. "I was heavily inspired by how Le Mans might look in ten to 15 years' time, but I could also see this transitioning over to a road-going supercar."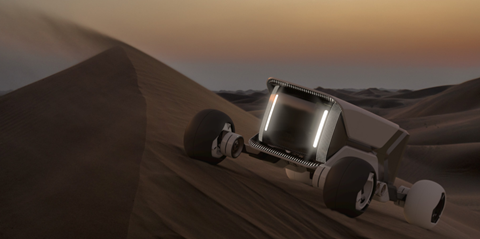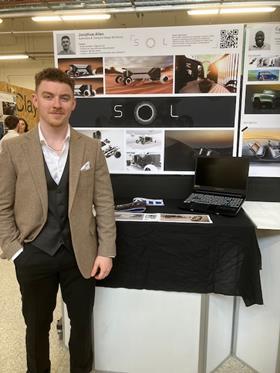 Pushing the concept of future mobility even further, Jonathon Allen's Mars rover aims to solve a problem that has not yet come to pass. In a post-2040 future, early journeys on the Red Planet will be long, arduous and generally uncomfortable, says Allen, and a larger, more luxurious shuttle will be needed.
The SOL concept – a reference to the given name for a day on Mars – was built around interior functionality before anything else, with the exterior simply wrapping around the cabin. There is a stark contrast between the two: the interior has a boho feel – almost organic – while the exterior is modern and monochromatic. "I wanted the exterior and interior to contrast," Allen explained. At some angles, it shares similarities with a stormtrooper's helmet from Star Wars. From the side profile, it looks like Boston Dynamics' robotic dog, Spot, lying prone.
Designed for two people, the shuttle's interior can be shifted about to create different living environments. Allen told CDN that the design drew inspiration from science fiction – films such as The Martian in particular – but also current rovers. "I looked at what is out there and essentially followed the characteristics I liked and cut out the bits I didn't," he explained. "The space and performance of current Mars rovers is not great. But with this concept, the interior would be a nice place to spend time."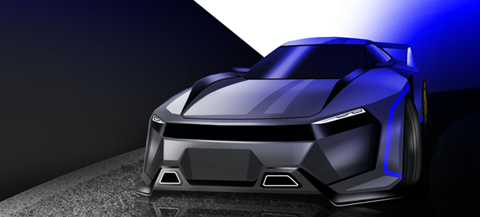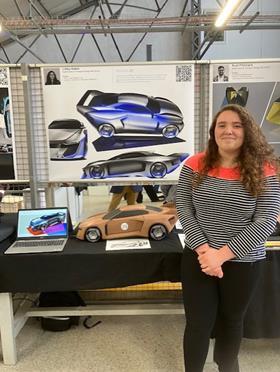 Libby Dakin took the brief in a different direction. In her view, the next generation of cars risk becoming overly homogenised, with design being led only by aerodynamics and sustainability.
While her concept does not ignore these trends, the focus is heavily on form and function, with design cues from the iconic BMW 3.0 CSL and Audi Quattro of the 1980s. Massively flared arches and gaping inset doors are accented by a huge rear wing and ridges that run along each side of the bonnet. Dakin's approach diverges from that of her peers, with a vision of bringing drivability and visual beauty to the fore – if not creating the ultimate driving machine.
"This was absolutely a project that was driven by exterior design," Dakin told CDN. Presented as a clay model, the concept drew inspiration from German designs from the 1970s and 1980s. "With design, you need to do something you're passionate about," Dakin explained. "I also wanted to better understand the process of creating an attractive body shape, which naturally led to doing a clay model."
Part of a global design community
Now in its 49th year, the Automotive and Transportation Design BA has been nurturing talented designers for quite some time. With the automotive industry in flux, it has perhaps never been a better time to enter the fold.
Nick Hull, Associate Professor at Coventry University and one of the course leaders, reflected that "there are very few cars these days" when it comes to concepts being put forward by students. It is illustrative of how different trends around sustainability, new travel patterns and social norms are converging, he says. "There is a clear trend towards vehicles as a social space, the emergence of E-VTOL, and last-mile delivery," he told CDN.
Shaun Hutchinson, Assistant Professor on the Automotive and Transportation Design course, added that while the course is based in the UK, there is very much a global significance to the final projects on display. Students have joined the degree from far and wide and share aspirations of working all over the world. This is important, says Hutchinson, as their final year concepts act as a springboard for their next career move.
"Automotive design studios are not like chip shops; there is not one on every corner," Hutchinson explained. "This next generation of designers will need to be open to moving to Detroit, Shanghai or wherever opportunities arise. Projects like these give them the skills to prepare them for that next step."