Miles Nurnberger has returned to Aston Martin within a year after his brief move to Dacia
Miles Nurnberger has gone back to Aston Martin within a year after his brief move to Dacia. The 46-year old has resumed his previous role – director of design – working under chief creative officer Marek Reichman, as his position wasn't directly filled when he left. "It's the same title but with a slightly wider remit," he told Car Design News after packing up his things in Paris where he worked on the Romanian car brand owned by the French Renault Group. His partner Leighanne Earley has also quit her Renault Group job and returned to Aston Martin as creative director of interiors and brand partnerships (formerly she was chief interior designer at Aston).
According to Nurnberger, the reason for leaving wasn't Dacia, despite the position also being vacated by previous incumbent Alejandro Mesonero-Romanos within six months of his starting there in late 2020 (jumping ship to Alfa Romeo in early 2021).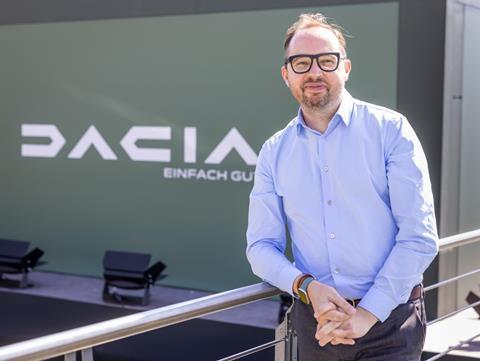 "It was difficult when I started," Nurnberger concedes, "as there had been a redundancy programme and I had to replace eight or nine senior people, but we were moving forward with a good strong team and the mission was very clear." The official Dacia press release in May 2022 announcing his replacement as vice president of design – David Durand – cited "personal reasons and to pursue other professional projects," for Nurnberger's departure.
The upheaval of his family to another country not quite working out would fit with those "personal reasons" mentioned by Dacia, but a stronger one might well be the recently changed set-up at Aston Martin. A major migration of senior management away from the British luxury brand took place under Tobias Moers' turbulent two-year tenure as CEO and rumours that Moers was extremely difficult to work with had swirled around from very reliable sources long before he left abruptly in May 2022.
Nurnberger says he was contacted by Aston Martin recently about a return and had a contract in place two days later. Over the phone he sounded very happy to be back. "Me and Leighanne had a wonderful year away and gained fresh perspectives," he said. "I've always believed in the value of the Aston Martin brand and which still has potential to be unlocked. We've got a big push on electrification and with [chief creative officer] Marek I'm looking forward to shaping the team.