Design legend Patrick Le Quément has won the Car Design Review 9 Lifetime achievement award
In a gala award ceremony at the Londoner Hotel in Leicester Square, Anglo-French designer Patrick Le Quément collected the prestigious Car Design Review Lifetime Achievement award. He received a standing ovation.
Le Quément built his career at Ford in the 1970s and '80s overseeing the Sierra Cosworth and Cargo truck, before transforming the fortunes of Renault in the '90s and early 00s with Twingo, Scenic and Laguna as well as acclaimed concept cars. Perhaps his biggest achievement has been to elevate car design within the industry's hierarchies, to the point where it is now the biggest differentiator between products. And design chiefs, as he trailblazed, have become vice presidents sitting on the boards of management as the equals of engineers, product planners and more. He's collected numerous accolades, including the French Légion d'Honneur in 1998.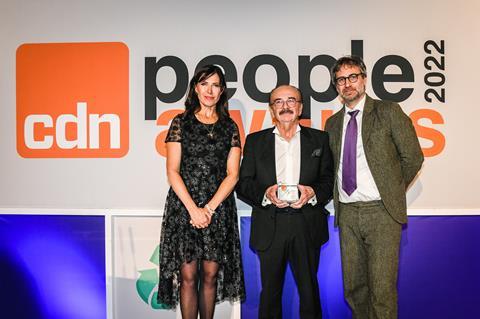 Le Quément left the audience with a flavour of the philosophy that saw him raise the profile of design:
"What is important is not to become a king, but to build a kingdom." – Patrick Le Quément
Now in its 9th edition, Car Design Review is an annual print publication produced by Car Design News. Meticulously designed with high production values, Car Design Review offers the definitive overview of the year in design covering the dominant trends, innovations and launches in peerless detail. The book features the Concept and Production cars of the year, and interviews with the top designers who judged them. Car Design Review also includes a lifetime achievement award that documents the career of an industry giant. Order your copy here.