Legendary British carmaker Lotus has joined forces with Car Design News to produce a sumptuous new book detailing the design story of the brand
Lotus is a storied name in world car culture. The British carmaker is a legend in motor racing, featured alongside Roger Moore in James Bond, and is beloved by people all over the world. Now, Lotus is entering a brave new era with the launch of an all-electric SUV, the Eletre, which is just the start of a new design direction for the 70-year-old carmaker. Lotus: The Design Story tells the story of that future through interviews with the heads of design, features on the design history of the brand, its place in popular culture and much more. To find out a little more about the book, CDN caught up with Peter Horbury vice-president, Lotus Design.
Car Design News: When compared to the racing and engineering pedigree, the Lotus design story is a less-celebrated aspect of the brand. Why did you decide to tell it now?
Peter Horbury: I think that, in the past, Lotus probably considered itself as an engineering and manufacturing company, with added design. Today, as part of the Vision80 transformation of the business and brand, design has at least equal billing, and the recently launched trio of the Lotus Evija, Emira and Eletre mean the time is right for this very special book.
CDN: Lotus is in new territory with its first SUV and with more to follow: what role will design play in ensuring this new era will still feel authentically Lotus?
PH: Our role in design is to identify the visual cues that are recognisably Lotus, move them forward, and then reproportion them to fit whatever size and volume of vehicle is being developed. We will avoid the 'Russian Doll' effect but create individual siblings who share the same parentage.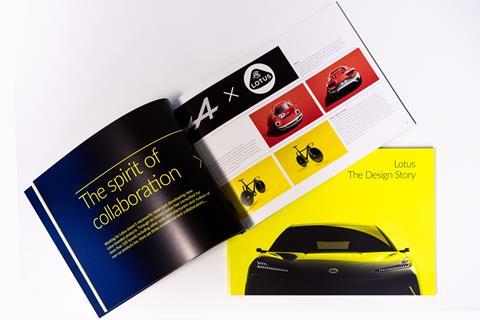 CDN: Are there any aspects of Lotus revealed in the book that will come as a surprise to avid Lotus fans?
PH: Perhaps the names of those who were involved with the design of the earlier cars – people like Peter Kirwan-Taylor and Ron Hickman. Designers were somewhat anonymous back then, not like the 'rock stars' of today! Oh, yes, and Russell Carr once had long hair!
CDN: The book was translated into Mandarin: how well is Lotus known in China?
PH: Lotus has not been a household name in China and, because Formula 1 is a relatively recent phenomenon there, the innovations and success story of Team Lotus are not well-known. However, we have been working very hard through all types of media and especially social media to educate the young Chinese enthusiasts in our brand and its heritage.
CDN: How does this book feed into the Lotus' marketing strategy for China?
Whereas a great deal of our marketing effort has been in the newer, more contemporary media channels, there's something very special about being able to walk away from one of our multimedia events with something physical to read at your leisure. There are more than 80 pages of wonderful images and text, telling the story of Lotus design – exteriors, interiors, colour and trim.
Lotus has a limited number of copies of the Lotus Design book to give away to media and automotive / design influencers. Please email Richard Yarrow (ryarrow@lotuscars.com), explaining why you would like to receive one.