"My pathway to this position was maybe a little non-traditional"
Design has a really important role right now. With a plethora of brands all playing in the same space and headed into a sustainable EV future, it's really about having an opinion and a clear direction. Here at General Motors, we've been actively working on our brands and the designs in each of the portfolios. We've also been doing a lot of work internally around our culture and making sure the pipeline to design is healthy, and we're starting to see that translate into our products.
Buick is very much about having sculptural beauty, being timeless, and enabling the customer through technology. We use the term 'easy to love'. It's not about being trendy or in-the-moment, it's about being being intuitive and simple. If a consumer spends time with Buick they'll discovers lots of beautiful details inside and out. We are also exploring new portfolio entries for the brand, which is really exciting.
"Currently our studios have two female executive directors. I'm not sure many carmakers can say that. That's exciting"
The Wildcat EV Concept is a beacon for Buick in terms of where we're headed for both interior and exterior. Specifically, the beautiful stance, proportion, attention to the face – whether it's the headlamp graphics, or the grille – or what that face looks like in the future when we shift to EV. For the interior, we'll see some of the technology carry over, and we're looking to the future in terms of how we transform materials from a sustainability point of view. You'll also start to see some of the beautiful some colour and trim details in production as well.
At GMC, we're rediscovering where we want to be from a design language point of view. The portfolio is kind of crazy where we're designing heavy-duty trucks and then looking at smaller transportation needs. The biggest challenge for the team is taking that design language and applying it to a different range of products that are going to be on the road in two, three, or four years from now.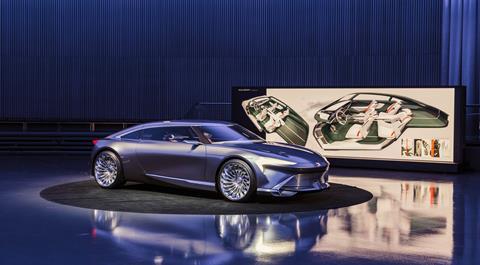 Hummer is interesting because of its heritage, but where are we taking the brand as we go forward? I think it absolutely needs to be capable and authentic. We are working on things right now that are completely new and push the envelope, even in terms of manufacturing processes and how those processes inform design. Hummer will continue to look like Hummer, but it will speak a little differently in that what we are designing – from a components, architectural, and styling point of view – has a lot more intention. We are also looking at how we can enable Hummer to do things differently for different customer types. We are deep into UX/UI right now in terms of how we embrace new looks and how we embrace new technology to make the experience better. We want to make sure everything is well thought out, intuitive, and really 'speaks' in a way that maybe hasn't been considered before.
My pathway to this position was maybe a little non-traditional. In the nearly 30 years that I've been in the automotive business, much of my career has been in colour and trim. But I've also had a much broader range of experiences. I've been able to work across all of our brands at GM and I've had the opportunity to work in advanced production, both inside and outside of this company. Prior to this role I was executive director of global industrial design, providing solutions for other areas of GM's business, such as exhibit spaces, new logos, and everything that's not necessarily touching the vehicle itself. That level of diversity has given me a rich background as we head to a new design language for both GMC and Buick.
It's important to get the exterior designers to speak to the interior designers, and for the CMF and the UX designers to come together
For me, good design understands the purpose and the customer, but it needs to be beautiful and harmonious as well. Designing with simplicity and taking away elements while keeping what you need is not easy. We are bringing a level of attention to detail in the studio, but in some areas we are also quietening things down and designing with a lot more restraint. For example, GMC is still bold, but we are not making things look so 'applied'. Everything looks a lot more simple and integrated. To that end, it's important to get the exterior designers to speak to the interior designers, and to get the colour and trim designers and the UX designers to all be part of that process. What's happening on the outside needs to correlate with the inside, whether it's lighting or UX. So many details need to come together.
I'm in love right now with 'seeing through' things, discovering things on the inside. We are doing a 'vision property' for one of the brands with some of these see-through elements and also using materials in a different way. A lot of that comes from discovering details in furniture and is informed by things found in other objects. What I bring to this role is the opportunity to link the design team with a vision and a mission, push them to think about design a little differently, provide a safe space for them culturally where they can do their best work and really explore and create solutions in a new way.
We've been working on a number of initiatives over the last decade, which are really starting to pay dividends in terms of the diversity we have at GM design. We also work with outreach programmes, whether it's middle school, high school, or college students, to make sure there's awareness around lots of opportunities and disciplines in design, not just sketching a vehicle. Currently our studios have two female executive directors. I'm not sure many carmakers can say that. That's exciting. Do we have more work to do? Of course. But we're headed in the right direction.
Sharon Gauci
Role: Executive director design, global Buick / GMC
Nationality: Australian
Location: Michigan, US
Education: Swinburne University of Technology, Melbourne, Australia