McLaren has released un-camouflaged teasers of its new GT, which will become the fourth model line in the supercar builder's burgeoning range. The British manufacturer describes it as "the McLaren of grand tourers," suggesting it won't stray too far from we've seen come out of Woking before.
Certainly though, a mid-engined GT car is a rarity, due to the inherently less luggage-friendly package layout. But McLaren appears confident that it can carve a new niche in this space, building on its reputation for remarkably smooth-riding supercars with their cross-linked hydraulic damping, and turning the luxury element up a notch or two.
The company has said little more, other than to say that it takes cues from the Speedtail we saw last October – despite having a conventional side-by-side two-seat interior layout – and that it will "redefine the rules of the Grand Tourer segment, introducing renowned McLaren engineering and dynamic attributes".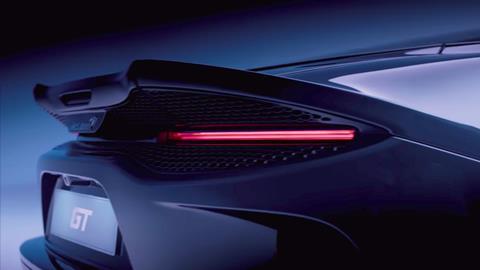 The teaser images, which we've brightened up a bit, reveal deeply inset LED-strip tail lights, skinny enclosed headlights and a more conventional approach to air management. An external air scoop appears on each side, rather than being nestled into the top of the door or in the 'shoulder' of the car, while the exhaust pipes – which McLaren generally mounts high-up to shorten and lighten the system while tidying up the aero – are here mounted down low in the rear diffuser.
The interior has not yet been shown, other than what's visible through the windows in earlier promotional photos of a camouflaged prototype.
The McLaren GT will make its online debut on Wednesday 15th May at 13:00 GMT. For now, here is a short video of it looking all moody and enigmatic:
.