Hyundai has introduced a sculptural plug-in Hybrid SUV concept called the Vision T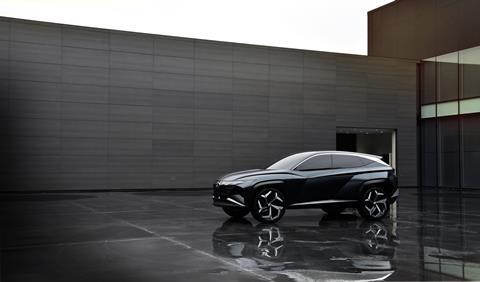 Hyundai has introduced a sculptural plug-in Hybrid SUV concept called the Vision T. The latest styling exercise (the seventh) to display the evolution of the brand's newish "Sensuous Sportiness" design language, the vehicle previews the crossovers coming from the Korean marque in the next few years.
It is an exterior styling study, as there is no discernable interior. No matter - the highly sculpted exterior left plenty to discuss amoung the assembled journalists and design professionals.

The side elevation shows muscular bulges over the wheels which intersect with faceted angles and planes. The goal is to animate the typical compact SUV box into an angular, sculptural composition that expresses the dynamic qualities of the design.
The facets continue across the front and rear fascias, where they hide innovative lighting solutions that indicate the usual lighting, braking, and so forth, but also charging and starting and shut-down sequences.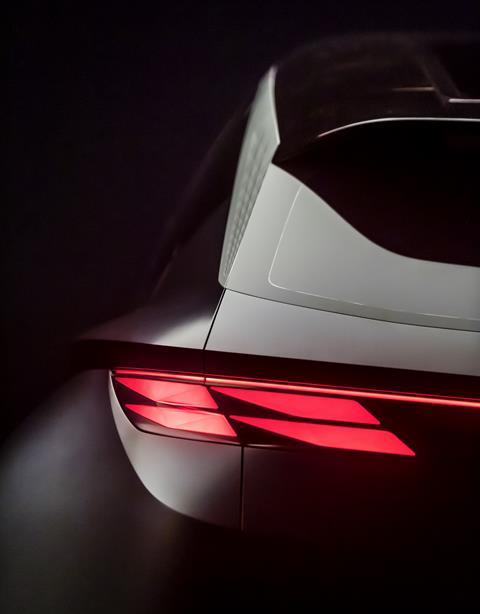 The individual cells of the grille are closed upon parking, but opens at speed, and at a prescribed sequence, to optimise the airflow into the powertrain and create an ever-changing face. The lights flank the grille and form a sort of split/flying "t" shape. The lower facia has a bit of an angular walrus mustache look from the front, though this is not as much in evidence walking around the car on the turntable.
Overall the Vision T styling study is challenging, but worthy of closer study. A better balance of curves and angles may be necessary to achieve a more harmonious composition, but in the meantime, we are left to challenge some our own assumptions about surfacing, the form and the style of what Hyundai calls "a vision of the new urban adventurer SUV design direction".
How much of this vision makes it to production should be known in the next 18 months or so.