The latest report by Automotive from Ultima Media examines the profits and outlook for the top 20 automotive parts suppliers and explores the strategies and solutions they should consider to avoid significant disruption in the 2020s, including the key role they will play in automotive design and R&D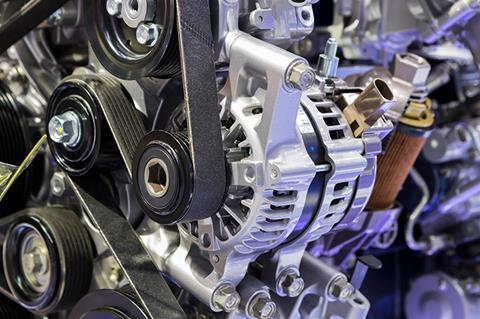 In parallel with their OEM customers, major automotive tier 1 suppliers are reporting falling profits amidst declining vehicle sales and manufacturing volumes. This economic uncertainty across the automotive industry, combined with growing requirements to invest in new technology, solutions and skills, is likely to lead to further profit margin compression for global automotive suppliers in the first half of the 2020s.
The impact is likely to accelerate changes across the global automotive industry, from cost and job reduction programmes, to a rise in joint ventures, mergers and acquisitions among tier 1 companies. Some firms are likely to reshape their business models altogether, spinning off divisions that produce non-core or highly commoditised products to focus more on sales of higher growth segments. Many suppliers are also set to play a more significant role in shaping vehicle design and development cycles.
These impacts and strategies are analysed in-depth in the latest report by Automotive from Ultima Media, available to download for free: 'Automotive Tier Supplier Profit Analysis: Mitigating Margin Compression Whilst Navigating Unprecedented Industry Transformation'.
The coming profit squeeze
The profit analysis reveals just how competitive the automotive supplier sector is, with most larger tier 1s registering very similar operating margins in the 6-8% range. However, higher-than-average margins over the past decade across the industry are now being squeezed. According to the report, technology transitions are likely to impact the supplier industry even harder than they will OEMs. Savings will increasingly have to be found, including in manufacturing, supply chain, material and labour, to maintain high spending in R&D.
As OEMs feel the effects of the downturn, many are reducing manufacturing and staff, as well as applying pressure on suppliers both to invest in new products and to lower costs. At the same time, a shift away from certain types of internal combustion engine (ICE) vehicles, notably diesel, is hurting many automotive tier suppliers, especially in Europe, ranging from large firms like Robert Bosch, to smaller automotive suppliers.
A longer-term transition to electric vehicles, meanwhile, is already creating new market power players in lithium-batteries but could also eliminate even more components and jobs in the supply chain.
"Returns on investment in the sector are far from certain, not least as it remains unclear whether any one kind of hybrid or electric powertrain technology will become the dominant solution in the new decade," said Daniel Harrison, automotive analyst at Ultima Media and the report's principal analyst. "There is further doubt about whether traditional manufacturers and automotive suppliers can adapt and compete in new areas like autonomous vehicles or shared mobility, where advanced electronics and software will be the differentiators.
"Already, there are signs that some banks and investors are wary about lending money to the supplier industry for longer periods of time."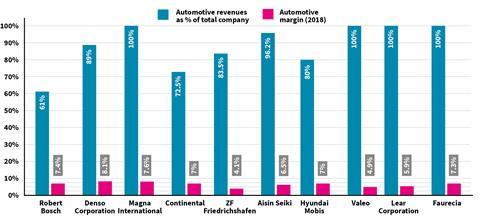 Strategic steps
As revealed in interviews in the report from companies including Bosch, Denso and ZF, automotive suppliers are responding to this pressure in multiple ways, including programme and operational efficiencies, as well as attempts to reduce fixed costs. Many are cutting jobs in higher cost, low growth countries like Germany. However, suppliers also need to be careful where they reduce headcount, as many must also increase recruitment in areas where more skills are required across the automotive industry, such as digital and software experts.
Large suppliers such as Magna and Denso will also depend upon their diversified product offerings to customers, for example in providing multiple powertrain technologies. Global companies with sales diversified beyond automotive, meanwhile, such as Bosch, might be better placed to weather downturns longer.
However, tier 1 suppliers will need to provide enough specialisation and innovation to automakers to avoid becoming commoditised or overtaken by startups and new market entrants. Some companies, such as Continental, already plan to spin off parts of the business that are more likely to become commodities, such as ICE powertrain components or seating. Other companies, such as Panasonic, have key advantages in lithium battery manufacturing – but may also struggle to avoid commodification.
That is why even as they increase specialisations, automotive companies will need to generate further economies of scale to reduce costs and provide high value. Because of the strong market positions required, the industry could be headed for further restructuring and consolidation among segments of the supply chain, as well as more joint ventures and alliances.
Within this difficult change, however, many tier 1s are well positioned to increase their contribution and significance in the value chain, from electronics to new mobility solutions. OEMs are likely to depend on suppliers to deliver a greater share of key technology, notably around electrified powertrains and batteries, but also in areas like advanced driving assistance systems, internet of things and artificial intelligence.
"Tier suppliers that develop these new technologies in close cooperation with their customers should be better able to control investment cost and avoid being commoditised over the next decade," commented Harrison.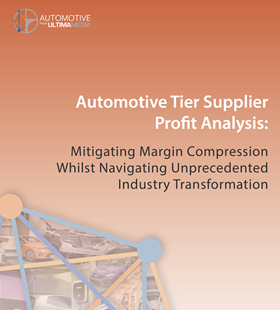 This report is produced by the global business intelligence unit of Automotive from Ultima Media, which also publishes Car Design News. For more original forecasts and trend analysis, visit our archive here.
For information and further comment, contact:
Daniel Harrison, automotive analyst
Christopher Ludwig, editor-in-chief