Hyundai's design kingpin Sang Yup Lee on the Prophecy, Dieter Rams, and why he wants to create a car range that is like a chess set
We want to create a car range kind of like a chess set. The king, queen, bishop and knight all look and function differently, but when they get together, they become a team. So for example, a compact car might feature an expressive design with a lot of personality for the younger generation or young-minded people. But the design for a big sedan might be more mature and have greater space. This is why you're starting to see lots of different design characters from Hyundai.
With 2019's 45 and 2020's Prophecy concepts the only thing that is shared is a skateboard-style EV base. The 45 is more of a cowl- forward mainstream SUV with inspiration from Giugiaro's original Pony Coupe concept from 1974. But it's not a literal translation; it has a very modern touch. With the Prophecy we wanted to create something EV-focused but with a new typology for the sedan segment. It has a long wheelbase with short overhangs and is really driven by aero. It's 'one-curve' design is inspired from the 1930s and '40s 'streamlined' era, for example, the 1938 Phantom Corsair or 1947 UrSaab.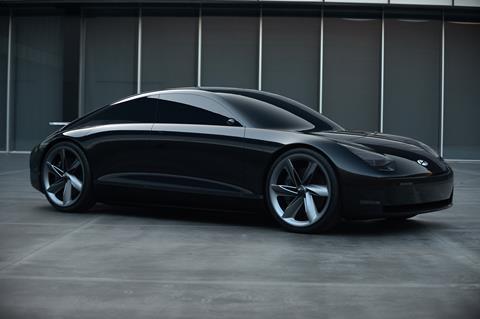 I like the name Prophecy, because in the streamlined design era people had optimism about the future. Somebody asked me, 'What is the consistency between the 45 and Prophecy within the Hyundai brand?' Well it's in the pixel graphics and lamps. Instead of the typical way of creating consistency in a brand with a grille, headlamp signature and form language we wanted those two cars to be completely different.
But when you look at them a second time you'll see that the pixels and details are the Hyundai graphics. Our brands are designed in more sophisticated ways now. I like this Hyundai approach because I have to think differently, whichever vehicle I'm working on. I really try to understand customers' lifestyles and what value to create for them to appreciate these types of car.
The new Elantra that Hyundai just launched is another facet of our design language. The 45, Elantra production car and Prophecy all look and function differently, just like chess pieces but come together as a team. The inspiration for the 45 was the 1970s and for the Prophecy the streamlined era of the '30s so Hyundai's design is almost using a time-machine. You never know what our design will be inspired by next, the '80s, the '50s. So stay tuned for that.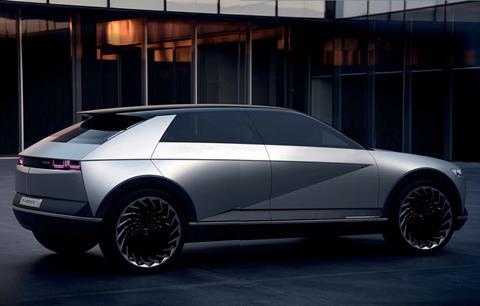 When we talk about the future we believe it will be very different but this also creates uncertainty and worry. What things will change? The world-famous product designer Dieter Rams said 'the future is the result of the past' so before we create a future, we always look back at what we have achieved. The pixel graphic is quite high-tech and modern but at the same time offers a more analogue, human and warm touch. This is a what we believe is cool and unique. For us, technology is very important, but I don't want it to dominate our lifestyle. I'd rather have a technology being warm and easy to use.
The whole of the Prophecy's interior was built around the idea of joysticks. This concept car is Autonomous Level 4. We've seen some Level 4 concepts with steering wheels which collapse, move forward and disappear and then come back when it's time for human driving. But for me that does not make sense because it means you have to stop the car to be in autonomous driving mode, because you cannot control a car when it's transforming into autonomous mode.
We've been in close collaboration with Aachen University since 2019. The academics there have been studying this joystick idea for a long time and have special know- how but we want to learn and develop that in our own way. If you get rid of the steering wheel look at how much open space you can create. The Prophecy's exterior is the size of a D-segment Hyundai Sonata sedan but its interior space is actually a lot bigger, more like the segment above, like a BMW 7 Serie for example. So the joystick makes sense. At CES 2020 we presented the Personal Air Vehicle (PAV) and Purpose Built Vehicle (PBV) within a hub and smart city concept. At Hyundai we are transforming to be a mobility service provider, not a traditional car company, so there are a lot of challenges.
I'm challenging myself a lot too as all the lessons I've learned for the last 23 years don't mean anything now. I don't normally read a lot of books, but I have to read a lot of books these days! We've set up an Urban Air Mobility division and its leader, Dr Shin, was previously head of NASA's aircraft division so he brings a lot of knowledge. There's only an interior design team right now, so it's quite small. But we're building it up, there are six people and the team is going to grow as we develop. In the future you will see the first aircraft by our car designers. As a designer I really appreciate this positive and fresh stimulus.