A stellar online exhibition on the Austin Metro by the British Motor Museum prompted an unexpected A-series engine-powered trip down memory lane for Car Design News editor James McLachlan
My first car was an Austin Metro. And my second. For my third, I switched things up with a Rover Metro. Given this track record it seems strange to admit that I don't remember where my love of these boxy superminis (the emphasis here is firmly on the 'mini' rather than 'super') stems from. Certainly not my father whose vehicle of choice prior to my arrival on earth was a gold Mark I Scirocco. Or my mother, who ferried my brother and I around in a chic, wood-panelled Mini Clubman. Nevertheless, my affection was pretty deep-rooted even before I occupied Austin's famously balky driver's seat. 
The Metro is 40 this year – an anniversary that all but passed us by. This shouldn't surprise us as even the most fervent admirers would not describe the Metro as a design classic. Thankfully, the British Motor Museum has marked the occasion with a nicely curated online exhibition detailing the story of a remarkably unremarkable car.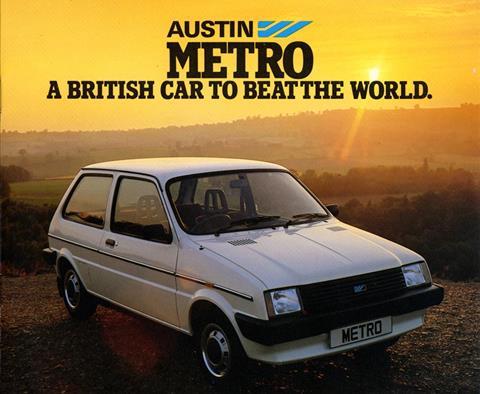 It had convoluted beginnings. The Metro was the product of a variety of directives from British Leyland's management. Predictably the results, at least in aesthetic terms, were less than thrilling. Consumer feedback on the concept had been overwhelming negative – too van-like, too utilitarian. Legendary stylist David Bache – the man behind the sinuous beauty of the Rover SD1 – was parachuted in at the eleventh hour to smooth off the edges, but even he could not transform the Metro into the design icon so badly needed.
In familiar leaden-footed style, the company had been slow to capitalise on the burgeoning small car market it had helped create with the Mini. The Metro, billed as a 'British car to beat the world' by some overenthusiastic ad-men at Leo Burnett, was the answer. The Mini was a nigh impossible act to follow – it was Carnaby Street, the swinging sixties, bank heists in Turin and the Monte Carlo Rally. 
The Metro was none of those things. By the time it finally arrived in 1980, a post-industrial malaise had settled across Britain, and, despite the launch date, it felt much a product of the 70s. Treacle slow in base model form, reliant on old technology – it was powered by an updated version of an engine you could find under the bonnet of a Morris Minor – and dull. Amid the well-rehearsed narrative, it is easy to overlook the huge investment in robotics and automated manufacturing that made the Metro possible. It didn't beat the world, but something about its undynamic form captured the hearts and minds of the British consumer. The Metro became one of the top selling cars of all time in the UK.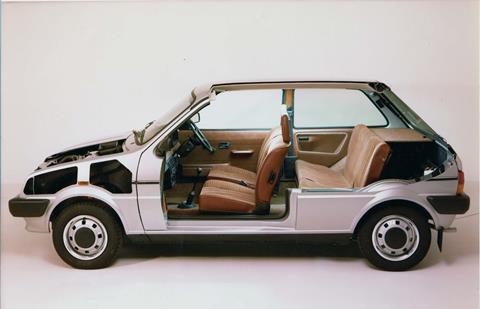 My first Metro was a 1989 1.0 litre City X in refulgent blue. Back then most cars were pretty slow, but with ancient A-series delivering a mighty 44bhp, the only vehicle my City X could comfortably outpace was a Fiat 126. That and mobility scooters. In the golden age of hot hatches, the Metro was wilfully uncool. I followed the City X with a plain old City in muted browny red. Actually, I could never firmly ascertain what colour it was, nor why the X was dropped from the name. 
My best mate had one too. His was pensioner-beige with a poo-brown interior trim, which felt truer to the Metro brand. His also had an E-gear as opposed to my more conventional 4th – a quirk of which I was inexplicably jealous. Another quirk, and one which I could have done without, was the cosseting Hydragas suspension had a habit of sagging on one side, which made it look like you were permanently driving on a steep camber. If both sides collapsed it looked like you had lowered suspension. Still, they were fun, cheap to run and their general stodginess meant you never encountered any challenges from souped-up Novas and Fiesta drivers. 
Insurance costs for feckless teenagers like myself were rightfully high, which put the MG versions of Bache's box out of reach. Even to this day, the thrills of a MG Metro, or its boisterous bigger brother the MG Metro Turbo remain a mystery. I remember a Turbo version, beguiling in weak lime cordial green, on sale in a garage near me for what seemed like an eternity. Sadly, me and limey's paths never aligned, which in retrospect was probably for the best. Without doubt, the holy grail was the unattainable Metro 6R4 – a 400bhp monster designed to compete with the other flame-spitting beasts of the short lived and deadly Group B rally. They pop up for sale now and again, usually on collectors' websites, for astronomical figures. Today, a standard Metro goes for a fraction of those prices.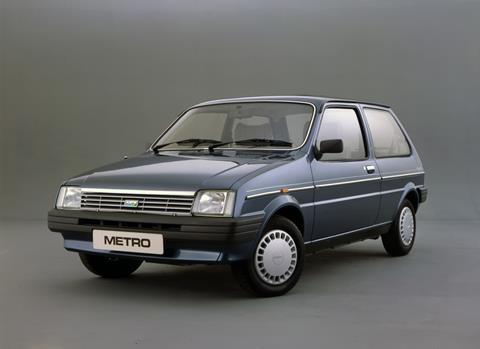 The British Motor Museum's retrospective stirred some heady bouts of nostalgia, not just in the media. The day it opened, my beige Metro pal messaged me excitedly. We both agreed that the Austin Metro was the definitive iteration and the Rover's effort, though a quantum leap forward on every level, was not made with the same spirit. Anyway, he'd found an immaculate Austin Metro Clubman for sale on Autotrader for around five thousand quid. "Go halves?" came the hopeful communique. I can't lie, I am sorely tempted. 
Metro at Forty is online at The British Motor Museum.