Just when you thought Mercedes had every SUV niche covered, the German brand goes and spots another. The resulting seven-seat Concept GLB – as the last initial in its name suggests – fits in between the sportier, more car-like GLA and the bigger, curvier GLC.
It is also the result of listening to Chinese customers (so was a fitting Shanghai motor show reveal), as Mercedes' head of exterior design Robert Lesnik told CDN: "The design is a mix of G-Wagen and GLS and came about as a direct result of customer feedback from China. Not every market wants a third row, but China was keen and it will be sold worldwide, with the third row optional in European markets."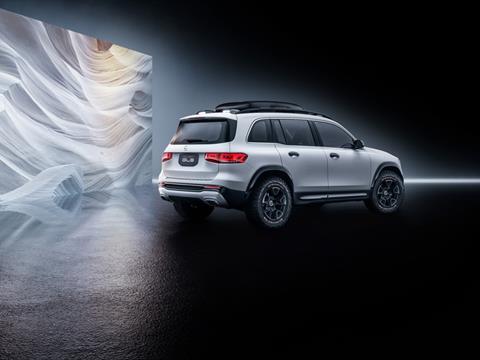 The exact dimensions are 4634mm long, 1890mm wide and 1900mm high, but the key measurement is the 2829mm wheelbase which helps create that cabin room for up to seven occupants in what is a relatively compact vehicle.
If we've counted correctly, the Concept GLB signals Mercedes ninth SUV variant – if you include the new electric EQC – but when SUVs accounted for 820,000 Mercedes sales in 2018 and represent its biggest segment type worldwide, it's not hard to see why the German premium-luxury brand is quite happy to make one more (and it's not stopping there, as we'll see later).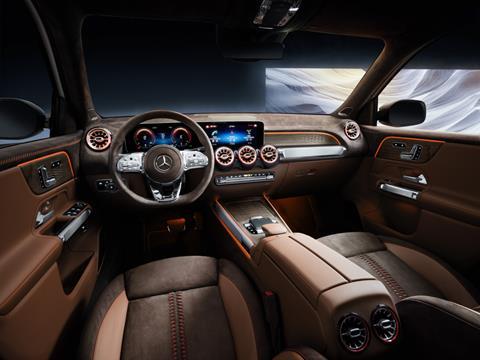 The Concept GLB's cabin features a typical 'two-three-two' seating configuration where the two individual seats in the third row can fold flat into the floor when not needed. Meanwhile, the second row of seats can slide back and forth to create more legroom or luggage space as required.
This is useful as the third row is tight for six-foot adults for anything longer than short journeys. We took a seat to test and the footwell is minimal – it's not theatre-style stepped seating like in the Land Rover Discovery – and the shaped headliner still catches out taller folk.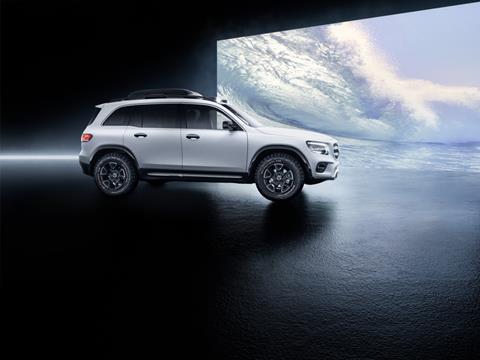 The GLB's exterior continues Mercedes' current 'less-is-more' approach, with full volumes and no creases or cuts. From the functional perspective the upright windscreen and short overhangs make off-road vision and vehicle placement easier too. The only real conceptual flight of fancy is a bank of roof-mounted headlamps for better night-time off-road vision.
The interior also follows recent Mercedes vernacular, with jet-style vents aplenty, but the open-pore walnut wood inlays and nappa and nubuck leather upholstery – with diamond-cut holes in the seat centres to reveal orange sub-layer accents – are of a higher quality than on most regular production Mercedes models.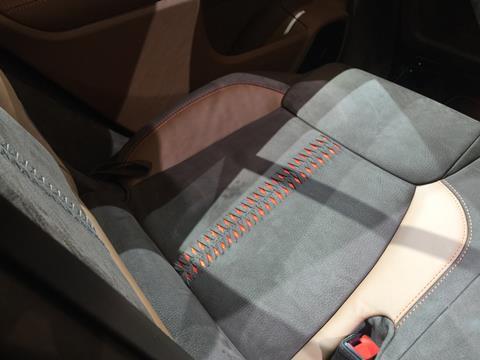 British designer Mark Fetherston led the project – he of A-Class, 'gullwing' SLS and CLA fame – and the Concept GLB is deliberately very close to a future production model of the same name, as Lesnik told CDN on the brand's Shanghai show stand.
"The geometry of the [production] exterior and interior is exactly the same," he straightforwardly revealed. "Only some small details will change, like less chunky tyres and slightly less complicated roof lights. We wanted to keep some things on the roof to make the car look higher and more cube-like."
"Normally as a designer it's the other way around, we want cars to be lower," he added with a smile.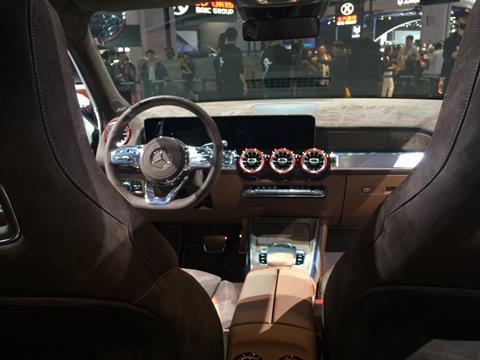 The Concept GLB has a 224hp four-cylinder petrol engine with three driving modes, beyond basic permanent all-wheel drive. Eco/Comfort is based on 80:20 power distributed to the front and rear axles, Sport mode changes that to 70:30 and in off-road mode it's 50:50. The production GLB will be revealed this autumn at the Frankfurt motor show with deliveries early next year.
As alluded to earlier, Mercedes will produce a 10th SUV with an electric version based on the same car, due to follow in 2021 and called EQB (aka EQC's baby brother).