"We always had a plan to show both sedan and an SUV or all-terrain concepts for Lagonda," says chief creative officer Marek Reichman, explaining that both the Vision and All-Terrain Concepts were designed together from the outset.
"In all the research we've done to find out who our customers are [for the Lagonda brand], which is very much based on analytics, future consumer trends, how luxury customers will behave in the future, we've found two clusters of people who want a battery-electric vehicle in this space."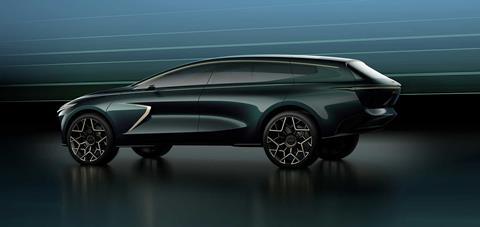 Last year's Vision Concept, a massive superyacht-style monoform sedan, was in many ways more extreme, Reichman says, and although more super-SUVs are now arriving, "a sedan is more expected in the luxury space and we wanted to change perceptions more with [Vision Concept]."
With a sedan, he says, there are more opportunities with the packaging to push the boundaries: "we can take more advantage of the electric powertrain, we can give all of the interior volume as space for the occupants. The All-Terrain is higher, the H-point [position of seated occupants' hips] is different, and there is a different expectation at the front of the car with reference to safety in an off-road situation."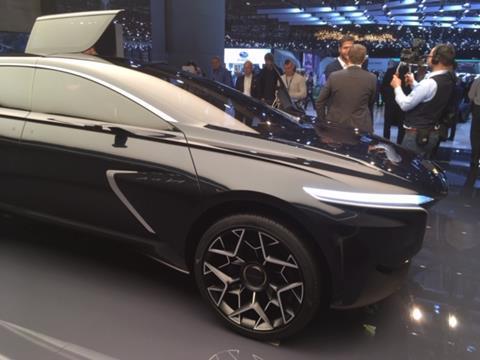 He points to the different profile and proportions: the treatment of the All-Terrain's A-pillar is very different to that of the sedan, clearly defining more of a distinctive volume for the upper body; but while the bonnet appears to be longer, this is actually the same length.
To the rear, the raked rear screen meets the sharp, kicked-up tail with clamshell opening, not only designed with steep slopes and departure angles in mind, but housing a handy 'events seat': "a tray in the rear that pops out when the tailgate is up, giving a covered seat so you can watch a polo match, horse-racing, have a tailgate party at the Super Bowl…" says Reichman.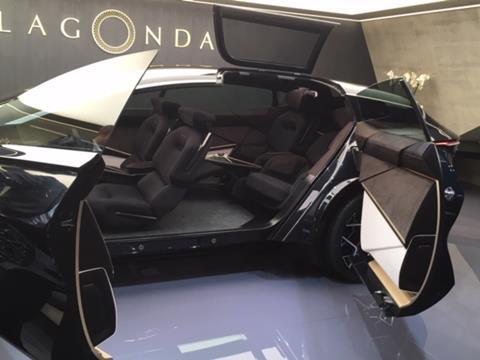 The patented upward-opening door system is the same: "it's all about ease of ingress and exit. One of the constraints getting into the back is always that you have to dip your head below the cant rail, so we take that away as the door opens," he explains, noting that the 'coach door' layout was developed with a view to how the rear seats might be accessed if, in future autonomous-driving scenarios, the front seats are rotated to face the rear.
"It's very much about the potential different usage patterns, as it could eventually have autonomous driving," he says.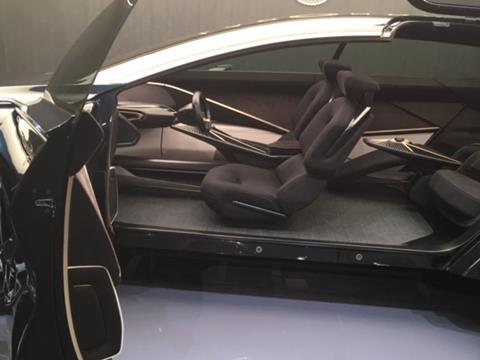 As a vehicle for the world's very wealthiest, security – both cyber and physical – is a particular concern, and the All-Terrain features advanced nanomaterials. "In the past, ballistics used to rely on heavy lead and thickened glass, but now we have materials that react to an impact, for example with a mesh that contracts to 'catch' a bullet, and Kevlar, which is an incredible material for absorbing impacts," Reichman explains.
He says that this enables significant weight savings, with doors much lighter thanks also to specially-coated window glass.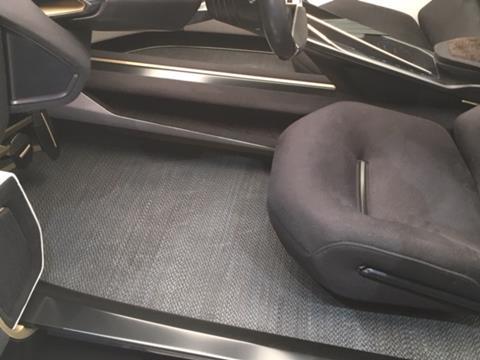 As with the Vision Concept, the approach to colour and trim has focused on applying locally-sourced textiles and materials, including Welsh wool, on looking at alternatives to traditional wood and leather, and on handcraftsmanship – although the All-Terrain needed to withstand (or communicate) more of an outdoors lifestyle, hence the darker colour theme.
"My brief to the team was that this should be suitable to go both to an owner's Swiss Alpine ski cabin and to the Paris Opera," says Reichman. Alpaca wool, cashmere and a silk-mix are seen, although a little leather is applied on the steering wheel: lambs' leather, "just the most beautiful soft leather you have ever experienced!" he says. (Customers squeamish about animal products will, of course, be offered alternatives).
Floor mats are woven in a thick tweed-like pattern, and a new touch is applied to the tie-downs for the seats, the points where the fabric is secured in place: sparkling dark crystals, which are also embedded in the gesture-controller in the rear.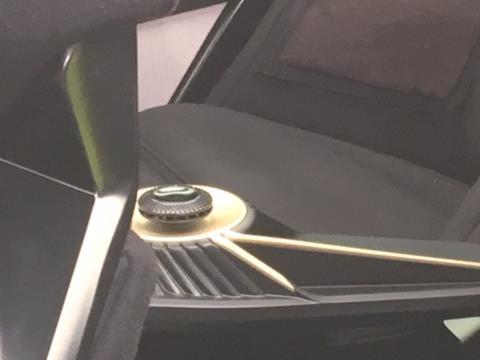 Technological touches include the electromagnetic dock for the 'levitating' electronic key, which Reichman describes as "becoming your 'life mouse', taking information from your phone or computer." This brings up all relevant information for the day, whether business or diary-related or personal, incorporating biometric sensing and monitoring for stress levels, for example.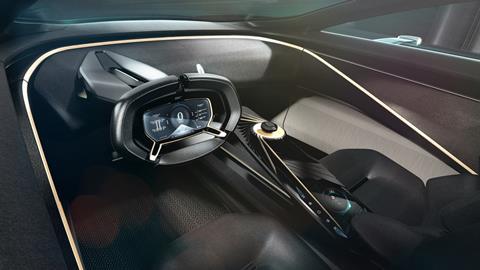 The main difference to the Vision Concept, however, is in how the All-Terrain is a much more driver-oriented vehicle, rather than one in which to be chauffeured. As such, it does look less like a conceptual show car – and indeed, Reichman says there will be only "10-15% of change [for production, indicated for 2022]; it was designed from the outset to meet legislative needs."
He notes that given Aston Martin Lagonda's expertise with state-of-the-art lightweight structures and materials, and experience in packaging efficiency for high performance and optimising factors such as airflow and mass, its sports-car understanding can be well-applied in this different sector even if the vehicle typology – and powertrain – are different.