Designers were tasked with producing innovative visions for future mobility in the year 2035. This year's Asia winner proposes a flying car that serves as its own living space and nature retreat vehicle
The Asia region winner of the 2022 Magna Global Bold Perspective Award is Xue Liyan from Nanjing University of Science and Technology. There was tough competition for this year's award, but Liyan's vision of a flying car that blurs the boundaries between vehicle and architecture won the judges over.
In the year 2036, Liyan envisions a society where urbanisation has spiralled – with less free space in cities and a yearning to reconnect with the great outdoors. The Arcto brand promises to tackle both issues with a flying car that acts as a "moveable building" but also an escape vehicle with that can be used for camping. Boxy and geometric in its exterior, the Arcto 001 is modular and – as a brief video illustrates – can flit between outdoor and indoor living modes seamlessly.
The brief called for designers to present a vision of future mobility around the year 2035. More specifically, it was about creating a "living vehicle", says Larry Erickson, an award judge and global director of exteriors design at Magna Exteriors.
Entrants were urged to consider topics such as sustainability, exterior innovation and electrification, with specific use cases for each vehicle to be outlined in detail. And importantly, vehicles should consider the role they play in the wider environment. "We created this competition to help us understand what the future of mobility holds," said Erickson ahead of the awards. "The designers of tomorrow play a key role in building that future."
Alongside an overall winner, three regional finalists have been selected to represent Asia, Europe and North America. Each of the finalists will receive US$6,000 (the overall winner receiving an additional US$5,000). The global winner will be announced live on the stage during the CDN LA Forum on 17 November 2022.
Congratulations to Liyan for taking home the Asia region award.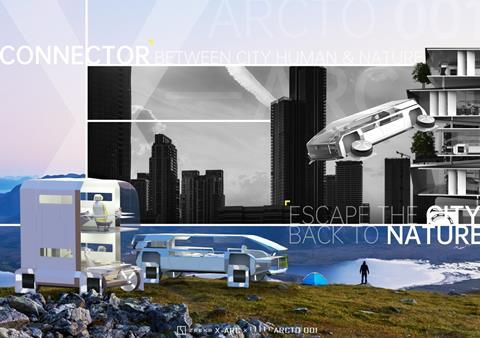 Judges' comments:
"What this proposal lacks in form it more than makes up for in function," says Jay Shuster, production designer at Pixar Animation Studios. "This is another concept that is pervasive in automotive circles – basically an update to the mobile home." Shuster also praised the approach to combine the fields of automotive and architecture, but suggested future iterations could perhaps be more stylish.
Bjorn Shuster, design manager at Harley Davidson, agreed that the "form development could benefit from a little more polish" but emphasises that Liyan's Arcto concept "addresses the brief with the most direct solution."
"The variable ride height is interesting in offering flexibility for varying on- or off-road adventures," he added. "The rotating wheel to aerial drone propellers is also fun; one can't help but be reminded of James Bond's underwater Lotus in "The Spy Who Loved Me." Bjorn Shuster was most impressed by the interlocking aspect of the vehicle, which was inspired by traditional Chinese architecture. "I thought this did a good job of taking an individual vehicle and using it to build a sense of 'mini-community' – a concept very familiar to those who have been enjoying RVs and 'van-life' for generations."
The judges:
Larry Erickson
Global Director of Exteriors Design Group
Magna International
Crystal Windham
Executive Director, Global Industrial Design
General Motors
Liz Wetzel
Co-Director, Transportation Design
College of Architecture and Design, Lawrence Technological University

Jay Shuster
Production Designer
Pixar Animation Studios
Bjorn Shuster
Design Manager
Harley-Davidson Motor Company