A different sort of straight-edged truck, and one that seems legit
The Bollinger B1 and B2 were introduced back in 2018, a follow-up to the original B1 SUV which looked a bit like a Land Rover Defender. Robert Bollinger, the founder, brought the pair to the 2019 Los Angeles Auto Show to present them to a larger audience.
We have previously written about Bollinger, the upstate New York truck start-up which has since moved to Detroit to be closer to the manufacturers and suppliers available there.
Here in Los Angeles, Robert Bollinger walked us around the B1 SUV and the B2 truck, pointing out their many clever features. The two vehicles are the same from the front to the C-Pillar, and each has an array of doors and windows that can pop-out or be removed. The vehicles have myriad ways to be transformed from blocky SUV/Truck to an off-road explorer of even the roughest backwoods terrain.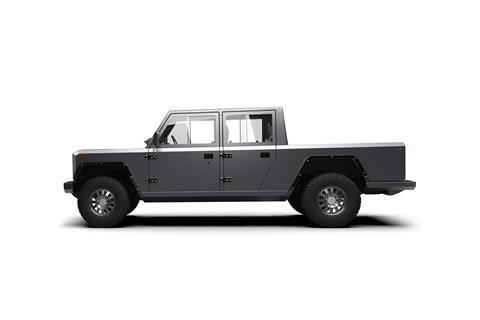 The electric powertrain remains and has been beefed up. There is a 120kWh battery pack, dual motors. The B1/B2 produces 614 horsepower and 668lb/ft of torque. It weighs about 5000lbs (~2268kg) and it can carry another 5000lbs' payload, or tow 7500 (~3402kg). Unloaded it is quite the speedster, with a claimed 0-60 time of 4.5 seconds.
The removable panels and windows complement the removable seats and centre console (which can double as camping tables). The truck has a flip-down midgate and expandable bed. All manner of items can be loaded into the B1 and B2 from long lumber (up to 16 feet) to huge stacks of plywood.
The Bollingers have a hydropneumatic suspension, some 15 inches of ground clearance and a 10-inch wheel travel for off-road conditions.
At the interior, the Spartan conditions remain. The instrument panel is just that, a flat panel with instruments on it. The passenger side of the panel is blank for easier conversion to right-hand drive.
The B1 and B2 are Class 3 trucks, a heavy-duty class of trucks that are exempt from a lot of consumer safety features such as airbags.
The seats are comfortable buckets, but not overly luxurious. They can be removed, of course.
The centre consoles front and rear are small tables with boxes attached to the top. Cargo, like lumber, can slide through their legs and fit into the front pass-through. Naturally these tables also pop out, to be repurposed as small camping tables.
Materials and assemblies are simple, but rugged. The rivets that dot the exterior and interior simplify manufacture. Titanium and aluminium are planned as primary structural materials – no steel is planned, to avoid rust.
As Mr. Bollinger walks around the truck, he speaks lovingly and proudly of every feature. He plans to sell the truck at a premium price of $125,000. That's the bad news. The good news is that you only have to spend that once. The B1 and B2 are "forever trucks", in Bollinger's words, and will be built to last a lifetime.
You can't help but wish for him to succeed. His emphasis of function over style creates its own kind of beauty, however Brutalist it may seem at first glance. In coming years, we may point to the Bollinger as an example of "form follows function" in the highest degree. But can a permanent "forever" vehicle make it in an industry that is addicted to style and changing trends? Time will tell.