The first electric SUV from Skoda, the Enyaq iV, includes some notable design details
Skoda has taken the wraps of its first electric SUV, the Enyaq iV. It features a variety of design firsts for the company, both on the exterior and interior, and could be a signal of future models to come.
The most distinctive area on the outside is the front end. "Even in our electric cars we stick to our classic radiator grille, which is an identifying feature of all contemporary Skoda models," explains chief designer Oliver Stefani. "On the Enyaq iV, though, the grille is more upright, which gives an impression of self-confidence. The crystal face is also a unique feature."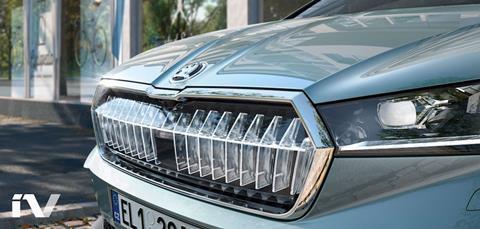 Thin strips of transparent plastic line up along the grille area, which are edged and shaped in such a way to give the "crystal" effect. Behind them sits 130 LEDs, highlighting each individual strip when turned on. There is also a strikethrough line of LEDs that cut across the strips and join the main headlamps on either side, making for a unique lighting signature.
Inside, the Enyaq iV is characterised by a layered dash with a large touchscreen sitting in the middle. Customers can choose from several options when it comes to the interior trim. The 'Loft' option comes with a two-tone dash design and is inspired by modern apartments, while the 'Lodge' option focuses on the use of sustainable materials and 'Suite' includes a more luxurious feel. There is also 'Lounge' for comfort and an RS version for a sportier trim.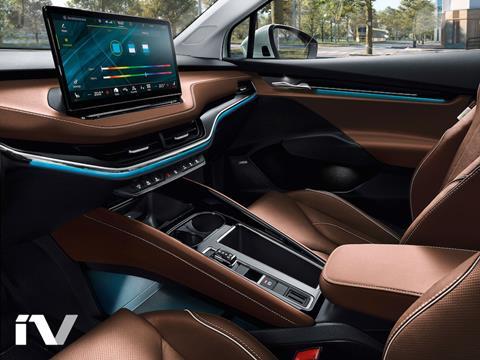 The overall shape of the dash, specifically the way in which it pushes in to the centre console at the middle, creates a cocoon effect for both driver and passenger. There are also small details that add to this, such as the way in which the chrome and soft materials cut across the top of the doors and line up with the dash layers.
It is worth noting that Skoda is offering the Enyaq iV with a three different battery and electric motor sizes. The entry model comes with a 109kW electric motor and a battery with 55kWh capacity. It has an estimated range of 340km (211 miles) in the WLTP cycle. The second option is a 132kW motor and a 62kWh battery, providing a maximum of 390km in range, and finally the 150kW electric motor and 82kWh battery offers the longest maximum range of 510km.
Watch this video for more information on the interior design of the Enyaq iV.