The new global design event, Car Design Dialogues, is set to bring experts from around the world together to discuss car design
The new global event Car Design Dialogues, from Car Design News, is kicking off today at 08:05 PST (13:05 GMT). Designers from all over the world will be showcasing their latest work. In the first session, Paul Wraith, chief designer at Ford Motor Company, will be taking us through every little bit of the new Bronco.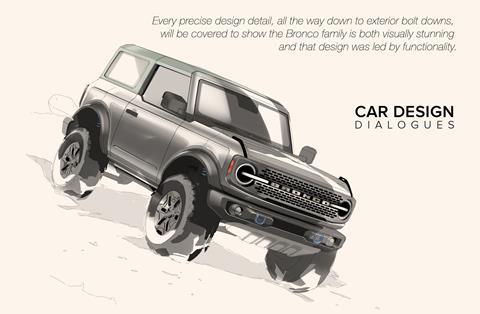 Car Design Dialogues is a new virtual platform for the design community, helping experts from all over the world to come together and discuss the leading-edge of car design. The first 2-day event will present a comprehensive series of car design reviews and panel debates filmed inside the design studios of global brands.
Join our unique event for 360° reviews of landmark vehicles presented by the design teams that brought them to life. Influential figures from the design world will tackle the most important issues facing the design industry with a selection of themed panel debates, including Robin Page of Volvo Cars, Phil Zak of Chevrolet and Hummer, Max Missoni of Polestar, Frank Stephenson, Chris Benjamin of Jeep, Massimo Frascella of Land Rover, Pontus Fontaeus of GAC, Derek Jenkins of Lucid Motors, Andrew Smith of Cadillac, and JC Pavone of Volkswagen.
https://www.cardesignnews.com/car-design-dialogues