Pre-orders begin as the volks-elektrische-wagen draws nearer
As Volkswagen continues gearing up to debut what it sees as its most important model since the original Golf, it has released images of what we now know to be called the ID.3 production hatchback. These images arrive in parallel with its announcement that European customers can now 'pre-book' their own C-segment EV for a €1000 deposit.
The name 'ID.3' suggests a numeric naming system wherein there will be space in the electric-only ID range for a Polo-sized 'ID.2' and an Up!-sized 'ID.1' below this initial Golf-sized model (as well as larger models, of course). Versions of the German brand's various ID-branded concept cars – BUZZ, VIZZION, ROOMZZ, etc. – will, mercifully, be given a numeric name in line with this system once they enter production in the near future.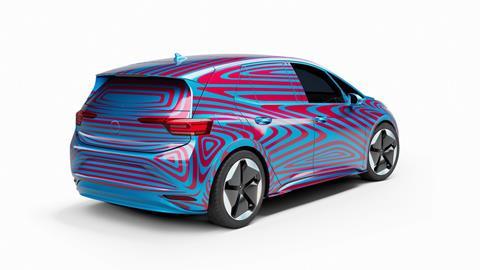 The images previewing the ID.3 show an exterior design which stays true to the original I.D concept car of 2016, with a very short nose and cab-forward proportion, high waistline and long, drag-cutting rear spoiler. Up front there are trapezoidal headlights and a parametric pattern around the front apron – where a battery-cooling grille has appeared. There is a pronounced lump at the top of the bonnet, which we would guess is an aerodynamic shroud over the windscreen wipers, while further forwards, a narrow light strip joins the headlights to the central badge, in lieu of any chrome. Below that, a trapezoidal panel is visible in the bumper, which may hide charging ports, or driver-assist sensors.
Body surfacing remains clean, with only a few crisp character lines to add definition where necessary and a narrow light catcher on the turnunder, as per the concept. Around the back, the tail lights are taller to encompass lights powerful enough for real-world scenarios, rather than the pencil-thin strips on the show car. Equally, the concept's pantograph rear doors have – surprise! – been replaced with conventional front-hinged ones. The production interior remains a mystery.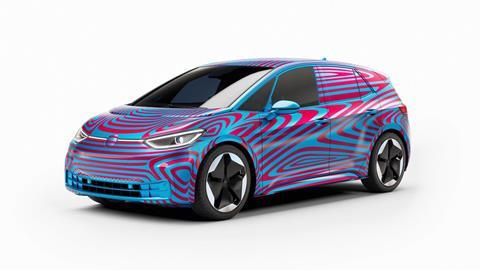 Anyone who pre-orders an ID.3 will be treated to a 'ID.3 1st' special edition with some extra kit on it and 2000 kWh's worth of free charging time as a reward… as long as they're OK with the heightened price tag. The standard ID.3 will start at "under €30,000" before local EV grants, while the 1st edition will be "under €40,000" pre-deductions.
There will be three battery sizes on offer (the 1st edition gets the middle-sized one) – a 45kWh unit with a 330km range; a 58kWh unit with a 420km range, and a 77kWh unit with a 550km range (WLTP-rated ranges in all cases). The nature of the 'MEB' modular skateboard platform is that longer-wheelbase models in the upcoming ID range could have larger batteries. ID.3 buyers will get a 125kW home charger which VW claims can give 60km's worth of range in 30 minutes.