With a sweeping roofline and hunched arches, the Renault Arkana takes on a very different shape from anything that the French OEM has released before in Europe
When the Renault Arkana made its debut at the 2018 Moscow International Automobile Salon it was still a concept, albeit close to production-ready. After some small tweaks, the model was introduced to Russian and Korean markets (sold as the XM3 in Korea). The new 2021 version has just been unveiled, and is set to go on sale across the rest of Europe next year.
Few design changes have been made to the new Arkana, but its introduction to the European market means that it will now come with a variety of hybrid powertrains. Renault says that this is "a first for its segment."
Customers also have the option to go for a new R.S. Line trim – a spec that has previously only been available on the Clio and Megane. It comes with some small details, such as red inserts on the bumper and shadow-tinted wheels, for a sportier look.
Pictured next to Renault's existing portfolio, the Arkana is clearly an amalgamation of the Megane and the W. The distinguishing feature is the relationship between its sweeping roof line, which would look more at home on a sleek sedan, and hunched wheel arches that shout "big SUV".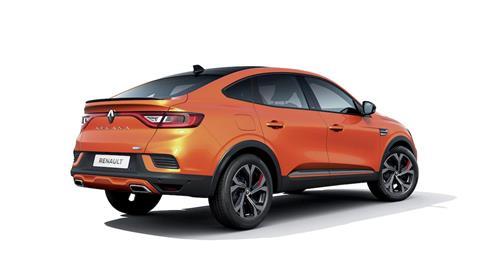 The rear is also different from anything else in the Renault range, with a sharp line acting almost as a spoiler under the back window and the full width LED strip connecting the lamps.
The Arkana essentially provides something new for the French OEM, hitting a space in the passenger vehicle market occupied by pricey coupe-style SUVs like the BMW X4 and Mercedes-Benz GLC Coupe.