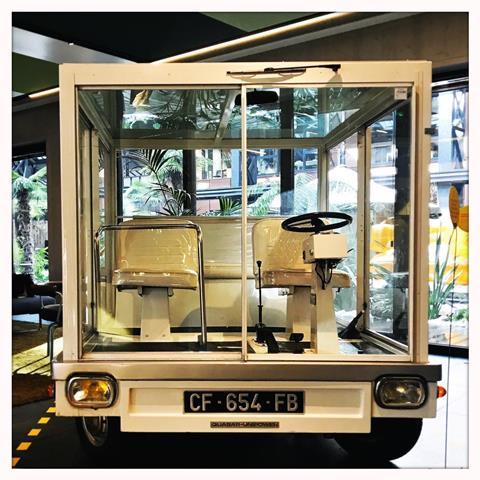 Of all the automotive package formats, the one that seems to be the most vexing is the city car. The sizing, the shape, the seating, the powertrain and even the number of wheels always seem to be open to constant debate and re-interpretation.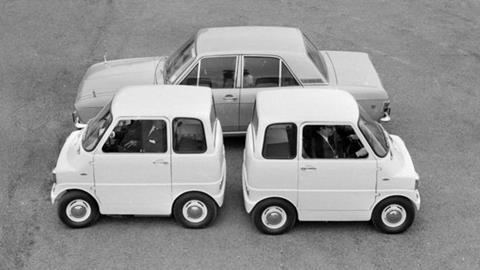 Perhaps the urban vehicle we are seeking is not a car, but other forms of transport – buses, trains, trollies, etc., or micro-mobility solutions like e-bikes and scooters. Then there is the city itself, which is both old and young, expanding, contracting, accepting and rejecting, championing and frustrating transportation experts of all stripes.
So many big questions and so many little vehicles.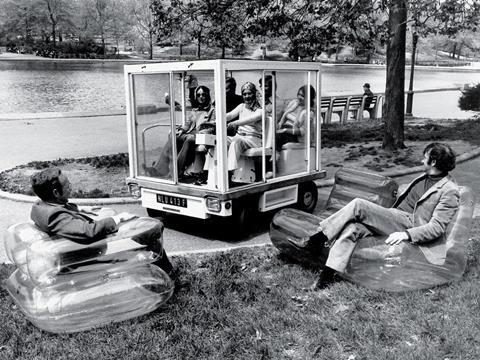 One revolutionary proposal that actually went from concept to limited production was the Unipower City Car, a tiny rolling glass box, introduced in the 1960s, and designed by an unlikely engineer-turned-car and furniture designer, Quasar Khanh.
Nguyen Manh Khanh was born in Hanoi in 1934 and moved to France at the age of fifteen (a move facilitated by Vietnam's place in the colonial world of French Indochina).
From 1955 to 1958 he studied engineering at the École Nationale des Ponts et Chaussées. After graduation, he worked on engineering projects in France and Canada.
In 1957 he married a Balenciaga fitting model, Renée Georgette Jeanne Mézière – or Emmanuelle, as she soon called herself. The two moved beyond the confines of their respective degrees (his in engineering, hers in business) and into the design world. Emmanuelle rapidly grew tired of the stuffy 'haute couture' world and began designing ready-to-wear fashion that had an uncanny connection to young women of the increasingly open and revolutionary 1960s.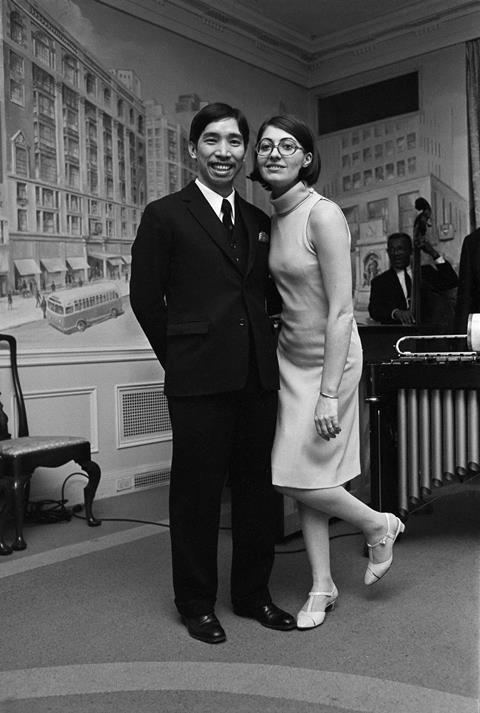 Meanwhile, Nguyen Khanh adopted a pseudonym of his own, 'Quasar', and began a design a new kind of city car to deal with the ever-increasing traffic in Paris. Influenced by his wife's "fashion for everyone" ethos, Khanh sought to design a car that could be modular, easily assembled from readily available parts, and with great visibility for city driving.
Through a connection, Khanh brought a nascent design concept to Universal Power Drives of Perivale, in Middlesex, known primarily as a manufacturer of heavy duty trucks like logging tractors under the Unipower marque. Unipower had begun development of a sleek little sports car, the Unipower GT.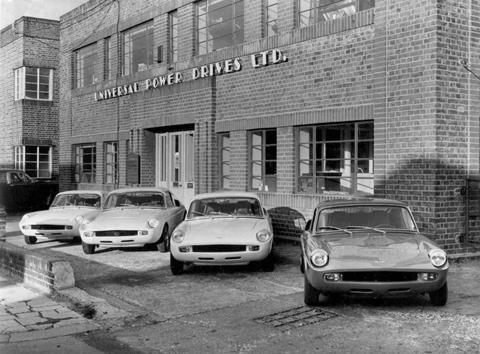 The Unipower GT was a tiny low-slung car looking much like a tricked-out version of the then-new MGB. But the Unipower GT used a BMC Mini engine (either the 998cc or the 1275cc Cooper S) and mechanicals mounted amidships. The car had a tubular spaceframe and roll bar by Arch Motors, plus a fiberglass body by Specialized Mouldings. With independent suspension and available four-wheel disk brakes, it was quite a transformation of the humble Mini.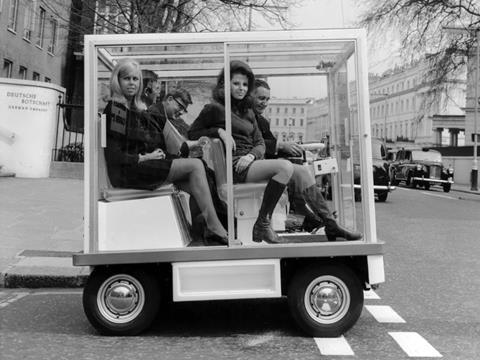 Khanh and Unipower soon realised a good bit of this GT engineering work could be transformed into Khan's city car project. A chassis was designed with an 1100cc Mini engine and transaxle mounted in the rear with a passenger compartment mounted above. The chassis would adopt Mini's 10-inch wheels and tiny wheelbase, making the car extremely maneuverable in city traffic.
The passenger compartment was a glass cube (well, almost a cube). The sides were made from veranda windows (not patio doors as is commonly reported), and thus allowed for six different ingress/egress options. The top was made of glass, too, coated for reduced insolation in a token effort to control the temperature in the cabin.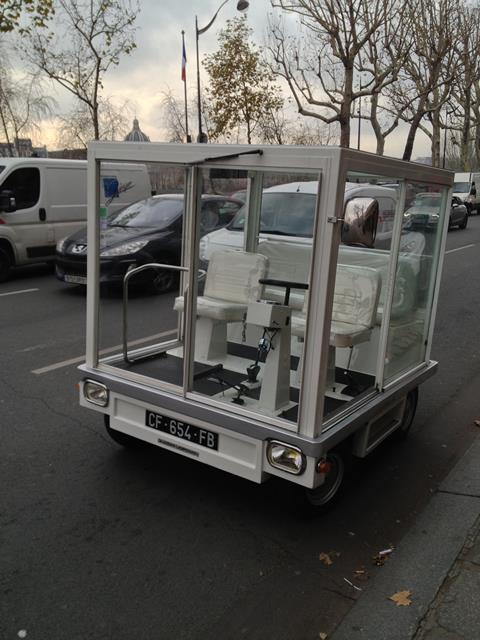 As for the interior, it was pure volume and could seat five in comfort, and six in a pinch. The rear seat was a bench that sat above the engine, thus ensuring warm backsides for occupants in even the coldest weather. The front seats were two not-quite-buckets, with the driver facing a near vertical steering column and, fortunately, only having to deal with an automatic transmission.
The front passenger faced a bar to him from pitching out the front glass in an accident or quick stop, although the prototype did not have this feature (see video below). All the seats were inflatable, a weight-saving device that previewed future Khanh projects. Everyone aboard sat on the elevated platform of the cube adding to the superb visibility.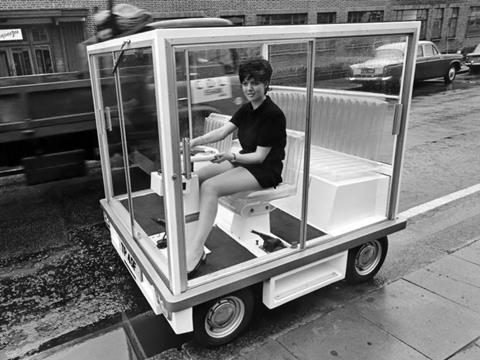 The result was a rolling cube of glass that was both ridiculous and provocative. It was, in a sense, an anti-car. But it garnered a lot of publicity for Unipower and Khanh. In a priceless bit of marital cross-branding, the car, nicknamed "the Cube", could be seen testing around London, often filled with models wearing Emmanuelle Khanh fashion creations, essentially making the Cube a rolling boutique.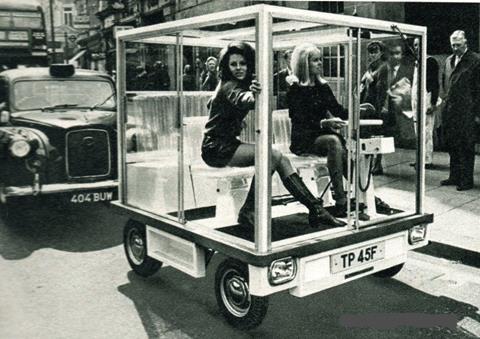 It was decided to put the Cube into production, and fifteen were made from 1967-1968. Thirteen of these made their way to France, where "Le Cube" had a cult following which, alas, didn't translate into sales.
For all sorts of reasons, primarily safety, The Cube was impractical as a city car, or most anything else. But as a concept car it was enormously successful. It questioned so much about automotive style, the nature of glass as a material and how much of it should be used (an excellent essay on that subject can be found here), the nature of vehicle architecture and interior volumes, and much more.
It also reflected the spirit of the times, as the baby boomer generation, coming of age, was demanding a new openness in every level of society from fashion and design, to governments and even personal relationships. Physically casual and transparent objects reflected this new ethos, and many designers were responding.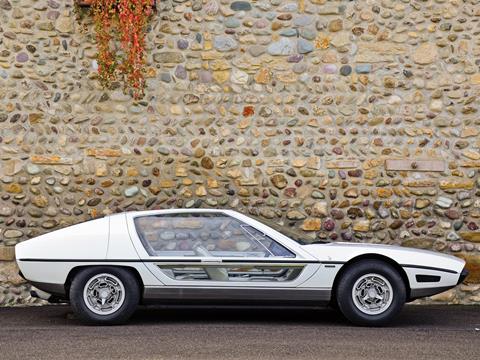 Also, the glassy cube brought a certain joie de vivre to the stone and brick environs of London and Paris in a way that had not been seen since Paul Arzens' L'Oeuf Electrique bubble car of 1940s Paris.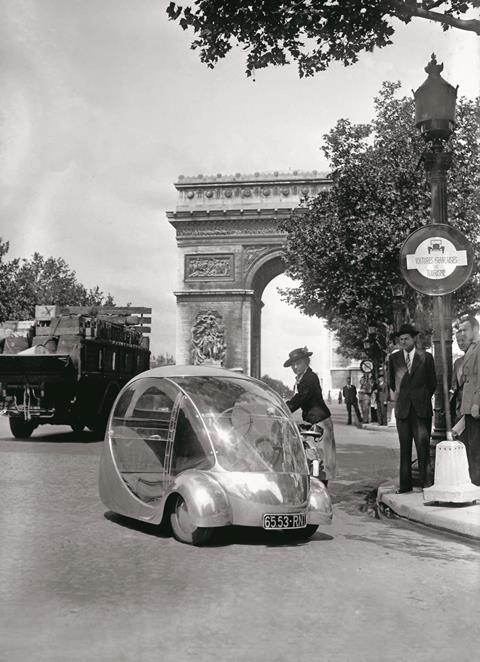 In the end, the Quasar-Unipower City-Car quietly exited production in 1968. Its step-sister, the GT, managed to stay in limited production until 1971. Universal Power Drives soldiered on, but now no longer exists, its assets broken up by multiple sales since being acquired by Caterpillar in 1977.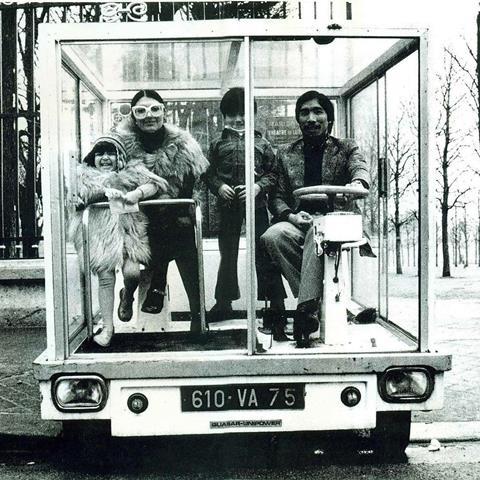 But Quasar Khanh was ready to move on. He created a line of transparent inflatable furniture called Aerospace that expressed the transparent and ephemeral nature of developing youth culture in the late 1960s. He would later create a series of sand-cast aluminium furniture, and following the lead of his wife, created a ready-to-wear men's fashion line in the 1970s.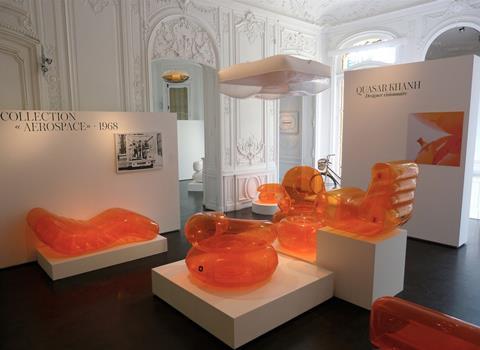 Emmanuel Khanh, for her part, would continue to find great success in the fashion world, breaking free of other fashion houses and founding her own boutiques in the 1970s which sold her clothes, and increasingly her bespoke eyewear, which had become her trademark. Hard times in the 1990s forced her to sell the boutiques and the brand itself, but she continued on as an independent design consultant for many years. The brand itself survives, though owned by a Dutch conglomerate.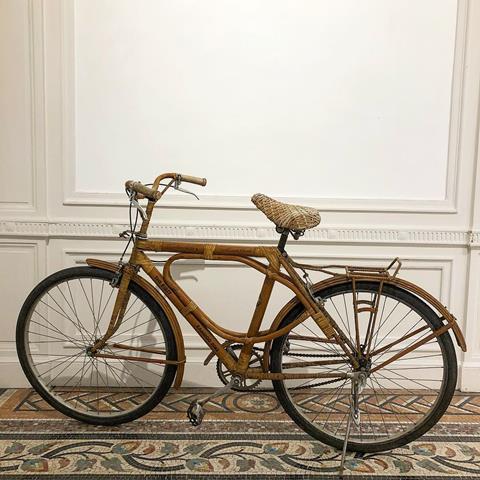 Quasar Khanh would return to his native country to help rebuild the economy after the Southeast Asian wars. He designed a number of products and consulted with emerging industries. He would die in Hi Chih Minh City in 2016. His wife, Emmanuelle, would soon follow him, passing just eight months later in February of 2017.
Both were designing right up until the end.
We should all be so lucky.
Take a test drive in the Unipower City Car here:
.